My Seeking Alpha article of 4/21/13 stated that gold was undervalued by 20% according to the Required Yield (RYT) model. I have now closed a long NUGT position because two critical gold valuation factors noted in my "caveats" section have both moved strongly against gold -- and more than I expected: real long-term yields (growth expectations proxy) rose and expected inflation fell. Through today, the average long-term U.S. Treasury yield rose from -.54% to -.303%, and expected inflation (nominal 5-Year Treasury yield - TIPS) fell from 2.11% to 2.02%. The GDP-weighted dollar exchange value also rose about 1.5%, which is a further drag on the dollar price of gold.
Gold rose from $1,320-$1,350 since the first article was published to a close of $1,429 today; with NUGT rising from $9.76 to $11.20 at the position exit today. Miners are increasingly focused on cost reduction, which is likely to set up a more positive relationship between gold mining stock indices and gold itself.
Moreover, the manufacturing and services PMI price surveys both showed sharp outright declines in the case of the former, and much lower growth rate in the latter. This often leads the coming PPI and CPI rate figures; which if lower than expected, are likely to be short term negative for gold and simultaneously boost the real yield, which is also negative.
With the model (Figure 1) now showing gold just slightly undervalued, and with negative gold price impact risk from several critical valuation factors, I am divesting until there is another mispricing event or I have more clarity on the direction of valuation factors.
Figure 1: Gold vs. RYT Quarterly Through 2011, Weekly Since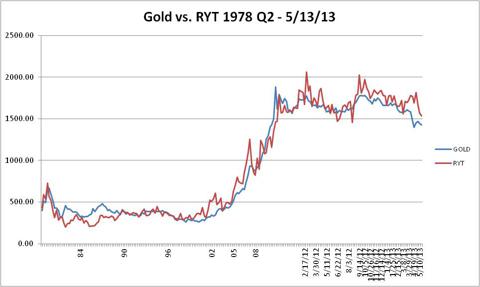 Click to enlarge
The model in Figure 1 has a 13.4% average absolute variance from actual gold price since 1978; 6.5% absolute variance since 2008 and 5.4% since 2011 (inception of weekly tracking).
Investors should form their own reasoned opinions and act according to personal risk tolerances and portfolio strategies in relation to opening long positions in gold and its derivatives. The author is gold-neutral.
Disclosure: I have no positions in any stocks mentioned, and no plans to initiate any positions within the next 72 hours. I wrote this article myself, and it expresses my own opinions. I am not receiving compensation for it. I have no business relationship with any company whose stock is mentioned in this article.