Annaly Capital Management (NYSE:NLY) is a mortgage real estate investment trust, or mREIT, with a majority of its assets invested in agency mortgage backed securities, or MBS. Like most other mREITs, Annaly's stock price has come under pressure due to increases in US Treasury yields. The company uses leverage to boost its returns and to pay a large dividend. However, Annaly's dividend is not set in stone and is highly dependent on many factors. Annaly's last quarterly dividend was for $0.45 per share and at current prices yields about 12.10%.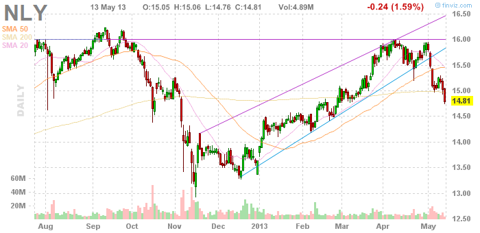 On May 1, Annaly reported its Q1 2013 results. Annaly reported net income of $870.3M, or $0.90 per share, an increase from the $700.5M, or $0.70 per share in Q4 2012. When adjusting for unrealized gains or losses on interest rate swaps and Agency interest-only MBS and the net loss related to the extinguishment of senior notes, adjusted net income was $464.4M, or $0.47 per share, compared with $465.1M, or $0.46 per share, in Q4 2012.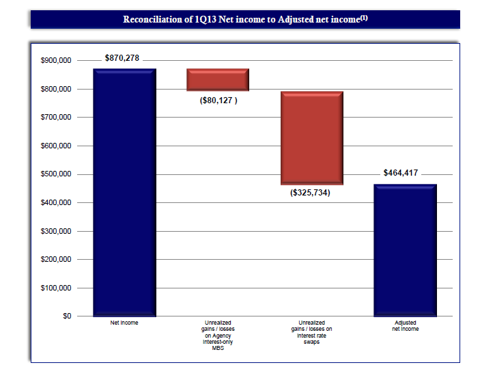 During the quarter, Annaly had an annualized return on average equity of 22.29%, a 5.32% increase from the 16.97% reported in Q4 2012. The majority of this increase came from increases in unrealized gains on interest rate swaps and Agency interest-only MBS and the net loss related to the extinguishment of senior notes.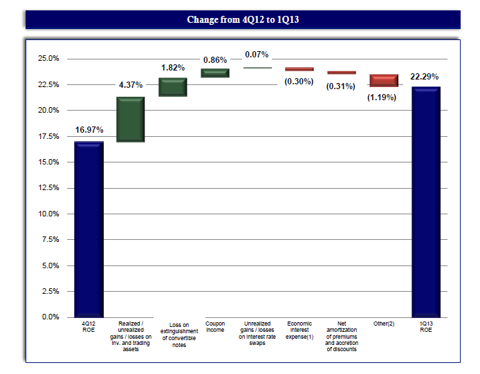 When excluding these effects, Annaly posted an adjusted ROE of 11.90%, a 0.63% increase from the 11.27% reported in Q4 2012. The majority of these gains came from realized gains on investments and higher coupon income.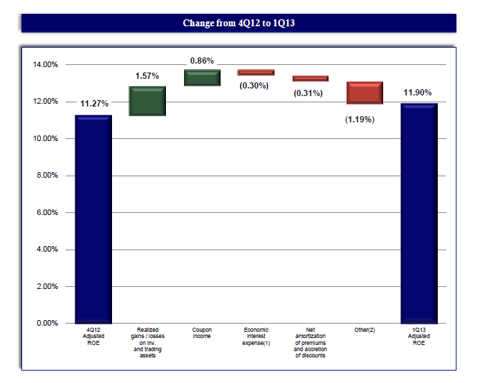 For Annaly, the biggest driver of profitability is its net interest rate spread income. For the past few quarters, Annaly has seen its spread income decline. However, as interest rates were generally higher during Q1 2013 than in Q4 2012 I had speculated that Annaly would see a rebound in its spread. This did not turn out to be the case -- Annaly actually saw another decline in its spread. For the quarter, Annaly's net interest spread was 0.91%, down 4 bps from the 0.95% reported during Q4 2012. This decline was driven by a 8 bp decline in the annualized yield on interest bearing assets and partly offset by a 4 bp decline in annualized costs of funds. The net spread has now nearly been cut in half from the 1.71% reported during Q1 2012. Annaly's net interest rate spread is now one of the lowest among the agency mREITs.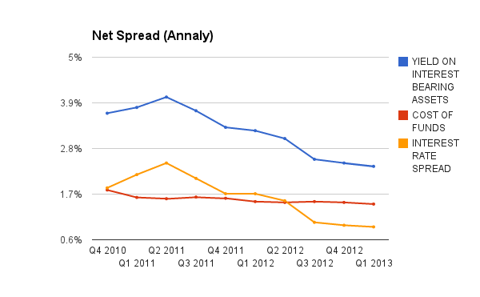 Annaly also saw its book value decline during the quarter. As of March 31, 2013, Annaly had a book value of $15.19 per share, a 4% decline from the $15.85 per share as of December 31, 2012. The majority of this decline came from $867M, or $0.87 per share, in unrealized losses on MBS.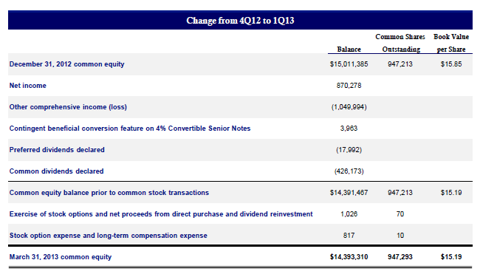 Since briefly reaching the YTD low of 1.63% on May 2, 10-year generic US Government bond yields have climbed back up to above 1.80%. As was seen by the quarter reported by American Capital Agency (NASDAQ:AGNC), this increase in treasury yields may have a negative effect on a mREIT's book value, including Annaly's.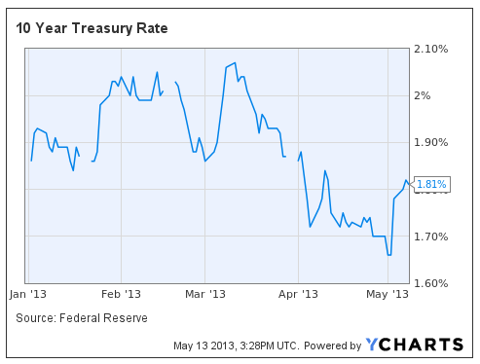 Conclusion
While the quarter was not as bad as AGNC's, I cannot say that Annaly had a good quarter. Annaly saw declines in both its book value and net spread -- the key operating metrics for mREITs. However, Annaly is trying to reverse this trend. Annaly is expected to close its merger with Crexus (NYSE:CXS) on May 23, which should provide a boost to Annaly's ROE and to lower its leverage. While Annaly is currently trading under its March 31 book value of $15.19 per share, the lower net spread may have a chilling effect on Annaly's dividend and I would not be surprised to see a slight reduction in the payout.
Disclaimer: The opinions in this article are for informational purposes only and should not be construed as a recommendation to buy or sell the stocks mentioned. Please do your own due diligence before making any investment decision.
Disclosure: I am long AGNC, CYS. I wrote this article myself, and it expresses my own opinions. I am not receiving compensation for it (other than from Seeking Alpha). I have no business relationship with any company whose stock is mentioned in this article.