Every couple of weeks, we get an update from NASDAQ on short interest. While most of the time, my updates don't seem that important to many, this time around is a bit more influential. As earnings season has mostly finished, many of the names I'll report on today have reported their quarters. Earnings reports can have a huge impact on a stock's short interest, and it obviously depends on what the company reported. Today, I'm here to cover five names that have seen recent drops in short interest. While not all of these names have reported earnings yet, all of these names have seen short sellers running away.
Microsoft (NASDAQ:MSFT):
Microsoft was included in one of my latest rounds of short interest updates, as short interest had risen to a new yearly high. When Microsoft announced fiscal Q3 results, the report was okay. It wasn't great, but it wasn't terrible, and that has helped to boost shares. Microsoft missed slightly on revenues, but beat on the bottom line, and reduced fiscal year operating expense guidance, which is good. Shares have continued to go higher after a $2 billion investment from ValueAct Capital. Shares hit a new 52-week high last week, but have since pulled back a couple of percent.
At the end of April, we saw the first decrease in Microsoft short interest in quite some time. It wasn't a small decrease either as almost 20 million shares were covered, more than 16% of the total. Microsoft short interest is at its lowest point in two months, but the important part was the reversal of the trend. Short interest had been rising since the middle of January, but now it is coming back down. With Microsoft rising to new highs, one wonders if shorts will continue to cover at the next update, or new bears will push short interest back higher.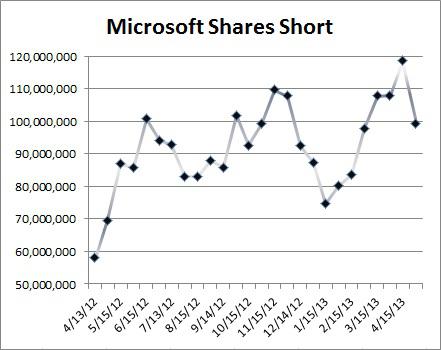 Deckers Outdoor (NASDAQ:DECK):
Deckers makes this list for a longer-term trend, not one single short interest update. Deckers continues to see its short interest come down, as you can see below. At the end of April, just under 10.25 million shares were short, the lowest count since August 2012. The high point was in December 2012 at almost 16.3 million shares.
Deckers shares have nearly doubled since their 52-week low as results haven't been terrible. The results have been okay, not great, with beats more influenced by the fact that guidance has been lower than expected six quarters in a row. The recent pullback in Deckers could provide an opportunity, as the company still has a fair amount left on its buyback plan. Since the company produces a solid amount of cash yearly, buybacks could continue. With almost a third of shares short, you could also continue to see a gradual short covering that would push shares higher.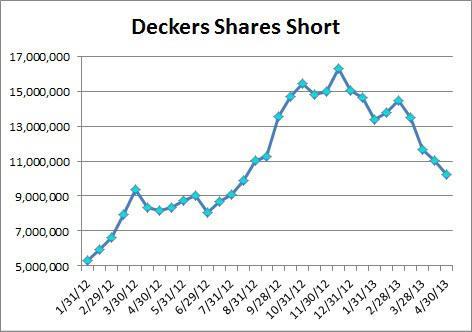 Sprint (NYSE:S):
Sprint saw a huge drop in short interest over the last two weeks of April. The company's results were decent, but a new merger proposal was also received. On Friday, Sprint shares hit a new 52-week high of $7.40, well above the $2 plus lows we saw just a year or so ago, before pulling back on Monday. As the battle for control of Sprint rages on, it is certainly possible that shares could go even higher.
As for short interest, you can see the huge drop below, going from 69 million to 38 million. This puts short interest at a point not seen in more than a year, and well below the high just under 200 million in June 2012. With about 3 billion shares outstanding, 200 million was never a high percentage. However, you're basically talking about 80% of shorts that have covered. That's an extremely large percentage, and something to keep track of. You probably will never see a large short squeeze in a name like Sprint, but it's interesting to see how the shorts have continued to run away.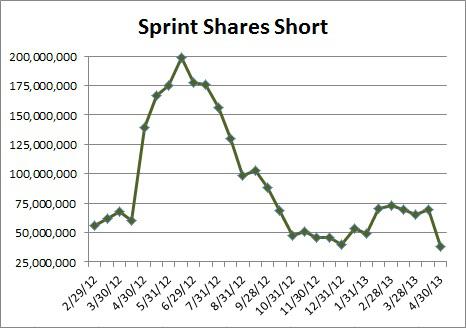 lululemon (NASDAQ:LULU):
The Canadian apparel retailer makes this list for its first significant drop in short interest in quite some time. Almost 2.7 million shares were covered in the last two weeks of April, the largest drop in short interest since late 2012.
At the same time, lululemon shares have raced higher, hitting a new 52-week high above $81 on Friday. This stock has rallied about 30% from its lows two months ago after the company had a pants problem and took down quarterly guidance. Analysts have since lowered their estimates, and we'll have to wait another couple of weeks before this company reports (sometime in June most likely). At that time, we'll see how much the pants problem is really hurting the business, and whether shares can stay elevated.
It will be interesting to see short interest at the next update. This company now trades for 40 times this year's expected earnings, which will be pressured by the pants problem. The bears have always pointed to this name's valuation as a reason to short, and we might actually be getting to a good short point. I loved this name in the low $60s just two months ago, but I can't believe it has run this far, this fast. I think that a pullback is coming, and we'll probably see $75 again at that point.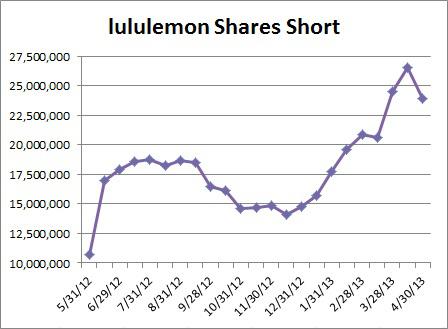 Intuitive Surgical (NASDAQ:ISRG):
The maker of the da Vinci surgical system has seen short interest drop in recent months, putting the short count at its lowest point since August 2012. Almost 300,000 shares were covered since the last update, a drop of 13.5%. That doesn't seem like a large amount of shares, but remember this is a stock that trades around $500, not like Sprint in the single digits.
You may start to see short interest rise at the next update, however. Intuitive recently issued an "urgent medical device notification". That sent shares lower by a few percent early Friday, but an afternoon rally cut some of the losses. The da Vinci system has come under fire recently, and this news was certainly not good. It will be interesting to see how shares react as more news comes out, as shares fell by almost three percent on Monday.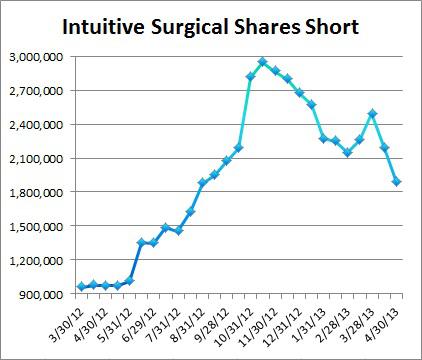 Final Thoughts:
All five of these names have recently seen sharp declines in short interest. For some, it was earnings that did the trick. For others, it is short interest coming down as the markets race to new highs. With all of this money flowing in, the short trade is not working well. I'll be back in a couple of weeks when we get the next round of short interest data. Will any of these names make the list again? Well, you'll just have to wait and see.
Disclosure: I have no positions in any stocks mentioned, and no plans to initiate any positions within the next 72 hours. I wrote this article myself, and it expresses my own opinions. I am not receiving compensation for it (other than from Seeking Alpha). I have no business relationship with any company whose stock is mentioned in this article.
Additional disclosure: Investors are always reminded that before making any investment, you should do your own proper due diligence on any name directly or indirectly mentioned in this article. Investors should also consider seeking advice from a broker or financial adviser before making any investment decisions. Any material in this article should be considered general information, and not relied on as a formal investment recommendation.