Google (NASDAQ:GOOG) Glass is going to bring computing into a new paradigm. First we had the computer. Then came the smartphone, followed by the tablet and the phablet. Glass is Google's flagship wearable computing hardware and it could be a real game-changer in the computing industry. The question that investors are asking now is: how and when will Glass impact Google's share price?
Spring 2014 release expected
According to Google's CEO Eric Schmidt, Google Glass is expected to be released to the public in Spring 2014. The first hardware prototypes are being sent to developers at the moment, to create a buzz and bring them on board. The geeks and the tech community are running around Silicon Valley trying them out and giving Google feedback. This'll mean that when Glass is released, the product should be developed to an exceptional standard.
Will it be as popular as everybody's expecting?
Although the Google Glass project is popular among the early-adopters and techie community, there are still doubts over how popular it will be among the public.
When Mashable asked people in New York City, some people found Glass cool, others found it creepy.
However, when Mashable asked the public what they thought the price of Glass should be, many guessed in the region of $2-500. At present, developers had to pay an initial price of $1500. Considering that this is well-and-beyond what many consumers had expected to pay, the Google Glass project may not sell especially well among the general public. At least not at that price.
Will Google dominate the $6 billion wearable computing market?
The wearable computing market is expected to be worth $6 billion by 2016 according to IMS Research. Given Google's size, reach and the fact that they are leading the wearable computing marketplace, surely they'll dominate the majority of this market.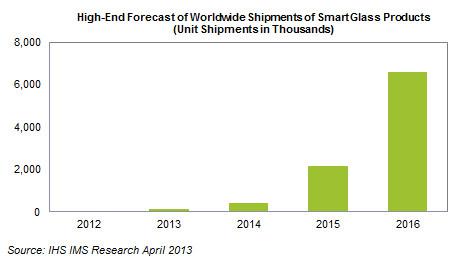 According to the IMS forecasts, the wearable computing market won't gain traction until 2015 because it'll be a bare-bones piece of hardware in the meantime.
Google Glass isn't expected to be an overnight phenomenon because of the need to develop apps on it.
"The applications are far more critical than the hardware when it comes to the success of Google Glass," said Theo Ahadome, senior analyst at IHS.
"In fact, the hardware is much less relevant to the growth of Google Glass than for any other personal communications device in recent history. This is because the utility of Google Glass is not readily apparent, so everything will depend on the appeal of the apps. This is why the smart glass market makes sense for a software-oriented organization like Google, despite the company's limited previous success in developing hardware. Google is betting the house that developers will produce some compelling applications for Glass."
How and when will Google Glass impact Google's revenues?
It doesn't seem as though the market for Google Glass is going to really take off until 2015. In 2016, the wearable computing market is expected to be worth $6 billion and growing. And at present, it would seem that Google is going to get the lion's share of that market.
Given that Google currently has revenue of $50 billion, it's likely that Glass will increase Google's revenues dramatically. In fact, as the wearable computing market grows, we may even see it eclipse their other products such as search and Android smartphones.
As an investor, I'd be excited about buying Google shares in 18 months - 2 years time.
Disclosure: I have no positions in any stocks mentioned, and no plans to initiate any positions within the next 72 hours. I wrote this article myself, and it expresses my own opinions. I am not receiving compensation for it (other than from Seeking Alpha). I have no business relationship with any company whose stock is mentioned in this article.