It's always interesting when I'm sorting through my big board on a Sunday and I come across a stock that has very quietly outperformed most of the other stocks I have poured the majority of my energy and attention into. It gets even more interesting when this particular stock has been steadily tearing up the charts over the last two years with myself missing the entire current move. The situation changes from interesting to infuriating to me denying it happened and ends with me writing an article as a confessional explaining how I missed the move and how it could have happened to anybody as a way for me to justify the shame and anger my portfolio is feeling for not getting long some LEAPS several years ago. The company I'm talking about is L Brands Inc. (LTD), formerly known as Limited Brands Inc and The Limited Inc.
L Brands? Really?
L Brands, Inc. operates as a specialty retailer of women's intimate and other apparel, beauty and personal care products, and accessories. It offers apparel, lingerie, fragrances, cosmetics, shower gels, lotions, soaps, sanitizers, and accessories under the Victoria''s Secret, Victoria''s Secret Pink, Bath & Body Works, La Senza, Henri Bendel, C.O. Bigelow, White Barn Candle Company, and other brand names with the majority of L Brands revenue coming from their Victoria's Secret and Victoria's Secret Pink divisions.
I added L Brands to my big board a couple years ago when the firm I was then working for initiated coverage on the company, and because I was familiar with the space and their brand names. It has been a steady performer from a stock and revenue growth perspective, with the stock being up 295% since July 2011.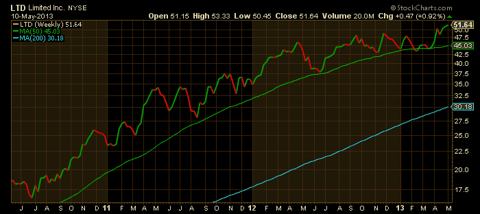 The chart looks good for sure but equally as impressive is the fundamental story behind the company. The company had an amazing 2011, followed up with a strong 2012 campaign, and is trending to have plenty of room for growth in 2013. The company saw comps increase 7% year over year in 2012, gross margins increase 1.3% (impressive for a company this large) to 45.2% (impressive regardless of size), operating income increase 10%, and EPS growth of 13%. The company's sales from their UK and Canada Bath & Body Works and Victoria's Secret stores increased 25% year over year and their revenue from international franchise and wholesale business was up 25% as a whole, heavily driven by new store openings. B&BW showed strength coming off a record 2011 and increased comps driven by excellent customer response to the Signature Collection Line, soap and sanitizer business, and home fragrance growth. As a result B&BW increased their operating income 18% year over year which could mean L Brands has finally turned the corner on making this brand a significant source of revenue.
Growth Looks Good In Any Color
L Brands has been getting more efficient in 2013 and they have been doing this several ways. First things first, they have been following a plan set in place to close any "non productive" stores in their umbrella, regardless of brand, that aren't currently meeting or exceeding their sales metrics. The company hasn't specified what exactly would qualify a particular store as being "non productive" but that the productivity of the net new stores that will be opened in the first half of 2013 will be between 2-300% more productive. The primary goal for the first half of 2013 appears to be to make the square footage as a whole work smarter as well as work harder which seems like it should go without saying but L Brands is prepared to make changes to stores that are currently profitable to bring them up to meeting their productivity metric. This will be important to watch going forward.
The second part of their 2013 strategy is to further capture opportunity that is currently available but not being fully realized. The company understands the power of their Pink brand and that they have missed some opportunity since launching and expanding the product lines within the brand. With that in mind L Brands plans to open 50 new Pink stores and they are looking to expand the total number of stores carrying the full assortment of Pink brand merchandise, as currently only 20% do. The new builds and existing store modifications will increase net new square footage 3% over the course of the year and with L Brands square footage can VERY closely be correlated with sales, one of the reasons this company can expect such systematic growth going forward, they have a very easy to follow recipe.
Finally, the company would like to continue to work to find ways to increase the penetration of their Beauty products within the Victoria's Secret brand. Beauty is going to be a huge focus for the rest of 2013 as a whole for the company and they are working hard on repositioning product within the stores and adding excitement to their lines. Beauty is roughly 20% of the Victoria's Secret store sales and while bras, Pink, and sport sales continue to trend higher, Beauty has remained flat, although not showing any signs of trending lower. If L Brands can find a way to increase Beauty response, look for this alone to be a catalyst for same store growth on a company wide basis. I am looking at Beauty and the introduction of luxury bras for younger clientele as the largest drivers of growth for the remainder of 2013 for the Victoria's Secret and Pink brands.
Does The "L" in L Brands Stand For LEAP? Where's The Trade?
I do want to say that this company has risks that should be considered before buying. Their La Senza brand has been struggling, sales are not showing strong growth, and this brand may need serious help in the future if the company can't find ways to make it work. The company's retail inventories increased 4% in 2012 and that's not something that is looked at as being a positive. The company does have considerable leverage on it's balance sheet, they are in the mid 3's when it comes to debt to EBITDA (4.5 Billion in balance sheet debt). The expansion of their retail square footage does come with considerable risk as well, yes this recipe has always worked in the past there is no guarantee it will work this time. Those types of capital investments need to see success or they can have detrimental effects to the share price.
I'm very bullish for the remainder of 2013 on L Brands and for that matter retail companies in general. I think the economy is slowly showing signs of getting better and that there are some outside forces, mostly the US dollar appreciating against most all other currencies (creating a drop in commodities prices which creates extra income for the majority of Americans) that will continue to provide surprises in spending and consumption. I do think that because of L Brands leadership position in their space that they are going to continue to move higher, especially starting now and for the remainder of the year as they should start to see the signs of all the hard work they have put in making changes during the last five months. The trading has been choppy on a short term basis and this stock may not be for everybody but I think if you have a time horizon longer than 6 months this could be a stock to consider for an add. I like the LEAP's on the company as a way to take a position but also may add stock over the next few days.
Disclosure: I have no positions in any stocks mentioned, but may initiate a long position in LTD over the next 72 hours. I wrote this article myself, and it expresses my own opinions. I am not receiving compensation for it (other than from Seeking Alpha). I have no business relationship with any company whose stock is mentioned in this article.