After a very impressive start to the year, shares of Boston Beer Co. Inc. (NYSE:SAM) have lost some of their buzz and have come stumbling down to the floor. After a stellar six-month run beginning in November, during which time SAM appreciated over 50%, the stock has proceeded to sell off significantly, down approximately 14% in the last two weeks alone.
The company recently reported first quarter earnings and the results were decidedly mixed. Although revenue was much stronger than expected, coming in at $135.9 million versus an expected $131.3 million, earnings per share dropped 8.9% year-over-year to $0.51, down from $0.56 in Q1 2012 and off considerably from the average analyst estimate of $0.64.
However, the silver lining is that the company maintained full 2013-year guidance and is in the process of strengthening and expanding its main beer brand Samuel Adams. Although perhaps not completely finished, the recent selloff in SAM presents investors with an opportunity to at least consider picking up shares of Boston Beer Co. for the long-term at more reasonable valuation levels.
The Company:
Founded in 1984 by current chairman James Koch, Boston Beer Company went from small door-to-door distributor to 'America's leading brewer of handcrafted, full-flavored beers' in just under three decades. Through unwavering dedication to all natural, high-quality ingredients and traditional brewing methods, the company has built tremendous brand name recognition around its signature Samuel Adams product line.
Currently, Boston Beer Company is the largest brewer of craft beer in the United States but still only accounts for an estimated 1% of the nation's total beer market. As of May 2013, Boston Beer Co. had over 50 distinct labels under the Samuel Adams name. Aside from its two core brands, Samuel Adams Boston Lager and Samuel Adams Light, the company breaks down the majority of its labels into groups: 'Seasonal Beers,' 'Limited Release Beers,' 'Brewmaster's Collection,' 'Small Batch Collection' and 'Barrel Room Collection.' Additionally, the company has numerous 'Flavored Malt Beverages' labels under its Twisted Tea brand name and 'Hard Cider' labels under its Angry Orchard brand name.
The Stock:
Shares of SAM have consistently outperformed the major indices by a wide margin. The following is a breakdown of the equity's performance compared to the S&P 500 (NYSEARCA:SPY) over the last decade:
| | | |
| --- | --- | --- |
| Equity/Index | SAM | SPY |
| 10-Yr. Total Return | 990.9% | 75.02% |
| 5-Yr. Total Return | 248.2% | 17.68% |
| 1-Yr. Total Return | 34.61% | 20.71% |
(Numbers from YCharts.com, as of 5/12/13, numbers do not include dividends)
With a shareholder return of just under 1,000%, SAM easily bests the S&P 500's return of 75.02% during the last decade. On a five-year basis, the stock's outperformance continues, as SAM's shareholder return of 248.2% compares favorably to the S&P 500's return of 17.68%. Even on a one-year return basis, in which SAM is currently off over 14% from its highs, the stock still significantly outperforms the S&P 500, up 34.61% versus the index's 20.71%.
What's more impressive is that SAM has provided these robust returns while maintaining relative trading consistency. The following is a chart of SAM over the past five years (included are 50-day, 100-day and 200-day moving averages as well as MACD and slow stochastic indicators):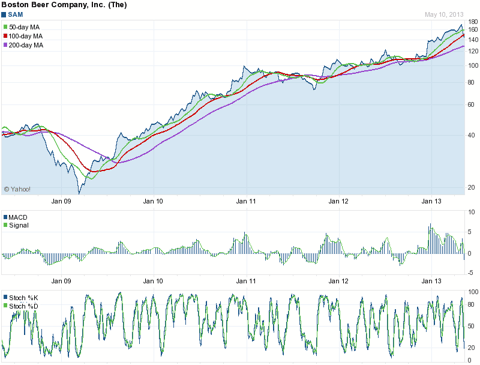 (Chart courtesy of Yahoo! Finance)
Most notable from the five-year chart is that shares of SAM have been on a steady uptrend since recovering from 2009 lows, which is indicative of a positive growth story. Since 2009, the stock has traded above all of its major moving averages for the most part, significantly breaking below its 200-day moving average only once in the last four years. Additionally, the MACD indicator shows steady buying pressure, especially heavy during the stock's most recent six-month run, and relatively weak selling pressure.
Looking at the more recent trading action, the stock has broken below its 50-day moving average on large volume and looks to be headed towards its $130 support level.
Growth:
For comparative purposes, alongside Boston Beer Company, I have chosen to include the growth rates of Anheuser-Busch InBev (NYSE:BUD) and Molson Coors Brewing Company (NYSE:TAP), two competitors that operate in the Beverages-Brewers industry of the Consumer Goods sector.
| | | | |
| --- | --- | --- | --- |
| Company | BUD | SAM | TAP |
| Revenue Growth (2013) | 10.1% | 14.4% | 12.8% |
| Revenue Growth (2014) | 13% | 10.5% | 3.1% |
| Revenue Growth (2-Yr. Avg.) | 11.5% | 12.45% | 7.95% |
| EPS Growth (2013) | 7% | 12.5% | 1.8% |
| EPS Growth (2014) | 15.4% | 12.5% | 6.5% |
| EPS Growth (2-Yr. Avg.) | 11.2% | 12.5% | 4.14% |
(Numbers from Yahoo! Finance, as of 5/12/13)
Although all three companies are expected to grow at solid rates over the next two years, SAM is projected to grow both revenue and earnings per share the fastest on average in 2013-2014, at 12.45% and 12.5% respectively. Particularly impressive is that SAM is expected to remain above the 10% growth threshold in both categories over the next two years.
Let's see how SAM's strong 2013-2014 revenue/EPS projections compare to the company's historical growth rates. The following is a breakdown of SAM's revenue and earnings per share growth rates over the last seven years:
| | | | | |
| --- | --- | --- | --- | --- |
| Fiscal Year | Revenue | Change (%) | EPS | Change (%) |
| 2006 | 285.43M | 19.77% | 1.27 | 18.69% |
| 2007 | 341.65M | 19.69% | 1.53 | 20.47% |
| 2008 | 398.4M | 16.61% | 0.56 | -63.39% |
| 2009 | 415.05M | 4.17% | 2.17 | 287.5% |
| 2010 | 463.8M | 11.74% | 3.52 | 62.21% |
| 2011 | 513M | 10.6% | 4.81 | 36.64% |
| 2012 | 580.22M | 13.1% | 4.43 | -7.9% |
| Avg. 7-Yr. Growth Rate | N/A | 13.66% | N/A | 50.6% |
(Numbers from MSN Money, as of 5/12/13)
The seven-year results indicate that management at SAM has done a very impressive job at growing both revenue and earnings per share in the past. While the company's 7-year average EPS growth rate of 50.6% is much better than its 7-year average revenue growth rate of 13.66%, the results are a bit misleading. SAM's revenue growth has been much more consistent over time and has remained positive every year in the last seven. SAM's earnings per share growth rates have been more volatile, falling negative two years in the last seven.
When compared to these historical growth rates, SAM's 2013-2014 revenue/EPS projections look solid, although slightly lower on average. On a positive note, the company is estimated to grow revenue in 2013 faster than it has in the last four years and its earnings per share estimates for the next two years are projected to rebound nicely after falling negative in 2012.
Fundamentals:
| | | | |
| --- | --- | --- | --- |
| Company | BUD | SAM | TAP |
| Market Cap | 155B | 1.86B | 9.14B |
| Total Debt | 44.34B | 797K | 4.65B |
| Total Cash | 13.88B | 32.29M | 511.5M |
| 2013 Projected Revenue | 43.79B | 664.02M | 4.42B |
| ROIC | 10.1% | 24.2% | 3.5% |
| ROIC (5-Yr. Avg.) | 7.4% | 22.9% | 5.3% |
| P/E (trailing) | 20.63 | 33.59 | 22.86 |
| P/E (forward) | 17.22 | 26.08 | 11.81 |
| Net Profit Margin | 19.27% | 9.77% | 9.85% |
| Dividend/Yield | 1.88/1.9% | N/A | 1.28/2.6% |
(Numbers from Yahoo! Finance, MSN Money, as of 5/12/13)
The first noticeable difference between all three companies is size: Anheuser-Busch InBev is a massive company, with a market capitalization of $155 billion. It is roughly 17 times the size of Molson Coors Brewing Company and 83 times the size of Boston Beer Company.
When it comes to debt, Boston Beer Company has the lowest levels by far, both in absolute terms and in relation to market capitalization. SAM's $797 thousand in debt is equal to only 0.042% of the company's total market capitalization. Both BUD and TAP have significantly larger amounts of debt, at 28.6% of market cap and 50.87% of market cap respectively.
Boston Beer Company also leads all listed competitors when it comes to the important 'Return On Invested Capital' metric, which effectively measures how well a company invests in its own operations and generates returns off of those investments. A consistently high ROIC number indicates a management team that is dedicated to generating efficient returns from capital. SAM's ROIC is a robust 24.2%, which is more than double that of the next best competitor. Additionally, the company's five-year average ROIC is an impressive 22.9%, well above both BUD and TAP, and indicates that management has done very well managing capital investments in the past and should continue to do so going forward.
In terms of valuation, SAM is the most expensive by far on both a trailing twelve-month basis and a future twelve-month basis, with a current P/E of 33.59 and a forward P/E of 26.08. This is to be expected as SAM offers the most aggressive revenue and EPS growth going forward. However, when viewed historically, SAM's valuation appears slightly expensive as well, as its 10-year average P/E of 24.35 is lower than both its trailing and future P/E ratios.
Finally, SAM lags behind both BUD and TAP in two categories, net profit margin and dividend/yield. SAM's net profit margin of 9.77%, although healthy, is well below BUD's impressive 19.27% and slightly lower than TAP's 9.85%. Lastly, Boston Beer Company does not pay dividends while Anheuser-Bush InBev and Molson Coors Brewing Company both pay dividends with solid yields, at 1.9% and 2.6% respectively.
Growth Catalysts:
Founder and Chairman James Koch began the company's most recent earnings call with the acknowledgment that the Samuel Adams brand encountered stiff competition in the first quarter of 2013 by both "domestic specialty and craft beer brands." However, management went on to explain that despite the recent setbacks the company's signature brand was in the process of being strengthened for the long-term.
The strengthening of the Samuel Adams line is of paramount importance to Boston Beer Company, as it is by far the company's most popular brand. To help expand the reach of the signature line, management embarked on a two-year project to develop a unique can that could "deliver the same quality drinking experience as Samuel Adams in a glass or a bottle and would protect the balance and flavors of our beers," all the while opening up Samuel Adams to new markets where bottles are not allowed. The new 'Sam Can' was made available to wholesalers and retailers in May.
Management went on to further explain that, as a percentage of the craft beer market, cans are estimated to represent 3%-8% and "the market impact seem to be water markets or hiking markets, camping markets, fishing markets." Although still unsure of the volumes that the Sam Can will initially bring in, even with already strong New England orders, management's expectations remain optimistic but tempered until initial depletions (total number of cases sold by distributor) start to come in.
In order to fully take advantage of the Samuel Adams brand's positive momentum and to better support the recent release of the company's can launch, management has increased both its sales force and advertising/promotional efforts, installed a new can production line and intends to increase bottling capacity over the summer. Not surprisingly, advertising/promotional/selling expenses are expected to increase by an additional $18 million-$26 million for fiscal 2013.
In addition to the new Sam Can, Boston Beer Company is actively engaged in new product development through its subsidiary Alchemy & Science, formed in late 2011. The division purchased Angel City Brewing Company in 2012 and is constantly in the process of finding complementary growth opportunities to expand Boston Beer Company's brand portfolio. Management has also announced that it will increase investments in Alchemy & Science by an additional $2 million to $4 million in fiscal 2013.
Shifting away from the company's beer brands momentarily, Boston Beer Co. has experienced strength in its other two popular brands, Twisted Tea and Angry Orchard. While the company does not break down total revenue into individual product segments, management explained that growth in its cider and tea brands was strong enough to grow depletions 16% in the first quarter year-over-year despite a slight decline in the Samuel Adams line.
To better combat the rising costs associated with ingredients/packaging/freight/processing, which was a main reason for the company's first quarter earnings miss, Boston Beer is targeting price increases of between 1%-2% per barrel for fiscal 2013. Additionally, the company expects depletions growth between 10%-15% for the full-year based on the numbers that management has seen through the first quarter. However, in the earnings conference Q&A, management did explain that if the Samuel Adams line were to see acceleration in growth and the company's cider and tea brands continue to remain strong, fiscal 2013 revenue for Boston Beer Co. would most likely be at the higher end of the company's projections.
Risks:
Two major risks to Boston Beer Company's future growth success are the aforementioned rising cost pressures and increasing competition, specifically with regard to the company's Samuel Adams line. While a targeted increase in price per barrel of 1%-2% in 2013 will help offset some of the rising costs, it is not expected to fully cover the additional expenses. Also, it remains to be seen if the weakness in the Samuel Adams line due to increased competition is an anomaly of the prior three months or part of a larger trend. However, management does have an answer to these problems and it appears viable, although it is not without its own risks.
As President and CEO Martin F. Roper explained in the latest conference call, management is willing to sacrifice earnings in the short-term for sustainable growth in the long-term. The large EPS miss in the first quarter for Boston Beer Company is a direct result of management's newly implemented strategy. In order to combat rising costs and increasing competition, Boston Beer Company is making significant investments for future growth of its brands, including increased spending on advertising, bottling/distribution capacity and new product development. However, it is this short-term earnings trade-off that will remain the third major risk for investors going forward.
Conclusion:
Boston Beer Co. is a relatively small company with immense brand strength. Management has capitalized on that strength by methodically expanding the company's product offerings over the years to include dozens of craft beers as well as hard tea and cider labels. Investors along for the ride have benefited greatly as the company has consistently outperformed many of its peers due primarily to above-average fundamentals and a healthy combination of robust revenue and earnings per share growth. Looking forward, the company's revenue/EPS growth appears to be intact.
However, Boston Beer Co. is also facing some serious headwinds in the near future. Rising cost pressures and increased competition in the craft beer market are serious causes for concern in the short-term and need to be monitored carefully by investors. Management's plan to overcome these challenges appears viable and their steadfast dedication to sustainable long-term growth, even at the expense of short-term earnings, is admirable, if a bit daunting.
With the recent 15% drop in share price, the stock is now trading at more reasonable valuation levels and offers investors a decent chance to consider shares of SAM for the long-term. However, the stock is still a bit expensive compared to its historical average P/E ratios, is below its 50-day moving average and is in a short-term downtrend. Accordingly, I will consider picking up shares near the stock's $130-$145 support level as I believe SAM's buzz will continue to endure over the long-term.
Disclosure: I have no positions in any stocks mentioned, but may initiate a long position in SAM over the next 72 hours. I wrote this article myself, and it expresses my own opinions. I am not receiving compensation for it (other than from Seeking Alpha). I have no business relationship with any company whose stock is mentioned in this article.