Goldcorp (NYSE:GG) is the largest senior gold producer in the world engaging in the acquisition, development, exploration, and operation of precious metals properties in North and South America. Over the past 7 years, the company has experienced tremendous growth by focusing on five core values:
1. Growth
2. Low cash costs
3. Maintaining a strong balance sheet
4. Operating in regions with low political risk
5. Conducting business in a responsible manner
In this article we will discuss the details of this fast-paced growth and the impacts of this growth on the core business model moving forward.
Goldcorp has grown tremendously in two primary areas
(1) Financials
As you can see in the table below, the financial health of the company has improved over the past 7 years: the tax rate is effectively the same, debt-to-equity ratio has fallen, net income has increased (as well as dividend payout ratio), and revenues have more than tripled. Yet the market capitalization remains stagnant and share price has dropped to nearly half its price in 2006. In my opinion Goldcorp (and the rest of the mining sector) has a lot of room to grow in terms of revenue, gold production and market capitalization (i.e. common stock share price). Goldcorp is one of those mining companies that can withstand economic troubles and outperform the market over the next 2 to 3 years.

(2) Asset portfolio
In 2006, Goldcorp had an impressive portfolio of assets which included already, at that time, Peñasquito which turned out to be the greatest cash flow generator for the company. The table below (extracted from Goldcorp's Investor Resource section of the website) shows the location and name of all the existing projects as of 2006.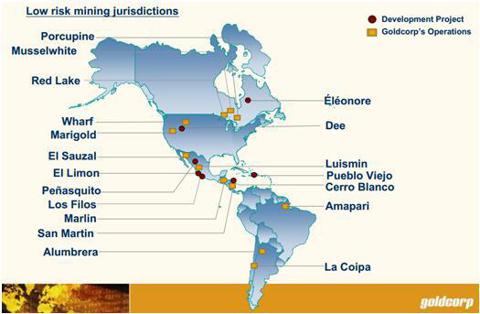 Since then, Goldcorp's corporate development team has initiated 6 new projects: Cochenour, Cerro Negro, El Morro, El Sauzal, Noche Buena, and Camino Rojo.
The Cochenour project is one of the most important pipeline projects at Goldcorp because it provides sustained, high quality gold production to the company while creating positive synergies to Goldcorp's (currently producing) Red Lake mine. Following ramp-up to full production, the Cochenour mine is forecasted to produce 225,000-250,000 ounces per year.
The Cerro Negro is expected to be the next cornerstone producer of high quality gold in Argentina. Cerro Negro is forecasted to produce 535,000 ounces for the first five years of full production at cash costs of less than $350 per ounce.
What is Goldcorp's problem moving forward?
Goldcorp's corporate development and strategy team has done very well to this point making asset acquisition decisions; however the company's asset portfolio has grown to a large enough size to make it difficult to manage given Goldcorp's current internal procedures.
If you ever get a chance to experience a conference call, sit in on a corporate presentation, or visit the company headquarters, you will notice that the executives are very laid back and easy-going. The culture at Goldcorp is very non-bureaucratic and has enabled the corporate teams to make creative, profitable asset investments. I won't go into great details with their corporate procedures, but I will say (after conversing with the Vice President of Corporate Development) that a lot of improvement is required this summer.
Recent events have revealed the flaws of Goldcorp's enterprise control procedures; namely the inability to appropriately assess, control, and mitigate production risks at mines.
After a strong first quarter of 2012, the company's two largest mines Peñasquito and Red Lake reported a big drop in second-quarter earnings as cash costs doubled and operation output steeply declined. At the Red Lake property, this was due to lower grades and slower than budgeted de-stressing works-something that could have been controlled with extra care and due diligence. At Peñasquito, water shortages and an unexpected drought crippled the production output which led shareholders to look for a way out. The graph below displays Goldcorp's common stock performance; the circled area shows the dip that occurred a month following news of the water shortages.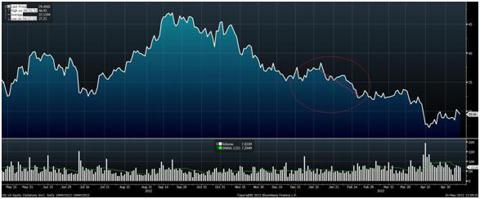 How do Goldcorp's corporate procedures relate to the water shortage problems?
The problem at Peñasquito escalated early in Q4 of 2011 after a major drought hit the Zacatecas area in Mexico; however, this was not brought to the attention of the executives until Q1 of 2012 when it was a little too late. Although Goldcorp does have internal procedures in place to help mitigate risks at mines, these procedures are too loosely demanded because of the non-bureaucratic nature of the executive team. This can pose major problems to the company's growth moving forward. For example, when the drought occurred in Zacatecas, the managers at the Peñasquito mine failed to inform the corporate strategy team of this problem because they believed they could handle the situation by themselves.
Even if the mine managers had informed the corporate strategy team at Goldcorp, the drought may have been overlooked by the team as an extraordinary risk item. The managers at Peñasquito thought they had sufficient water supply even in the face of a major drought so they did nothing in response. What they should have done was create a large buffer by increasing total water supply by 15-30% since water is a major requirement for production in that region.
The internal procedures in place need to be altered to require full disclosure of extraordinary risks regardless what the view of the mine manager is. This will ensure that production and earnings are risk adjusted appropriately (in the event of a disaster occurrence) so investors are warned in advance prior to quarterly reports.
Final note: views on gold and Goldcorp
There are 9 key reasons to be bullish on gold:
1. Central bank buying
2. Safe haven/asset class
3. Currency protection
4. Stable investment demand
5. Flat mine demand
6. Inflation hedge
7. Growing physical demand
8. China factor
9. Continued debasement of international currencies
As for Goldcorp, the depressed metals market right now provides a very compelling investment opportunity for the common stock. Although the speed in which the company has adapted its internal processes worries me, I believe the core business of the company has not changed (rather it has improved) and the company is grossly undervalued. I am a buyer at these levels.
However, with every investment comes risks and I believe there are three major risks to look for with Goldcorp.
1. Increasing F&D (finding and development) costs attributable across the market
2. Failure to improve Enterprise Resource Planning (ERP) policies and procedures
3. India's trade deficit (which can be a major problem moving forward albeit currently Indians continue to purchase large amounts of Gold) and China's slowing economy (which I think will continue to grow at a sluggish pace through to 2015)
Disclosure: I am long GG, SAND, IAG, SLW, SSRI. I wrote this article myself, and it expresses my own opinions. I am not receiving compensation for it (other than from Seeking Alpha). I have no business relationship with any company whose stock is mentioned in this article.