My readers know that while I'm not particularly happy with Advanced Micro Devices (AMD) given their history of shareholder wealth destruction, I am indeed encouraged by quite a number of rational moves that the company has been making since CEO Rory Read, SVP Lisa Su, CTO Mark Papermaster, and so on have taken control of the ship. As a result, I became very positive on the name as a speculative play, remarking in a recent article,
Thanks for caring about trying to make shareholders money, Rory, and not trying to win the speed race against the juggernaut. You may be the first CEO in AMD's recent history that doesn't have an ego so large as to obstruct profitability. Shareholders could make out big on a run back to $5-6 if AMD can deliver on its promises...but Wall Street still rightfully remains skeptical, as AMD has had a history of over-promising but ultimately losing money.
I firmly believed that there would be more time before the "run", especially as I expected Wall Street to remain lukewarm on the name until they could deliver on their 2H 2013 cash-flow positive promise. Well, it seems that the market is anticipating that with Q2 representing the last unprofitable quarter, the Q3 guide should call for an operating profit. This - not the Xbox or PS4 deals - is what is likely encouraging the bulls and crushing the bears.
AMD Is Essentially 4x Levered Intel
Do these charts look similar?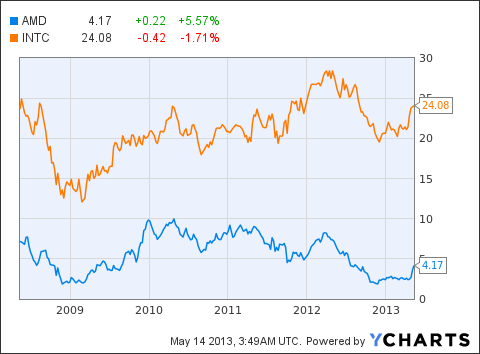 Oddly enough, it seems that both Intel (NASDAQ:INTC) and AMD trade in line with each other - they are both predominantly PC chip companies that are now trying to get back on their feet by both stimulating PC demand/driving a form factor shift while at the same time diversifying into new fields to lessen their dependence on the PC. Of course, AMD is smaller, so it is more volatile (you could get AMD-like volatility/returns with Intel calls, however!)
Anyway, it seems that Wall Street believes that both AMD and Intel can get back on their feet and start moving in the right direction going forward given the recent fairly powerful uptrends from both names YTD (with, again, AMD outperforming Intel on a % basis).
More Fun To Come
I think there's plenty of more fun to come from AMD going into the second half of the year. A return to being cash flow positive, coupled with a dash of "better-than-expected" outlook could bring AMD shares back to $8+. Further, I believe that the company's move into the semi-custom business is the right way to go, especially as the designs there - while not the highest margin - have a very long tail and can keep AMD's wafer commitments with Global Foundries from biting them, which happened in 2012.
AMD should also do reasonably well in low cost PCs with its "Jaguar" based APUs, mirroring the success of AMD's first low power "Brazos" core from oh-so-long ago. I'm not sold on the ARM (NASDAQ:ARMH) micro-server strategy yet, especially since it would make more sense to leverage the "Jaguar" cores in developing such SoCs, but perhaps "Jaguar" isn't at the right power/performance design point for these applications. I will formally reserve judgment until the parts are shipping in 2014, but I do have my doubts.
But really, the semi-custom gig - that could leverage both ARM and X86 IP depending on the particular use case (so that AMD doesn't need to spend money developing IP across the power/performance spectrum) - could be a good path for the company. Quite frankly, one need only look to Freescale's (NYSE:FSL) market capitalization of $3.97B (and they have much more debt, less of a moat) to see where AMD shares may be going sooner rather than later - another $1B (or $1.40 per share) on the market cap could come in a flash.
Conclusion
Don't short AMD now - there's a lot of momentum and hope here, and it is best to simply ride it if you're already on board (but reduce your risk by trimming your position if it's large), and if you're the chasing type, perhaps wait for a pullback. While it will be interesting to see whether AMD ultimately comes back to meaningful profitability, and whether this ends up being all bogus, the point is that there's plenty of money to be made riding the hope train.
Good luck!
Disclosure: I am long AMD, INTC. I wrote this article myself, and it expresses my own opinions. I am not receiving compensation for it (other than from Seeking Alpha). I have no business relationship with any company whose stock is mentioned in this article.
Additional disclosure: I am short ARMH.