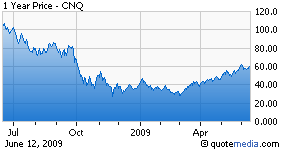 The stock of buy-recommended Canadian Natural Resources (NYSE:CNQ) is trading above its 200-day average again for the first time in more than nine months. While stock price is the catalyst for us to restore our buy recommendation, a low McDep Ratio provides the fundamental rationale. By our analysis CNQ stock offers unlevered appreciation potential of 46% to a McDep Ratio of 1.0 and levered appreciation potential of 65% to Net Present Value (NPV) of US$85 a share.
During the first quarter, according to results released late last night, the company generated cash from oil and gas production of about US$17 a barrel of oil equivalent as the difference between price of about US$30 and cash operating costs of about $13. Unlevered cash flow (Ebitda) exceeded our expectations from three months ago helped by less discount for heavy oil and lower royalties. We project gradual increases in Ebitda in the next few quarters. Our valuation capitalizes cash flow at unlevered multiples (PV/Ebitda) related to reserve life (Adjusted R/P) for natural gas and oil. Pointing to expected oil price recovery, futures prices for the next six years averaged US$71 a barrel recently.
Though CNQ's prospects are promising, the stock is well publicized and may attract more attention from short-term oriented investors potentially creating extra volatility in share price.
Originally published on May 8, 2009.