Introduction:
For those of you who have been living under a rock for the last couple of years, the United States is experiencing a shale gas boom unlike any the world has ever seen. General Electric (NYSE:GE) is one company that is looking to profit from this gas boom. GE is a world leader in the production of gas turbines for power generation. It makes sense then that GE would have a vested interest in gas extraction as well. The more gas there is available, the larger the market for your turbines. Hence I believe the reason for GE's acquisition of Lufkin Industries Incorporated (NASDAQ:LUFK), a global supplier of oil and gas field pump and lift technology. GE is looking to expand its catalog of products at every level of the shale gas supply chain. GE will reportedly pay about 3.3 billion dollars for the LUFK acquisition. This is a small sum considering that GE has divested itself of its NBC Universal joint venture and sold its remaining stake to Comcast (NASDAQ:CMCSA) for the sum of $16.7 billion.
Growth Of Natural Gas:
According to US Energy Information Administration statistics seen here, natural gas production, due in part to the development of hydraulic fracturing, has increased from 18.927 million cubic feet in 2005 to over 25.319 million cubic feet in 2012. This is an increase in production of over 33% of this 7 year time frame. In its latest estimate as of 2010, the EIA estimated that US shale gas reserves alone stood at somewhere near 97 billion cubic feet. At current extraction and consumption levels, it will be a very long period of time before we exhaust our estimated reserves. Needless to say even significant increases in consumption and extraction would barely dent our estimated reserves. It is also interesting to note that the EIA's estimates of shale gas reserves increased by 280% from 2008 to 2010. This means that as techniques continued to be mastered so as to make more shale formations accessible, it is likely that these projected reserves may increase even more over time. The most important point to realize is that natural gas is not going anywhere any time soon. GE has also in my estimation identified this same key point. In its latest earnings statement, the company identified industrial power and oil and gas as two key growth components moving forward.
GE Fundamentals:
In its first quarter financial statement, GE's CEO Jeff Immelt noted that Oil & Gas equipment orders increased by 24%, a significant growth amount for a company the size of GE. During the first quarter, GE also announced agreements to provide services for QGC's Queensland Curtis LNG plant off the east coast of Australia for $620 million and a $500 million contract to provide power equipment and long term service for the Emirates Aluminum smelter complex in Abu Dhabi. The company also signed a service contract extension for Russia's Sakhalin-2, one of the world's largest integrated oil and gas projects. As you can see GE is making significant contractual commitments centered on natural gas and power generation further emphasizing that GE is focusing on this market segment for future growth. The oil and gas segment for GE represents less than 10% of GE's total revenue generation. I believe that GE's acquisition of LUFK was solely focused on expanding its current catalog of products for its current customer base. The acquisition of LUFK stands to contribute less than $0.01 per share of profit to GE's future earnings based on its current share count as of today. LUFK's quarterly revenue will only increase the oil and gas segment's revenue by 10% based on its 2012 Q4 earnings statements. Many people have asked if GE overpaid for LUFK, and while I think it did, the true value in this acquisition relies on how well GE can potentially expand LUFK's customer base. GE is a company with a global footprint much larger than that of LUFK. GE has the potential to increase its market share by selling LUFK's equipment to customers that LUFK was unable to previously market too.
GE Going Forward: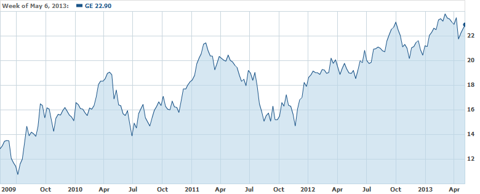 Click to enlarge
As you can see in the chart above, GE has rebounded nicely in the four years following the great recession and has regained a large portion of its market cap lost during the recession. It has worked especially hard the last couple of years to truly define itself and to strengthen its core business structure. This led to the sale of NBC Universal and ultimately the acquisition of LUFK. If you couple the potential of GE's enhanced natural gas product catalog from the LUFK acquisition with continued improvement of GE Capital which as of last quarter saw its assets climb to over $400 billion on earnings growth of 9%, GE has the potential to once again be a global market leader in the years to come.
Summary:
Many people have identified natural gas as a bridge fuel that will help us eliminate our dependence on fossil fuels. I make the statement that if natural gas reserves are as large as estimated that natural gas stands to replace our current fossil fuel consumption completely and is not a bridge fuel but rather our next fuel on which dependence will be rebuilt. It is by no means a stretch to conclude that GE has inherently tied its future potential to that of natural gas and power generation associated with natural gas. As natural gas goes, so goes GE. Please comment below and let me know what your thoughts are on GE and its natural gas positioning.
Disclosure: I am long GE. I wrote this article myself, and it expresses my own opinions. I am not receiving compensation for it (other than from Seeking Alpha). I have no business relationship with any company whose stock is mentioned in this article.