So far we have witnessed strong inflows into mutual funds in 2013. In January 2013 retail investors added $86 billion into mutual funds and $29 billion into ETFs.
These levels of flows into investments is at a high and is a shift from the cautious approach that many adopted following the credit crunch.
The credit crunch caused many investors to withdraw from financial markets. As net outflows hit asset managers earnings and profits fell, which related to declining share prices. Blackrock (NYSE:BLK) saw assets fall by $169 billion in Q3 2008, which was around 11% of total AUM, in one quarter. The fall in assets under management (AUM) was driven by both outflows and falling asset values; during 2008 the S&P 500 fell 38% and the MSCI AC World Index fell by 40% (USD terms). The fall in assets translated into falling share prices over the credit crunch for Blackrock and also its peers.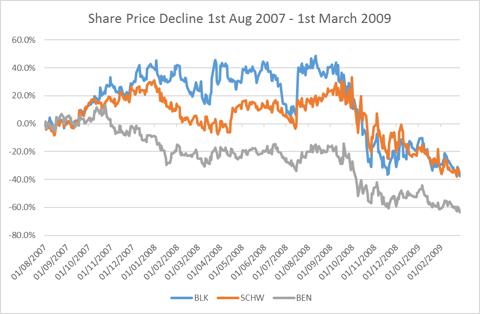 BLK: Blackrock, SCHW: Charles Schwab, BEN: Franklin Resources
Over the last few years however, markets and asset managers share prices have recovered from these lows. As investors we often hand over our money to investment houses such as Blackrock and allow them to invest our cash in equities and other asset classes. What may be a better strategy however would be to actually purchase the stocks of these asset managers instead of investing in their underlying funds. This is because asset managers are often a leveraged play on the markets. Blackrock's market beta of 1.45 is indicative of this and implies it's stock price will move higher than the market in rising markets.
As equity markets have recovered, naturally the underlying AUM of asset managers has increased and therefore revenues. Recovering markets also lead to growing investor confidence and so monies rotate out of cash and flows into asset funds, therefore further boosting asset managers AUM, a double whammy. So instead of picking your favorite US equity fund, maybe consider buying shares in the asset manager itself.
Blackrock Inc
Blackrock is my preferred asset management firm and I have summarized my reasons below:
1. Diversified Product Offering
Blackrock offer a wide range of investment solutions ranging from equities, bonds, property, commodities and alternative investments. They also provide both active and passive investments. What this means is their earnings should be less cyclical as they are not as reliant on one asset class which may or may not be in favor. Although assets fell considerably in 2008, Blackrock's diversified asset base, and strong fixed income offering helped the stock price outperform many of its peers.
With investors and regulators focusing more on costs, passive investments are likely to become more prominent going forward. Blackrock, with its iShares offering, has a wide range of mainly physical backed ETFs which are well positioned to continue to dominate the ETF market.
2. Product Innovation
Blackrock is a dynamic business that continually strives to improve its product offerings and provide solutions that match investors needs which should help maintain inflows into the business. One of their latest products is the iShares minimum volatility ETFs. These ETFs are low cost ETFs but are actively managed against an index in order to minimize volatility. These ETFs have been able to minimize downside risk whilst still participating in much of the upside, a trait sure to catch investors' eyes and should see strong inflows and be able to increase its ETF market share, which currently stands at 64% for physically backed ETFs.
3. Global Footprint
As well as having a diversified product offering, meaning Blackrock is not reliant on a single product or fund manager for revenue, Blackrock also have a global presence which diversifies their customer base. Core developed markets, such as the US will provide the bedrock of revenues, but there are huge growth opportunities within emerging markets and Blackrock is establishing a strong brand and reputation in these areas which should lead to future revenues.
4. Impressive Financial Performance
Blackrock has been successful in increasing revenues, net income and earnings per share over the recent years.
$mm

2012

2011

2010

2009

2008

Revenue

$9,337

$9,081

$8,612

$4,700

$5,064

Net Income

$2,438

$2,239

$2,139

$1,021

$856

Diluted Earnings Per Share

$13.79

$12.37

$10.55

$6.11

$5.78

Assets Under Management

$3,791,588

$3,512,681

$3,560,968

$3,346,256

$1,307,151
These revenues in 2012 came from a diverse asset base; 45% from equity based fees, 20% fixed income based fees and 10% multi-asset based fees (remainder from other asset classes).
With a strong product offering and record amount of assets flowing into mutual funds these earnings are likely to continue to grow which should hopefully be reflected in growing share price.
5. Corporate Strategy
Current corporate strategy of Blackrock is focused on growing AUM and cutting costs. If successfully implemented we will see growth in both the top line revenue and bottom line profitability. Blackrock is trying to make ETFs more accessible for retail investors and has teamed up with Fidelity in an effort to increase the number of iShares ETFs that can be traded commission free by Fidelity clients. Blackrock is also looking to acquire other ETF providers. Blackrock is in negotiations to buy Credit Suisse's ETF business and if approved it will increase their European ETF market share to 47.5%.
There has been some restructuring going on at Blackrock that has seen 300 senior staff leave the business.
Summary
Investors have been flocking to mutual funds in 2013 as confidence has begun to return to markets and investors look for a higher return on assets than cash currently offers. The likely benefactors of this are asset managers who should experience a jump in assets and therefore revenues.
Blackrock is a large, well established asset manager with a fantastic product offering and global presence. As such this business is well positioned to continue to grow earnings and should be a good equity stock for investors.
Disclosure: I have no positions in any stocks mentioned, and no plans to initiate any positions within the next 72 hours. I wrote this article myself, and it expresses my own opinions. I am not receiving compensation for it (other than from Seeking Alpha). I have no business relationship with any company whose stock is mentioned in this article.