Not too many people that I know are familiar with too many Chinese stocks that trade on the NYSE or Nasdaq. However, if you are not familiar with Kongzhong Corporation, the time to know what this company does is now.
Some might know this company as the former Communication Over the Air Inc. However, now it has a cleaner name. Kongzhong (KONG) Corp ADS was founded in 2002 and is a Beijing, China provider, through its subsidiaries, of wireless text/multimedia messaging, interactive voice response, ring tones, pictures, logos, karaoke, wallpaper, clocks, calendars, electronic books, and mobile phone games.
KONG also provides media services that include domestic and international news, entertainment, sports, fashion, lifestyle, and other special areas and community services. Chat rooms, message boards, dating, networking, and photo albums are just some of these services.
The most important area of its services, however, has to include the gaming unit which includes downloadable and online mobile games based on 2.5G platforms, including WAP and Java.
The CEO of KONG is Mr. Leilei Wang, who runs the company with Mr. Nick Yang, Mr. Jay Chang, Mr. Xin Wang, and Mr. Tai Fan.
While knowing what the company does and who is in charge of the company is always important, savvy investors know that what really matters for the growth of a stock are the fundamentals and technicals. Both of these areas are excellent, with the fundamentals bringing excellent technicals.
The fundamental growth for this stock has recently been very exciting as the company is orchestrating a successful relaunch of itself. After three years of EPS deceleration, EPS growth finally came roaring back in the most recent March 2009 quarter with a whopping 233% increase in EPS from quarter to last year's quarter. This growth in EPS is coming off the back of sales growth the past five quarters of 6%, 39%, 46%, 35%, and 38%. This growth, with the Chinese economy on fire and flush with cash, is expected to continue with YOY EPS estimates for 2009 and 2010 for gains of 91% and 33% respectively. These estimates have been raised recently so there is hope that that pattern may continue.
It should with the repurchase of $5 million dollars worth of common stock. Whenever management is buying back shares that is always a bullish sign for the stock. Management still owns 36% of this company despite it being over eight years old. This tells me that management still believes that a lot of growth is left.
Even though management has a lot of faith in this company via current holdings and the buyback, mutual funds are still holding off as only one fund own shares in this stock. They might have started getting involved after the most recent quarter results because the stock has taken off from below 2.50 to a now 9.75. This move can't just be on the back of the $5 million buyback. There simply is too much accumulation in this stock.
Mutual funds should be taking interest in the EPS and sales growth soon but if that doesn't get them there are more reason to go long than jus that. The company holds no debt to shareholder equity allowing them to keep all of that slim 2% return-on-equity that it has and it sports a strong current cash flow of $.17 per share. This is only going to improve as the years go along.
They might be holding off, for now, due to the -24% EPS growth rate the past three years but that will be changing as the quarters go along. This might help get growth funds involved but I am sure value funds will hold off until this stock can base or pullback.
With a P/E ratio at 56 which is the five-year range high (6-56) there is obvious reason for value funds to stay back. However, I would like to remind everyone that history's greatest stocks have P/E ratios over 30, 75% of the time. CSCO had a P/E ratio over 70 before it started its 90,000% run from 1990-2000. P/E ratios are good to use in bear markets but when you are in a bullish uptrend a higher P/E ratio is actually bullish. This is not my opinion. This is history.
Other stocks in this group are starting to get some juice behind them also like TMB, VIP, IPCS, HUGH, USMO, and CHU. IPCS is the only one to see heavy distribution hit it but even that stock is up 29% since its heavy volume bounce off the 50 day moving average back on April 21st. Since then, the stock is still up 29%, after the big 21% swoon it suffered on Friday. Before the selloff it was sporting a 42% gain in two months, showing the strength in this market by leading stocks recently.
Confirming the strength in the fundamentals I took a look at Investor's Business Daily's Daily Graphs Online to make sure it has a chance at becoming a better stock. The current EPS rating is a low 44 but with the 2009 and 2010 EPS estimates so high I am pretty sure the EPS rating will be over 80 within the next couple of quarters. The RS rating makes up for the EPS with a 97 rating, the group RS is on the rise but still a low 55. the SMR rating is a C, the Acc/Dis is an A+ with the Up/Down Volume Ratio a very bullish 2.1, the Composite rating is a strong 93, the Timeliness rating is a middle-of-the-road C, there is no Sponsorship rating, and the Earning Stability rating is a really poor 82 (1 is the best, 99 the worst).
While the fundamentals are getting better, one thing that is already near-perfect is the technicals. Since I have been long KONG from April, I have enjoyed an 80% gain along the way. The problem is that had I known that the stock was going to get so beautiful I would have bought a LOT more and would not have taken profits along the way up.
Instead of taking some profits on May 4th, I would have instead added to my position to only sell a large chunk off on the short-term climax move on May 26. That would have left me with a very large 65% and 26% gains.
Right now, the stock is in the middle of another base that looks to be a flat base. The problem with this base is that there is a lot of volume and bases that see this much volume sometimes do not turn out well. So we must be ready for a breakdown where I will take more profits or better yet a breakout where I will go heavily long. The max-green BOP the whole way from the uptrend in May to the base in April has made this chart silly-beautiful.
If KONG can breakout to a new 52-week high on strong volume with this BOP remaining max-green, you can be sure I will be looking to take a very large long position. One that will be 10x larger than my original long.
Averaging up is the only way to know that you are operating correctly in the stock market. I will never understand why so many average into losing stocks and sell their winners too fast. But investors like that ensure that I will always have a job to do this for a living. I am trying my best to help and that is all I can do right now.
If KONG breaks down below the support line in this current consolidation pattern, I will look into selling more KONG. If KONG breaks on low volume, it will be a tiny partial sell (20%-33%). If KONG breaks heavy with BOP still green or max-green it will be a big sell (50%-75%), and if KONG breaks down on huge volume with all that max-green BOP turning into red you can be sure I will be selling, if not all of it, pretty much all of it (80%-100%).
click to enlarge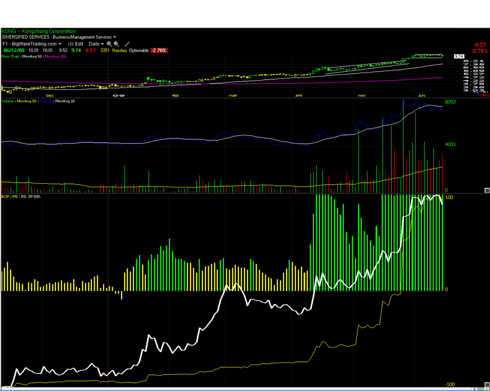 Disclosure: Joshua Hayes/BigWaveTrading.com was long Kongzhong Corp. (KONG) and iPCS Inc. (IPCS)—selling all of IPCS today—at the time of publication.