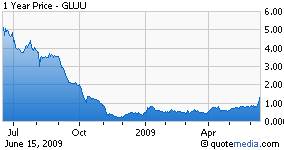 Hmmm. What's up with Glu Mobile (NASDAQ:GLUU)?
The company, a publisher of games for mobile devices, is up sharply for the second straight trading day; the stock, in fact, is up Monday for the sixth day in a row. After a gain Friday of 26 cents, or 27%, to $1.22, the stock Monday morning is up another 27 cents, to $1.49. Since closing June 5 at 79 cents, the stock has rallied nearly 89%.
Sure, GLUU is a small cap stock - market cap is just $44 million - and the stock remains well below its 52-week high of $5.38. But clearly something is going on here; the stock is headed for its heaviest trading day since April. I've left/sent messages to the company seeking comment; I will update if/when they get back.
Most recent guidance from the company is for June quarter revenue of $18.75 million to $19.25 million, with a non-GAAP loss of 4-5 cents a share. For the full year, the company sees revenue of $78.5 million to $80 million, and a non-GAAP EPS loss ranging from under a penny to as much as 7 cents.
Anyone have a clue on GLUU?