Every few weeks, we get an update from Nasdaq on short interest. As my readers know, I analyze these short interest moves when we see them, usually discussing 5 names with short interest rises and 5 with declines (or more if necessary). Today, I'm here again to analyze short interest moves, but this time around, the story is different. For many of the names I'll cover in this round of updates, quarterly earnings have been reported. As you can most likely guess, earnings reports can have a huge impact on short interest in a name. What may surprise you is the extent to which short interest has changed, especially in the first name I'll discuss, the most discussed name in our market today.
Apple (NASDAQ:AAPL):
It's been a few weeks now since Apple reported fiscal Q2, and this may be the most interesting update for short interest in quite some time. Yes, Apple beat on both the top and bottom line for Q2, but issued guidance that was below many expectations. I had been warning of a kitchen sink quarter for some time, and Apple did just that. But the most interesting part of the report was the 15% dividend raise, as well as the $50 billion increase to the share repurchase plan.
You might have thought that the dividend raise and huge buyback would have chased many short sellers away. Well, you'd be dead wrong. As you can see from the chart below, Apple's short interest spiked from the previous update. In fact, it more than doubled to 41.59 million from 20.07 million. Just about a year ago, short interest in Apple was just 8.09 million. This is truly a spectacular rise, and I'm a little surprised to see how many non-believers there are out there.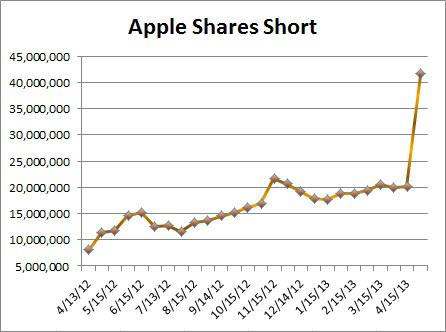 Not surprising with such a large short interest rise, Apple's days to cover ratio has increased as well. Thanks to the increased volume after earnings, the rise in the days to cover ratio didn't jump that much. However, as you can see from the chart below, the ratio is now at 1.73 after being at just 0.31 about a year ago. If Apple's short interest stays above 40 million or so, this ratio is likely to pop even more, because Apple's volume will likely decrease a bit as we get further away from earnings.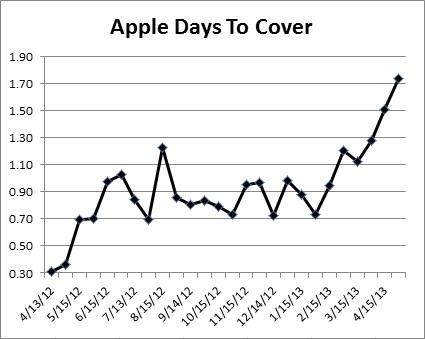 So what happens for Apple going forward? Well, in the short-term, I recently wrote how Apple had run too far, too fast. The stock has pulled back a little already, going from $465 to the low $450s, although the stock did go ex-dividend. I think we'll see some sideways trading from here, but I also wouldn't be surprised to see Apple trend slightly lower. Apple's short interest saw one of its largest rises ever after earnings, and that will be something to watch going forward. While the 41 million or so shares short is a small portion of the 950 million shares or so outstanding, short interest has soared over the past year, and the days to cover ratio keeps going higher.
Netflix (NASDAQ:NFLX):
Netflix shares rocketed higher for the second straight quarter after announcing an impressive Q1. The company brought in a solid number of subscribers, but the surprising part was how they were able to keep costs in check. Margins rose very strongly, which was somewhat unexpected, helping to fuel a huge earnings beat. Netflix shares rocketed past $200, and rallied to a new high near $230 on Monday.
You might have thought that a great earnings report would have caused more short sellers to cover, and it might have right after the report. However, by the end of the month, short interest had actually jumped. Netflix short interest was up more than 38% during April, and the 10.37 million shares short was a new high for 2013. With Netflix shares more than doubling from the beginning of the year, and up multiple times from the $52.81 low last year, non-believers are on the rise again. I wouldn't be surprised to see short interest continue higher at the next update.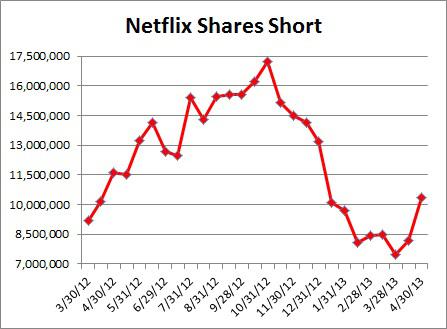 Google (NASDAQ:GOOG):
Google raced to a new all-time high above $882 on Monday, and at levels like this, it is no surprise that short sellers are starting to return to the name. After a couple of decreases in short interest, Google short interest popped at the end of April. Don't forget, Google was in the low $800s at the end of last month, and now we are at $880. I'm even more curious to see the numbers at the next update.
In my opinion, Google has been off to the races because investors see it growing very fast. While that growth may have been a little inflated thanks to Motorola Mobility, Google's growth is not what it seems. You have to be careful, because some websites show current analyst estimates in GAAP terms, but last year's numbers in non-GAAP terms. That significantly overestimates Google's growth, which is not rising as fast as some may think. Google currently trades for more than 19 times non-GAAP expected earnings this year, and the GAAP valuation is even higher. Compare that to Apple, which is at just 11.4 times its fiscal year (ending September) expected GAAP earnings.
At this point, Google's next stop could be $1,000, but I find it hard to believe that this stock is still rallying. That's probably due to the Fed and other central banks throwing all of this liquidity into the market. Google's growth is not spectacular, and it trades at a high valuation. In a normal market, this name would be a bit overvalued. But with the printing presses on full blast, investors continue to pile in.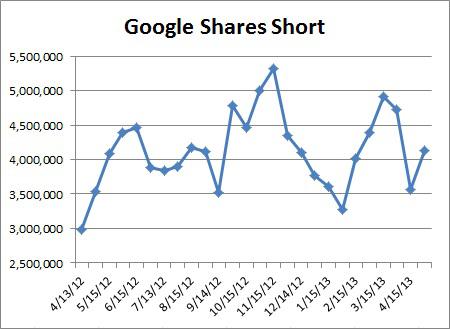 Zynga (NASDAQ:ZNGA):
Zynga also reported its earnings recently. While Q1 headline numbers looked good, a number of metrics did not, and thus Q2 guidance was a bit disappointing. Shares declined about 10% initially on the news, testing $3.00 for the first time in a couple of months. Shares have rallied back since then, almost regaining to $3.50 this month after a nice seven percent plus rally.
The disappointing Q2 forecast might be one reason why short interest rose by nearly 7 million shares in the second half of April. At 33.4 million, Zynga's short interest is now at its highest point since the end of July 2012. Zynga short interest got down to 10.9 million in November (after a high of 56.6 million earlier in 2012), but has basically tripled since then. Zynga bulls are hoping that real money gambling could help this name going forward, but for now, short interest is certainly rising.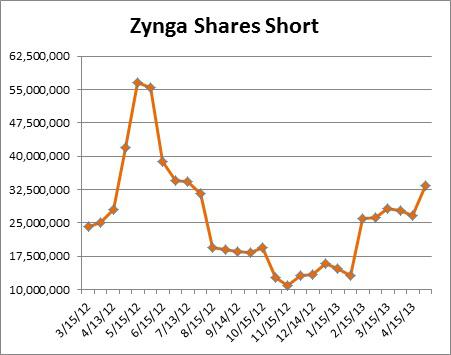 VMware (NYSE:VMW):
VMware nearly hit a new 52-week low and almost broke $70 after another round of disappointing guidance. You may remember a quarter ago when VMware's terrible guidance sent shares sharply lower, eventually to their lowest point since 2010. Shares have recovered into the mid $70s since testing their lows, but they also rallied to nearly $86 after testing $70 the last time. That didn't work out well, and shares quickly retreated.
As you can see from the chart below, short interest is back above 9 million for the first time since January. Short sellers were covering in droves as prices hit new lows, but now, they are coming back. The company's poor guidance might have them starting new bets, hoping this stock drops into the $60s going forward. In the month and a half since short interest in this name hit its recent bottom, more than 2.5 million additional shares have been shorted. That's a rise of nearly 39%, and something to watch going forward. If VMware continues to issue bad guidance, short sellers will keep piling into this name.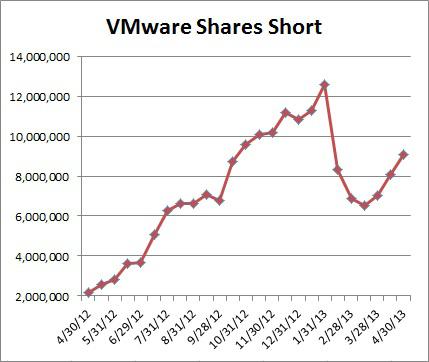 Final Thoughts:
All five of these names have seen significant rises in short interest recently. Apple saw the biggest rise, with short interest doubling after earnings. Apparently, a 15% dividend raise and huge increase in the buyback weren't enough to chase the shorts away. Netflix had a decent quarter, but at nearly $230, the valuation doesn't seem right to some. Google is racing towards $900, which is bound to increase the number of shares short. Zynga's Q2 forecast was disappointing, and short interest is at a multi-month high. VMware issued another round of poor guidance, and shorts are coming back. I'll return in a couple of weeks with the next round of short interest data. Will any of these names make the list again? You will just have to wait and see.
Disclosure: I have no positions in any stocks mentioned, and no plans to initiate any positions within the next 72 hours. I wrote this article myself, and it expresses my own opinions. I am not receiving compensation for it (other than from Seeking Alpha). I have no business relationship with any company whose stock is mentioned in this article.
Additional disclosure: Investors are always reminded that before making any investment, you should do your own proper due diligence on any name directly or indirectly mentioned in this article. Investors should also consider seeking advice from a broker or financial adviser before making any investment decisions. Any material in this article should be considered general information, and not relied on as a formal investment recommendation.