Mosaic Co. (NYSE:MOS), the largest U.S. fertilizer producer, continues to focus on achieving a more efficient balance sheet. Investors should not be surprised by Mosaic's target to increase its financial leverage. After the latest Q3 report, the management indicated its intention to reduce the company's cash and increase the leverage. The management emphasized its targets in the company's conference call on capital management philosophy.
Higher leverage
Mosaic's capital becomes flexible after May 26, which is the two-year anniversary of the Cargill split-off transaction. The top priority for the management is to maintain an investment grade rating and financial flexibility for Mosaic's balance sheet. For liquidity, the management set a target of $2.25 billion, with one-third of cash and two-thirds credit line. Management also wants to maintain a targeted leverage ratio (or adjusted debt-to-EBITDA) of 1.5 times, which means the management can issue additional $3 billion of debt on top of current $1.5 billion debt with $3 billion of EBITDA.
Concerns
The final 2 million tons of Mosaic's Potash expansion strategy is deferred, which will be resumed when market conditions warrants and when risk adjustable returns justify. It may first appear to be correlated to suspend the expansion strategy while increasing the leverage for the balance sheet to repurchase more shares and return more capital to shareholders; however, the management stated that they were two separate decisions. Either way, it should mean Mosaic's capital is better used to repurchase its own share instead of expanding its Potash protection. That does raise a concern for the market condition in the coming quarters.
Comparison
Mosaic will be compared to its peers in the industry of agricultural inputs, including Agrium Inc. (NYSE:AGU) and Potash Corporation of Saskatchewan, Inc. (NYSE:POT). These companies will be compared for their quarterly revenue growth, diluted quarterly EPS growth, profit margin, ROE, and financial debt-to-EBITDA ratio.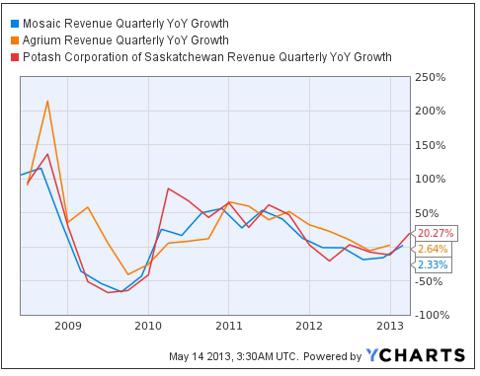 Source: YCharts.com
All three companies have started to pick up their revenue growth since late 2012; however, Mosaic's revenue growth of 2.33% is lagging behind Potash's 20.27% quarterly revenue growth for Q1, 2013.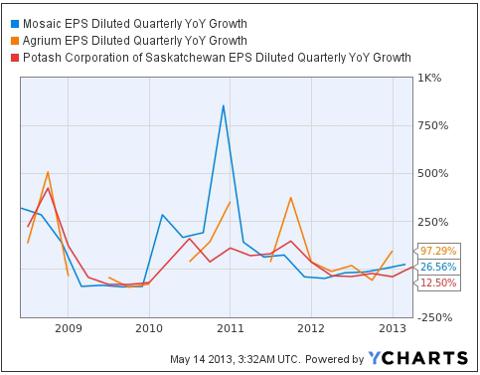 Source: YCharts.com
Agrium's quarterly diluted EPS growth continues to fluctuate widely since mid-2011, whereas Potash's EPS growth starts to pick up in early 2013. Mosaic, on the other hand, has increased its diluted EPS growth steadily since early 2012.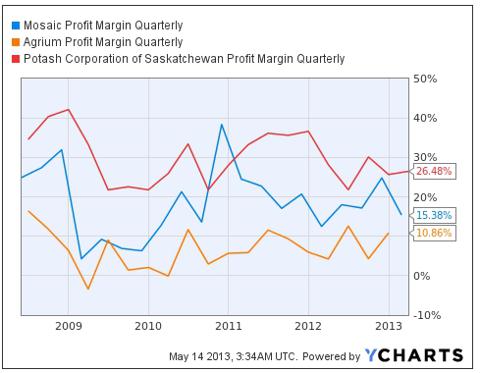 Source: YCharts.com
Potash continues to have the highest profit margin among three companies, followed by Mosaic.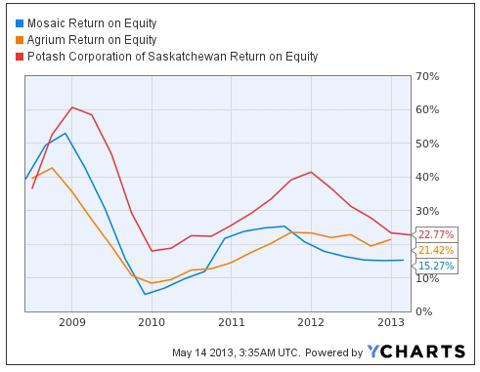 Source: YCharts.com
Similar to the profit margin, Potash generates the highest ROE among three companies. However, since late 2011, Agrium's ROE has surpassed Mosaic's. Mosaic's ROE continues to slide since late 2011 and has stabilized in late 2012.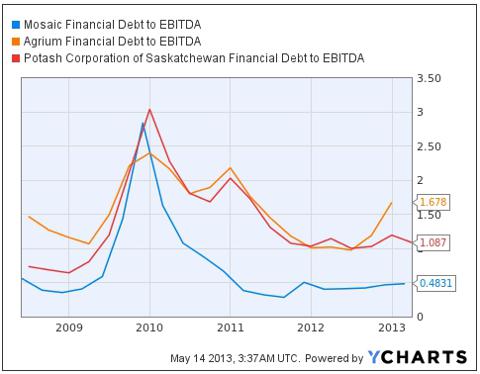 Source: YCharts.com
While all three companies' financial debt-to-equity ratio topped in late 2010, Mosaic's debt ratio has declined the most and currently has the lowest ratio of 0.4831, whereas Agrium has the highest ratio of 1.678 and Potash has a relatively consistent ratio around 1 since late 2011.
By comparing to Potash and Agrium, it is logical to see why the management is working on improving its balance sheet to improve its return while maintaining its revenue and EPS growth. At current debt-to-EBITDA ratio, Mosaic indeed has a lot of room to work around as compared to its peers.
Bottom line
Although the near-term price performance for Mosaic may be pressured due to the delaying of phosphate expansion plan, the long-term outlook remains positive for Mosaic. It is a logical move for the management to increase its balance sheet to catch up its returns while Mosaic's financial debt-to-EBITDA ratio remains relatively lower as compared to its peers. Mosaic's future growth will also be lifted by the joint venture with Ma'aden. More upside is expected for Mosaic in the long-term.
Disclaimer: Investors and traders are recommended to do their own due diligence and research before making any trading/investing decisions.
Disclosure: I have no positions in any stocks mentioned, and no plans to initiate any positions within the next 72 hours. I wrote this article myself, and it expresses my own opinions. I am not receiving compensation for it (other than from Seeking Alpha). I have no business relationship with any company whose stock is mentioned in this article.