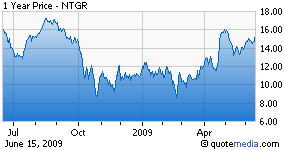 Netgear (NASDAQ:NTGR) shares received a boost Monday morning from Deutsche Bank analyst Jonathan Goldberg, who raised his rating on the stock to Hold from Sell.
"Following our visit to Taiwan, we believe the wireless router landscape has stabilized," Goldberg writes in a research note. "As with other consumer electronics categories, retailers slashed inventories in Q4 and Q1." He says inventory levels bottomed in April and May and have improved slightly since then. Goldberg adds that "for the moment, the pricing environment also remains relatively benign."
Goldberg says the consumer business has stabilized, although he sees little upside, noting that visibility is poor, and that retailers "have yet to fully engage on their plans for Q4 orders." Enterprise demand remains particularly weak, he says, consistent with corporate IT trends in other product categories. Goldberg says that for the company to outperform this year, it would need to see stronger end demand. But he also says Q4 results should at least be up from a "disastrous" quarter a year ago.
Goldberg is hardly a bull on the stock; he says long-term trends remain challenging. That said, he did up estimates significantly. For Q2, he goes to 21 cents a share, from 18 cents. For 2009, he now sees 85 cents a share, up from 60 cents. And for 2010, he goes to $1.09, from 55 cents. He is now WAY ahead of the Street at 30 cents for this year and 73 cents for next year.
NTGR Monday is up 99 cents, or 6.7%, to $15.74.