Markets ended yesterday relatively flat, however the S&P 500 did hit fresh new highs yesterday which should give one some confidence in the current market. Looking at markets this morning it looks like we will have another choppy day with little ground given up on either side of unchanged as there is little in the way of economic news today, that shall pick up later in the week, and very few big stories ongoing. Asia finished mixed and Europe is currently red.
Chart of the Day:
This morning we ran across a chart we had previously saved but did not use because it was already dated. It is even more dated now, however we did want to bring to readers' attention the important facts laid out in the data. First is that over the past 3 years the country has seen a rebound in the growth of jobs, however over five years this is not the case. The South and West were hit pretty hard, but interestingly enough is that over five years the states which performed the best were North Dakota and Texas, due to their oil finds. Really the resource boom has helped power the growth in those states showing green in one way or another. Take a look...

Chart courtesy of TurboMetrics.com
We have economic news due out today, and it is as follows:
Export Prices - Ex Ag (8:30 a.m. ET): N/A
Import Prices - Ex Oil (8:30 a.m. ET): N/A
Asian markets finished mixed today:
All Ordinaries -- up 0.15%
Shanghai Composite -- down 1.11%
Nikkei 225 -- down 0.16%
NZSE 50 -- down 0.55%
Seoul Composite -- up 1.03%
In Europe, markets are lower this morning:
CAC 40 -- down 0.54%
DAX -- down 0.19%
FTSE 100 -- down 0.16%
OSE -- up 0.44%
Consumer Electronics
Sony (NYSE:SNE) shares rose $0.97 (5.41%) yesterday to close at $18.89/share and the story since last week has been about the turnaround taking place at the company. This morning we are seeing reports that Daniel Loeb is calling for a spin-off of Sony Entertainment, the one division which has been a steady performer through all of this for investors (see article here). With the revelation that his hedge fund, Third Point, now owns a bit over 6% of the company it appears that Loeb is prepared to go to battle and when one looks at his record it is almost necessary to feel sorry for the Japanese management. The entertainment division may not be spun off, but something will be done here to create value for shareholders, especially when Mr. Loeb has put over $1 billion on the line. Look for a move higher today.
We are watching as 3D Systems (NYSE:DDD) continues its move higher closing at $47.15/share during Monday's session after rising $3.30 (7.53%) on strong volume of 8.7 million shares. There were two reasons for the move higher yesterday with the first being that Canaccord raised its price target from $45/share to $50/share and reiterated its 'Buy' rating. Also moving the stock was news that competitor, Stratasys (NASDAQ:SSYS), beat on their earnings which pushed the whole industry higher. It seems the bulls are returning to this story with the improvement in the market and overall industry news which could eventually propel names like 3D Systems to new highs barring any unfavorable macro economic news.
Automobiles
Tesla (NASDAQ:TSLA) had another big up day yesterday (due to follow through on its earnings reported last week) on above normal volume, 22.4 million shares, to continue their winning streak. The stock now trades at $87.80/share after yesterday's $11.04 (14.38%) move higher. We stated yesterday in the caption to one of the graphs we highlighted, a chart of Tesla's dramatic rise, that this was a bubble which would eventually pop. We took some heat via a few emails and such but we stand by that comment. Remember, nothing rises straight up and retracements are necessary. We think this sees $60/share again, and probably $60/share before $120/share.
Healthcare
Unilife (NASDAQ:UNIS) put together its second big winning day in a row yesterday as shares rose another 25%+ to close at $3.76/share on extremely high volume of 10.01 million shares. The move was a follow through from the company's positive earnings guidance from last week and for those wanting to read up on the outlook we have found a transcript located here. The company's press release is located here.
Big move on the tail end of the chart, but still short of the yearly highs.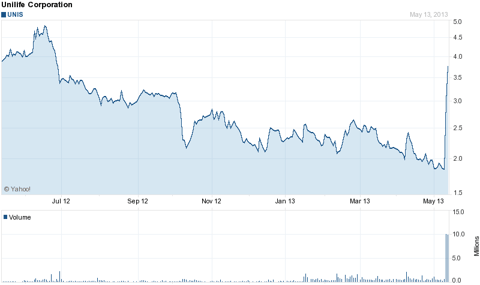 Chart courtesy of Yahoo Finance.
Biotechnology
Investors finally have an idea what Elan (NYSE:ELN) is going to do with their cash stockpile, and that is invest it in other drug companies' royalty portfolios...or at least that is the way it appears after their transaction with Theravance (THRX) announced Monday (see press release here). The deal calls for Elan to pay $1 billion to Theravance for a 21% participation interest in a portfolio of 4 respiratory drugs currently partnered with GlaxoSmithKline plc (see transcript from the conference call here). We like the deal and the market liked the deal as Theravance was propelled to new highs on the news.
The company hit new highs on the big royalty sale news.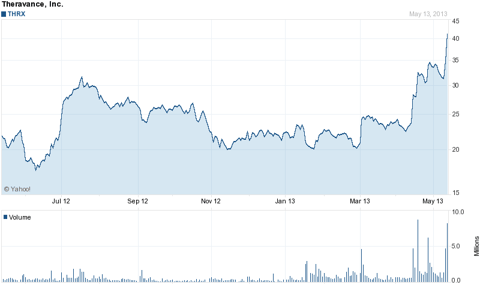 Chart courtesy of Yahoo Finance.
Disclosure: I have no positions in any stocks mentioned, and no plans to initiate any positions within the next 72 hours. I wrote this article myself, and it expresses my own opinions. I am not receiving compensation for it (other than from Seeking Alpha). I have no business relationship with any company whose stock is mentioned in this article.