For the Semiconductor Market:
So far forecasts show that the semiconductor market is geared to grow 5.6% in 2013 (IHS) or maybe 4.5% (Gartner) or maybe 6% (IC Insights) or maybe 4.9% (IDC) or maybe 10.1% (VLSI Research).
This is what we know:
The semiconductor market is UP 2% for the first three months of this year compared with 2012, as shown in the chart below.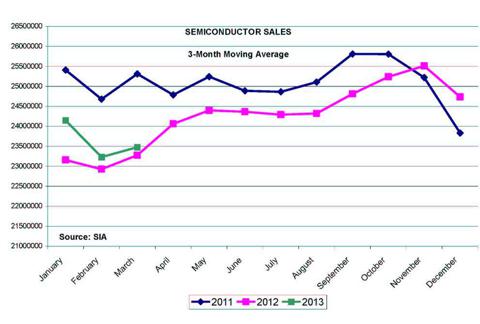 For the Semiconductor Equipment Market:
So far forecasts show that the semiconductor market is geared to drop 0.4% in 2013 (SEMI) or maybe drop 4.6% (VLSI Research) or maybe 9.7% (Gartner)
This is what we know:
The semiconductor market is DOWN 23% for the first three months of this year compared with 2012, as shown in the chart below.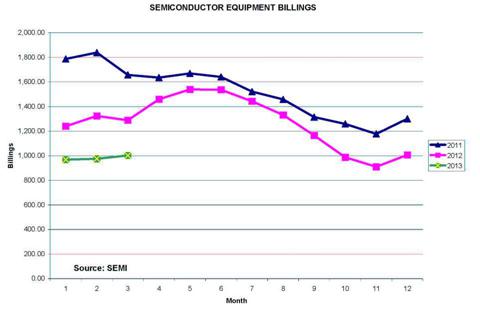 These are our projections:
The semiconductor market may grow only 1.5% in 2013. Why do we say this? Semiconductor sales are dependent on macroeconomic factors and frankly the global economy stinks. An anemic growth in GDP projected of only 3.6% translates to global semiconductor sales of only 1.5%, as shown in the chart below.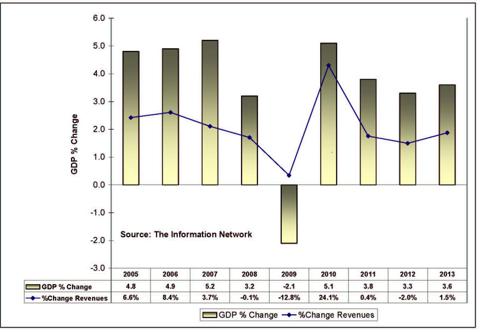 There is, however, the possibility for a snap-back in revenues for 2013, irrespective of macroeconomic factors, such as what occurred in 2010. A growth of 21.4% was recorded in 2010 primarily because the industry declined 12.8% in 2009, due to the global economic recession. In 2010, the semiconductor market was driven by pent-up demand as system makers scrambled against depleted inventories to obtain parts.
For example,
NAND is projected to grow 50% for 2013, which is sufficient to support investment in new capacity starting in the middle of the year.
20,000 wafer starts of 3-D NAND capacity to ship by the end of 2013.
330,000 wafer starts, plus or minus, per month exiting 2013. Foundries will continue making 28-nanometer investments and we forecast 28-, 32-nanometer capacity increasing to 330,000 wafer starts per month by the end of 2013.
20-nanometer will begin to ramp in the second half, and we currently expect total capacity to reach approximately 40,000 wafers.
There will be new capacity additions for DRAM with bit growth demand in the range of 30%.
For our semiconductor equipment revenue forecast, it appears a stretch to think that revenues could reach positive territory after being down 23% for the first three months of 2013.
We base our analysis on several factors. First, the table below shows the 2013 capex guidance with an average change of 6% for the top six companies listed. While Capex changes over the course of the year, these announcements fortify our analysis that the demand for processing equipment will be 5%.
Semiconductor CapEx ($ Billions)

Company

2012

2013

Change

Intel (NASDAQ:INTC)

11

12

9%

Samsung (OTC:SSNLF)

12.9

12.9

0%

TSMC (NYSE:TSM)

8.2

9.8

17%

Globalfoundries

3.8

4.4

16%

UMC (NYSE:UMC)

1.7

1.5

-12%

Total

41.3

43.8

6%
Secondly, as noted in the bulleted items above, there is a move to smaller dimensions that is accelerating. "IC makers that moved from 40nm to 28nm have experienced a 35% average increase in speed and a 40% power reduction," said Jack Sun, vice president of R&D and chief technology officer at TSMC. "In comparison, IC vendors that will move from 28nm to 20nm planar are expected to see a 15% increase in speed and 20% less power."
TSMC will begin volume production of 20nm CMOS at the end of second-quarter 2013 at its Fab 14 plant and ramp 20-nm production in the second half of 2013. TSMC's ability to transition manufacturing of chips from 28-nm to 20-nm bulk CMOS is a warning shot for competitors Samsung, Globalfoundries, and UMC.
Not to be outdone, Intel is already making Ivy Bridge processors at 22nm and its roadmap plans on Silvermont at 22nm in 2013 and Airmont and others at 12nm in 2014.
Thirdly, our Proprietary Leading Indicators (PLIs), which we have utilized and fine tuned since 1995, point to growth in semiconductor equipment over the next five months. Our PLIs have been increasing for the past seven months, whereas semiconductor equipment billings have only been increasing for the past two months.
In the next installment of this article we will discuss semiconductor equipment companies such as Appllied Materials (NASDAQ:AMAT), Lam Research (NASDAQ:LRCX), KLA-Tencor (NASDAQ:KLAC), ASML (NASDAQ:ASML) and others, and how we expect them to fare in 2013.
Disclosure: I have no positions in any stocks mentioned, and no plans to initiate any positions within the next 72 hours. I wrote this article myself, and it expresses my own opinions. I am not receiving compensation for it (other than from Seeking Alpha). I have no business relationship with any company whose stock is mentioned in this article.