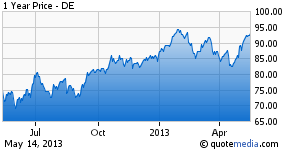 The agriculture and construction equipment manufacturer Deere & Company (NYSE:DE) will release its first quarter 2013 earnings report on the morning of Wednesday, May 15. The company's management will host a conference call with analysts at 10 AM Eastern Daylight Time to discuss Deere & Company's most recent financial results and provide color to its forward guidance by answering questions about current business operations and the prospects for important agricultural commodities. Ahead of the first quarter 2013 earnings report, shares of DE closed at $92.58 per share on May 13, which represents a respectable 7 percent gain for the company's stock price year-to-date. As Deere & Company prepares to report its first quarter financial results to investors, the stock's current price is trading very close to its 52-week high of $95.60 per share. Although DE shares are tantalizingly near to this key breakout price level, the path the stock has taken to achieve these gains was filled with volatility and some disappointment along the way. By taking a closer look at the forces driving Deere & Company in 2013, potential investors can determine an optimal entry point for taking a position in DE shares.
Shares of DE closed 2012 at $86.42 per share after rallying for four months straight to end the year after bottoming out at a price of $74.32 on August 29. The powerful momentum lasted one more month as DE shares gapped to open the first trading session of 2013 before closing essentially unchanged for the day at $87.99 per share. Deere & Company's stock price continued its upward trend for the rest of January by only registering five down days for the entire month before reaching DE's 52-week high of $95.60 intra-day on January 30. Much of the euphoria about DE's stock price was attributable to a widespread belief in the agricultural community that 2013 was poised to deliver a record corn crop yield for U.S. farmers, which would translate into significant beneficial earnings growth for Deere & Company. Unfortunately, for DE shareholders, the momentum of the 52-week high proved short-lived as the calendar turned to February and the manufacturer of John Deere tractors updated investors on its prospects for the year. The stock sank further from there as DE shares retreated to trade around the $92 per share price level in the days shortly ahead of the release of the company's fourth quarter 2012 earnings report.
The stock's difficulties were only beginning when Deere & Company disappointed in their 2012 Q4 financial results and lowered guidance on U.S. corn prices for 2013 in the February 13 earnings release. The anticipated record corn crop translates into lower prices per bushel of the agricultural commodity, which may leave some smaller farmers with less money to spend on equipment and machinery to harvest the larger yield. The effect of the report on Deere & Company's stock was swift and dramatic as shares of DE dropped from a closing price of $93.97 per share on the day before the earnings release to close at $90.69 per share in the first trading session after the announcement. The stock of Deere & Company continued to decline to $85.55 per share on February 25 before mounting a brief rally into mid-March. DE shares took another hit when analysts at Wells Fargo and UBS both downgraded Deere & Company on March 19 and 20, respectively, based mostly on the potential for much lower corn prices in 2013. The stock dropped from a close of $91.82 per share on March 18 to a low of $86.65 per share on March 21 in the wake of the downgrades by the two analysts.
Deere & Company's stock price continued its 2013 correction by briefly dipping below its 200-day exponential moving average on April 17 to a year-to-date low of $81.58 per share before rebounding strongly based on reports that corn crops are getting off to a slow planting season due to heavy precipitation in the Midwest. The news is viewed as supportive for corn prices as the slow start to planting could translate into higher prices as crops may not be ready for harvest at the same time and farmers can bring their product to market in a marginally more orderly time frame. Deere & Company's stock price tracks a strong correlation with corn prices and DE shares shot back above their 200-day EMA by closing at $83.82 per share on April 22. Since that trading session, DE shares have gained 10 percent in a little over three weeks based on the prospects for corn prices and a strong momentum rally.
From a technical analysis perspective, DE shares are currently trading well above their 20-day and 50-day exponential moving averages of $89.25 and $88.27, respectively, and 9 percent above the current 200-day EMA of $84.45. When combined with the mid-April test of all those EMAs, DE shares are showing a powerful price move that looks like the early stages of a strong momentum rally. Analyst sentiment is decidedly mixed on DE with 10 buy, 10 hold, and 2 sell recommendations accompanying a $99 consensus price target on the stock. This favorable backdrop sets the stock up beautifully for a flurry of analyst upgrades and price target increases if Deere & Company delivers on its Q1 2013 earnings report.
For investors looking to enter a new position in DE, the key element to understanding the forces driving the stock's price action is its close correlation to the direction of corn prices. While the equipment maker does have other business segments focused on forestry and construction, Deere & Company's core operations are in agriculture in general and corn in particular. Ahead of DE's 2013 Q1 earnings report, analysts providing coverage of the company's stock currently have a consensus estimate of $2.72 earnings per share and revenues of $9.81 billion as expectations for the quarter. With the disappointing Q4 2012 earnings report from February firmly in the memory of investors, Deere & Company management will be eager to avoid any negative surprises and provide clear transparency on forward guidance to validate the extraordinary price momentum in the stock with concrete financial results. By providing more color on the prospects for the 2013 corn crop, Deere & Company executives can further guide analysts' understanding of the company's earnings potential for the remainder of the year. Investors interested in adding DE shares to their equity portfolio will discover they have impeccable timing ahead of Deere & Company's May 15 earnings report.
Disclosure: I have no positions in any stocks mentioned, and no plans to initiate any positions within the next 72 hours. I wrote this article myself, and it expresses my own opinions. I am not receiving compensation for it (other than from Seeking Alpha). I have no business relationship with any company whose stock is mentioned in this article.