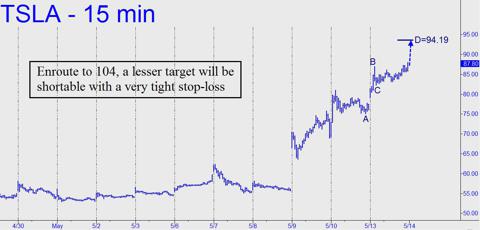 Tesla (NASDAQ:TSLA) to $300 a share!
Well, not yet, but they are at $93 and up another 6.2% for the day in pre-market trading as Morgan Stanley puts out a note calling them "A Short Seller's Nightmare," which they are, up 177% for the year and up 57% in the last 3 sessions, during which 100% of the float turned over so, in other words, every single person who owned TSLA last Tuesday has had the opportunity to get out at record highs since then. If this is giving you flashbacks to the dot com days - welcome to the club. I picked TSLA as one of my 3 favorite stocks of 2013 but we certainly weren't prepared for this.
In fact, just yesterday, we took a short play on TSLA's rally, buying 5 of the 2015 $85/115 bull call spreads for just $7 in our virtual $25,000 Portfolio and selling 5 of the June $85 calls for $8.60 for a net credit of $1.60. Our logic was that $85 was ridiculous and unsustainable yet up another $10 this morning (yes, it gained $2 more while I'm writing this) means we may need to add more longs already. And what fun it is when you can buy a $30 spread for $7 on a Monday afternoon and, by Tuesday morning, you're already $10 in the money. These are the kind of market-distorting profits I was complaining that we shouldn't be able to make on Friday but, if they keep giving them to us, we'll keep taking them.

We also shorted Elon Musk's other company, Solar City (NASDAQ:SCTY), in our $25,000 Portfolios, as they had also had a ridiculous run-up, probably assuming the TSLA magic would rub off. It didn't, they missed. On that one we took 10 of the tighter October $30/35 bull call spreads for $2.50 and sold 5 of the June $40 calls for $5 for a free play and, as expected, SCTY is down 6% pre-market, mirroring TSLA's up move as they missed, losing more money per share (.41) than expected.
At least that one makes sense and our trade works because the short calls expire worthless and we keep the remaining value on the long spread (maybe $1) for a $1,000(ish) profit. Not too bad. The TSLA trade, on the other hand, becomes problematic if TSLA goes over $115 and, ridiculous as that sounds - the action of the past few days makes us worry about that. The solution, of course, it to buy more of the long spreads and roll the short calls but we didn't really want to be in a long-term position in the $25KPs - as they are mainly for shorter-term trading.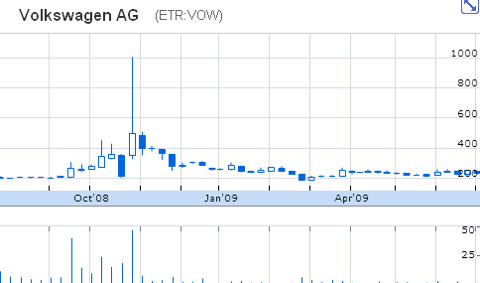 Of course, MS actually said that TSLA is OVER-PRICED at $85 (not $95) the same way Porsche-VW was over-priced in 2008, when VW went from 200 Euros to 1,000 and then back to 400 in two weeks and back to 200 Euros a few months later. The people who bought VW for 600 Euros, 800 Euros and 1,000 Euros were complete idiots and had no chance of ever getting their money back - but that was small consolation for the short sellers they squeezed our of their positions.
The $300 "target" MS was talking about was simply a mental exercise to attempt to justify the madness. Options help us take advantage of that madness. There's the above bull call spread I mentioned, and you don't have to sell short calls against them. You can also take a flyer and buy Jan $115 calls for $10 and put a stop on them at $5, so you risk 50% and limit the loss (and you can offset that by selling 2014 $40 puts for $5 so you net zero and maybe you end up owning TSLA for $40 in Jan 2015). That way, if TSLA does fly up to $300 a share, your $115 call would be worth $185 for a nice 1,750% profit.
Meanwhile, all this electric car silliness is great for our oil shorts and I put out a note to members this morning on the Oil (/CL) Futures crossing below the $95 line again and already we've gotten a quick .50 dip out of them ($500 per contract), which is good enough for a breakfast trade, of course. As I noted in yesterday's post, Americans are buying more and more cars and those cars are using less and less fuel so our demand keeps going down every year - if TSLA proves one thing, it certainly proves this is a trend that's not likely to quit.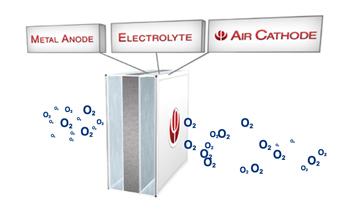 In fact, there's a company in Israel called Phinergy that CLAIMS to have a revolutionary aluminum air cathode battery that can go 1,000 miles on a single charge AND would be small enough to swap out at gas stations so you simply drive up, get a freshly charged pack and keep going. That would literally be the beginning of the end for oil but I remain skeptical that it's been solved so quickly - just passing on a rumor to illustrate the point.
Elon Musk has been the master of the rumor with a string of announcements via Twitter (now that it's legal to do so) to whip the faithful into a well-timed frenzy. Announcement 1 came April 1st "Tesla Model S Sales Exceed Target," #2 was "Tesla Unveils Revolutionary New Finance Product" on April 2nd, #3 was "Creating the World's Best Service and Warranty Program" on 4/26, #4 is yesterday's supercharger announcement above and #5 remains a mystery and there's a Tesla Motor Club Forum that's like Mac Rumors where they speculate endlessly about what it could be.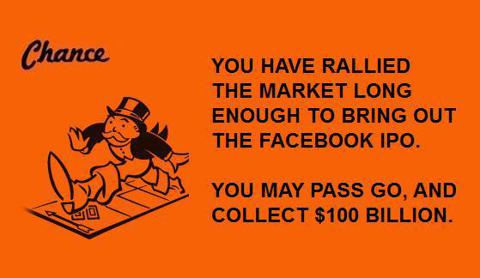 It's a combination of masterful marketing and stock manipulation but that's all legal now thanks to the recent SEC decision that lets CEOs release critical company information via social media. If TSLA punches to $300 and back to $40 over the next few months, will the SEC reconsider this madness or will it simply become the roadmap for the next wave of CEO Blodgets to pump their stocks to ridiculous levels. In fact, IPOs have already raised $16.8Bn this year, 28% of last year and on pace for the biggest IPO year since the frenzy of 2007.
I'm not saying Musk is a bad guy, the company is great, the car is great - but he knows what he's doing here and it's simply not going to last and a lot of people are going to get hurt buying into the unsustainable frenzy he's creating. As always, I hope you all continue to be careful out there.
Disclosure: I am long TSLA. I wrote this article myself, and it expresses my own opinions. I am not receiving compensation for it. I have no business relationship with any company whose stock is mentioned in this article.
Additional disclosure: Positions as indicated but subject to change (fairly bearish mix of long and short positions - see previous posts for other trade ideas). Positions mentioned here have been previously discussed at philstockworld.com - a paid membership site that teaches stock, options and futures trading, portfolio management skills and advanced income-producing strategies for investors.