Macy's Reports Wednesday Morning
Macy's (NYSE:M) is scheduled to report this Wednesday before the market opens with a 10:30AM conference call. Macy's is definitely a company where there is going to be a buzz around earnings, not only due to the fact that its widely followed to begin with, but because of the recent comparisons and feuds its been having with soon-to-be-defunct competitor JCPenney (NYSE:JCP).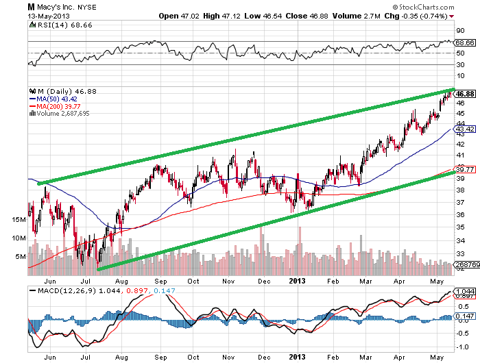 Click to enlarge
(Click to enlarge)
The last year has been beautiful for Macy's longs, as they're sitting on gains of roughly 50% at this point. The stock is in an extremely strong trend upward going into earnings, leading me to believe that anything short of a beat is going to result in the stock pulling back as longs start profit taking.
Analysts on Wednesday are going to be looking for earnings of $0.53/share on revenues of $6.4 billion. Analysts across the board are extremely bullish heading into earnings. Street Insider reported on a recent Deutsche Bank upgrade of Macy's going into earnings:
Deutsche Bank today maintained a Buy rating on Macy's (NYSE:M) with a modified price target of $53.00 (from $47.00). Analysts noted high expectations heading into Macy's Q1 report.

"Expectations at Macy's are somewhat elevated heading into the 1Q13 print on May 15, as the stock is up close to 20% YTD and with investors looking for 1Q SSS of 3.5%-4.0%. In our view, the shares represent a mixed bag at current levels, with sales potentially coming in at the high-end of expectations, while margins may have been pressured by promo spend and free shipping. Despite the tough set-up, we remain constructive on the shares and are buyers on any pullback, as Macy's is one of the better operators among its peers," said analysts.
SA contributor Richard Tarjeft sounds bullish, as he suggests that we're going to see a beat, as per Macy's M.O.:
For investors looking to enter a position in Macy's Inc. shares, it is important to understand that the company has a perfect record of beating analysts' consensus estimates four times in the past four quarters. This history is aided by the transparency with which Macy's Inc. management offers investors and the analyst community about developments in the company's operational and financial performance throughout the quarter. By transmitting information quickly and clearly, Macy's Inc. prevents negative surprises and builds confidence in its ability to execute on its operational strategies. The steady gains in M shares year-to-date in 2013 are poised to continue after the company reports its Q1 earnings on May 15, which presents potential investors with an outstanding opportunity going into the announcement of the company's most recent financial results.
SA contributor Bret Jensen echoes these sentiments:
4 additional reasons M still looks good at under $47 a share:

Important to remember going into earnings is that Macy's has beat earnings estimates for twelve straight quarters. The average beat over consensus has averaged 9% over the last four quarters.

The company rewards shareholders. It pays a 1.7% dividend and has quadrupled its payout since the nadir of the financial crisis. It also has ~$1.5B left on a repurchase program. This would remove ~8% of the float at current prices.

M sports a five year projected PEG of under 1 (.82).

The stock sells at ~10.5x next fiscal year's projected earnings and ~8x current operating cash flow.
And so, that's how the sentiment is going across the web. Usually, when going into earnings, I try to find analyst sentiments on both sides of the coin. I'm finding that extremely difficult to do in the case of Macy's, as every single article and blog that I stumble on reiterates more bullish sentiment heading into earnings.
A Safe Way to Play Earnings
Anyone that reads my articles knows that I always try and present the argument for heading against the trend. Often, it's a great way to get absolutely stomped on and lose tons of money. Sometimes, however, if you pick and choose your spots correctly, it can pay off immensely. With the bulls having their way with Macy's recently and having extremely high expectations going into earnings, I'm contesting that a meet or a miss here could lead to as much as a 25% pullback in Macy's before June is over and done with. Know what the reward is for constantly crushing earnings and then finally missing one quarter? Ask Apple. For them, it was an almost 45% pull back in their share price.
Also, because I'm confident in an upcoming bear market from a macro perspective, it supports my cautious sentiments on Macy's.
Having said that, I'm channeling my inner Dr. Terry Allen here, who is one of the best options strategists on this site, hands down. Terry always seems to find a safe way to play earnings announcements by using one of several options strategies. For the most part, and since I've been following him, his calls have yielded pretty decent success.
Macy's is currently trading at $47.22. Expecting volatility in the two days before expiration and after earnings, we're going to be taking a pretty simple and basic options spread with May $47.50 calls and May $47.00 puts. The calls cost $0.69 and the puts cost $0.84. That, plus your commission, is going to put your breakeven points at $49.03 and $45.47. This is an extremely safe way to take a position into earnings, as a run up will likely eclipse $50 and (where I believe there's the most potential) a miss could likely crush the stock, sending it back to it's old support between $38 and $41.
Just remember, playing this strategy, you're only going to have two days to sell your contracts or exercise; if you can grab a profit, do it quickly, as these options are gushing theta with every minute that passes. As always, best of luck to all investors here.
Disclosure: I have no positions in any stocks mentioned, and no plans to initiate any positions within the next 72 hours. I wrote this article myself, and it expresses my own opinions. I am not receiving compensation for it (other than from Seeking Alpha). I have no business relationship with any company whose stock is mentioned in this article.