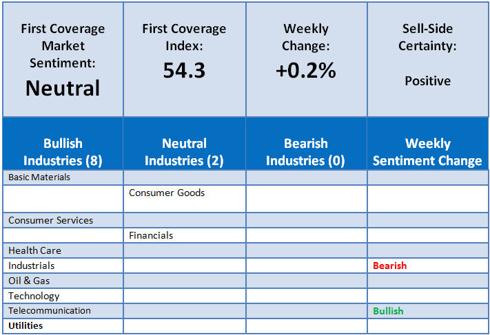 Click to enlarge
Writing this after the markets closed Monday, the clear question on everybody's mind is "What does a low-volume market shellacking mean for the strength, duration or validity of this market rally?"
We were very curious about how the sell-side would react to this bump in the rally road, and whether sell-side sentiment was fragile enough that people would be breaking ankles jumping off the market bandwagon the first time someone yelled, "Bear!" The answer is "No!"
While First Coverage Market Sentiment did decline from the close of market on Friday, it was by a whopping 0.05%, and sentiment as a whole managed to squeak out a minor 0.2% gain week-over-week.
To put this latest sell-side sentiment non-move in context, it's interesting to note that it's occurring as there are many stories printed about how traditional sentiment indicators (e.g., surveys, net inflows, retail association, etc.) are at bullish extremes and how this "dumb money" (their words, not ours) is traditionally a contrary indicator.
Looking for similarities between retail investor sentiment and institutional money, it's clear that any "bullish extremes" on the institutional sell-side sentiment indicator, at least to-date, were reached a couple weeks back when we started the first of the multiple hyperbolic confirmation weeks. The sell-side's sentiment flattening out isn't meaningful in the sense that it can be used to predict an upcoming change of tone amongst the professionals. That said, it's interesting (or concerning, depending where your money currently resides) that as retail investors come out of their caves to aggressively participate in the rally 30% into the game, the sell-side is demonstrating much less excitement about this rally than we've seen in recent weeks.
So, what does it all mean? Well, if you've followed this commentary for a while now you know that the sentiment indicator we look for is one that demonstrates a 2% week-over-week change in direction. This means that the number we are keyed on is 53. If this week's sentiment ends with a reading that comes in below 53, that should be a real indicator for investors to take heed. (This number can be followed in real-time at www.firstcoverage.com.) While a 2% shift in sell-side sentiment doesn't always precede the start of a new trend, it has very successfully foretold the beginning of a new sustained trend in the marketplace.
We offer one last interesting note before we get to the five companies that have had the greatest sentiment shift (both bullish and bearish).
Last week saw a decline in the amount of positions being closed out by the sell-side at the same time as we aren't seeing activity levels spike on the origination of ideas. One possible interpretation is that the sell-side isn't motivated enough based on the current market data to be originating new positions, but they also aren't seeing much that is making them think twice about positions they have on the table with their buy-side clients (which have been mostly "buy'' suggestions over the last couple of months).
It's exactly this type of "quiet calm" that is both consistent with a continuing rally and, at the same time, slightly unnerving.
| | |
| --- | --- |
| | |
| PET SMART INC (NASDAQ:PETM) | |
| | |
| | |
| CLEAR CHANNL OUTDOOR (NYSE:CCO) | |
| | |
| | |
| UNITED HEALTH GROUP (NYSE:UNH) | |
| 99C ONLY STORES (NYSE:NDN) | |
| | |
| AETNA INC. NEW (NYSE:AET) | |
| | |