Bank of America (NYSE:BAC) shares declined after the company reported earnings, however, the stock rebounded and is now back near 52-week highs. The significant market rally has pushed many stocks to new highs, and it might be a good time to take profits in certain stocks, including BofA shares. There are a number of reasons why the market in general and BofA might be poised for a pullback and that means patient investors might have better buying opportunities in the future. The chart below shows how Bank of America shares now appear extended, and there are also a few reasons why the stock seems to be fully valued, if not overvalued at current levels.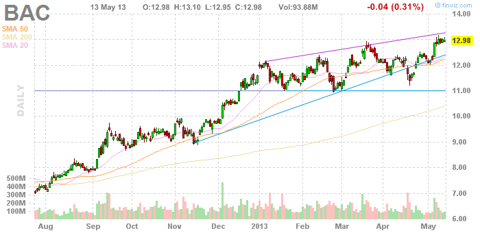 Click to enlarge
1) First of all, the overall market is up significantly and now trades well beyond key support levels such as the 50- and 200-day moving averages. The same holds true for Bank of America shares, which have a 50-day moving average of $12.22 and a 200-day average of just $10.41. The shares now trade over $13 which appears extended and at least fully valued if not overvalued in the short- to mid-term, for a number of reasons.
2) On April 18, 2013, analyst at UBS set a neutral rating on BofA shares and set a $12 price target which is below the current share price. On the same day, analysts at Barclays set an equal weight rating and put a $13 price target, which would also indicate that BofA shares are now fully-valued.
3) Bank of America is expected to earn 93 cents per share for 2013, and $1.29 per share in 2014. That implies a price-to-earnings ratio of over 13 times for 2013, and 10 times for 2014. This is not cheap for a typical bank stock, which is in a sector that is highly-regulated and experiencing slow growth. BofA shares look expensive when compared to other industry leaders in the banking sector. Just take a look at JP Morgan Chase (NYSE:JPM) for a much cheaper valuation. For example, analysts expect JP Morgan to earn $5.67 per share for 2013 and $5.94 in 2014. This puts the price-to-earnings ratio at just 8.6 times earnings for this year, and around 8 times earnings for 2014. This high-quality bank is trading at a significant discount to Bank of America, and that is one more reason why BofA shares might be fully valued if not overvalued. In addition, JP Morgan Chase pays a dividend of $1.52 per share, which yields just over 3%, while BofA offers a paltry dividend of just 4 cents per share, which yields only .3%.
BofA is still facing significant litigation risks, and regulatory challenges that could impact earnings and further gains in the stock at these seemingly lofty levels. With the major rally in BofA shares, combined with it trading near analyst price targets or even above, and with the stock trading at a significant premium to peers like JP Morgan Chase, investors should consider taking profits now and waiting for better buying opportunities in the future.
Here are some key points for BAC:
Current share price: $13.05
The 52-week range is $6.72 to $13.18
Earnings estimates for 2013: 93 cents per share
Earnings estimates for 2014: $1.29
Annual dividend: 4 cents per share, which yields .3%
Data sourced from Yahoo Finance. No guarantees or representations are made.
Disclosure: I have no positions in any stocks mentioned, and no plans to initiate any positions within the next 72 hours. I wrote this article myself, and it expresses my own opinions. I am not receiving compensation for it (other than from Seeking Alpha). I have no business relationship with any company whose stock is mentioned in this article.
Disclaimer: Hawkinvest is not a registered investment advisor and does not provide specific investment advice. The information is for informational purposes only. You should always consult a financial advisor.