China is a complex country to analyze, not only because the economic data released from the country is not considered reliable, but also because it is going through some major changes at this time, which have significant implications for investors around the world.
The major adjustment by China for its economy is its decision to rebalance it by focusing on consumer demand to drive growth in the country, rather than to be reliant on exports and investments as it has been in the past.
This appears to be confirmed by the latest industrial production numbers released, as it grew at a 9.3 percent pace in April, below what analysts had been looking for. Also reinforcing the change was the boost in retail sales for April, which climbed 12.8 percent. These types of percentage changes will probably be the norm coming out of China as it attempts to grow its service sector.
Chinese manufacturing was also down in April, with the official purchasing managers' index [PMI] dropping from 50.9 in March to 50.6 in April. While anything above 50 points suggests some expansion, anything below 50 indicates an economy is contracting. Moving close to the 50 mark shows the Chinese economy is starting to weaken.
Chinese Exports
Most of us have seen and understood the latest export data out of China isn't believable, as it's the result of suspected "over-invoicing in order to circumvent capital controls and bring foreign capital into China."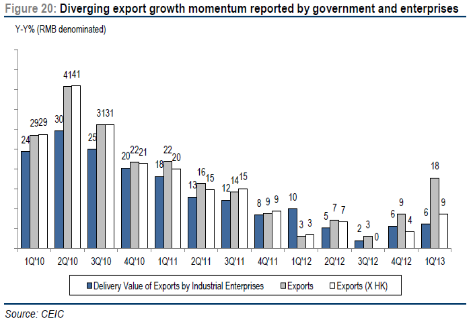 Even so, when you strip away the 93 percent increase in exports to Hong Kong for March, and the 57 percent year-over-year exports in April, you still have growth at about 9 percent for the first quarter. RBS analysts Louis Kuijs and Tiffany Qiu see April growth of only 5.7 percent after taking into consideration the faulty data.
The World Bank projects about 8 percent annual growth for China.
Chinese Imports
Most countries, entities and individuals agree the export numbers for China are lower than asserted, but not as many understand the import numbers, for different reasons, are unreliable as well.
The most important element there is the what China allows in its import data, which includes gold when its tallying up the numbers.
So when you consider the reported 300 tons of gold acquired by Chinese housewives over a two-week period, the question must be raised as to how inflows like that - which are included in import data - affect the import numbers, along with the perception versus reality of the strength of the Chinese economy.
Removing the influx of gold out of the equation over the last year, which accounted for 37 percent of all imports during that time period, gross imports drop by $30 billion from the reported $82 billion.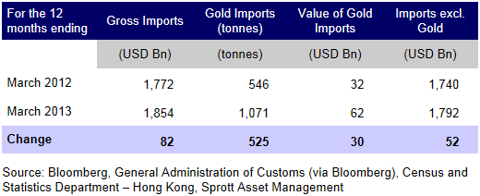 Click to enlarge
What that means is over one-third of reported growth in imports by China come from the demand from citizens for gold, not from a growing domestic economy.
Gold is included in the numbers of the current account rather than the capital account. Since gold is primarily used for investment purposes, it should be listed under the capital account like other investments are. Under the current account gold is considered "goods" or "services," rather than an investment.
Investors need to take this into consideration when going over the Chinese import numbers and the growth of its economy. If the amount of gold acquired in China continues to grow, the numbers could be even more distorted than they already are.
The outlook for the Chinese domestic economy could be downwardly revised significantly once this phenomenon is taken into account.
China's Monetary Policy
With the Chinese economy slowing down in the first quarter, China has retained its loose money policy for now, as its money supply has continued to expand. In April, according to the People's Bank of China, lending was at 792.9 billion yuan ($129 billion), exceeding a Bloomberg News survey projection of 755 billion yuan.
The M2 money supply jumped by 16.1 percent from 2012, after advancing 15.7 percent in March.
All financing in April, which includes stock and bond sales, as well as trust loans, came in at 1.75 trillion yuan. That's down from the March total of 2.54 trillion yuan. This also seems to confirm the rebalancing of the investment side of the Chinese economy.
The majority of those watching China are concerned over why the economy of the country hasn't responded to the stimulus measures. Consequently, some media outlets are implying the credit transmission mechanism isn't working. That's based upon the assumption there isn't a big demand for loans. The problem is, these commentators are basing these conclusions upon the Chinese economy acting like the U.S. or other western economies may act.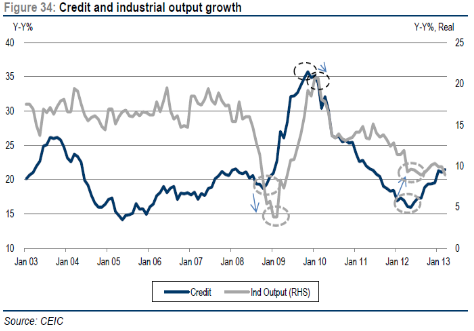 In America, for example, once the money is put into play there is nothing that can be done to force it to be lent out. In China, on the other hand, the command structure of the economy means if China wants the money lent out, it's going to be lent out.
Since a lot of the money created by China was done in the latter part of 2012, and it usually takes about six months or a little longer to have an impact on the economy, we should start to see the effects sometime in the next couple of months.
"The strong credit supply and bank loans in the first four months of this year will be sufficient to support an economic recovery through the third quarter," said Ding Shuang, senior China economist at Citigroup Inc. in Hong Kong. "Financial risks may also rise."
This doesn't mean the Chinese economy is going to soar again, but that in the short-term, we could see the numbers look better. The point of this article, when looking at the data, is that China is probably slowing more than the numbers indicate. Using the current data and the disallowing of the effect of gold on the import numbers, the appearance of a temporary economic resurgence in China could be reported soon.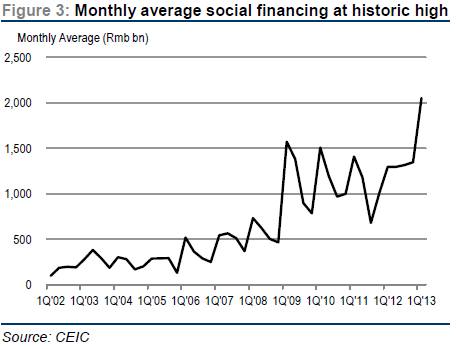 When you hear words from Premier Li Keqiang like the country wants to improve the quality of its economic growth, that's another way of saying China is going to slow down its expansion efforts. Most data are confirming this is already taking place, in spite of the ongoing loose money policy.

Click to enlarge
It looks like there could be a temporary uptick in the Chinese economy as stimulus efforts from the latter part of 2012 start to impact the economy, but that is likely to be subdued in the fourth quarter and afterwards. Low inflation is another reason that adds to the possibility of a short-term rise in outlook for China's economy.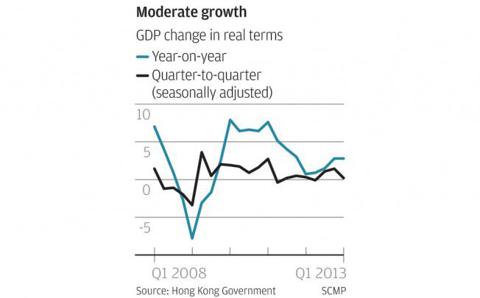 Click to enlarge
China's Currency
Another key factor in the idea the Chinese economy is being rebalanced and slowing down is the apparent change in the policy of the Chinese towards the yuan.
The yuan has been climbing higher for some time, with the Chinese hinting it could allow for wider spreads going forward.
This is important because it also confirms the Chinese aren't attempting to shore up the manufacturing and export sectors as they have in the past. I say that because if they were concerned about exports, they wouldn't allow for a stronger yuan to emerge at this time. But since they have, it points to a reverse in monetary and economic policy.
As long as the U.S. dollar continues to rise in value, it would look like the boost in the yuan has little significance. But when the spread is widened - even if both currencies go up - the yuan would advance more, increasing the price of exports.
Investment Implications
The implications of a slowing Chinese economy aren't good when considering the importance China has played over the recent years in economic growth across a variety of sectors.
In the short term, China may offer a few surprises to the markets, as it could get a stimulus bump if the past performances are an indication of what's immediately ahead. Over the longer haul, China is going to be more challenging, as cooling off the economy is part of the goal of Chinese leaders. It's the pace of that cooling off that is being challenged in this article, not whether or not the country is cooling off, because it obviously is.
Chinese leaders are attempting to control the pace of the slowing economy, and some of that appears to be being done by perceptions manufactured by dubious data as part of that strategy.
For the rest of 2013 it looks like China may generate the appearance of a strengthening economy based upon lagging stimulus effects. But there is no doubt the economic policies of China have changed, and going forward China will grow at a slower pace.
Chinese ADRs
For those wanting a portion of their portfolios in China, ADRs are probably the best way to go.
With the changing Chinese landscape, ADRs servicing the Chinese market itself may be the safest of the bunch, because of the consumer growth strategy now being implemented by the Chinese.
Since travel and internal energy are a big part of that, companies like China Eastern Airlines Corp. Ltd. (NYSE:CEA), 51job Inc. (NASDAQ:JOBS) and Yanzhou Coal Mining Co. Ltd. (NYSE:YZC) are examples of ADRs that have growth potential.
Yanzhou Coal Mining recently plummeted in share price, and may be close to a good entry point. While coal has little room for growth in the U.S., contrary to some reports, China, while looking at cleaning up its energy house, is far from slowing down in coal demand. Yanzhou Coal is one company that will benefit from that.
Yanzhou Coal Mining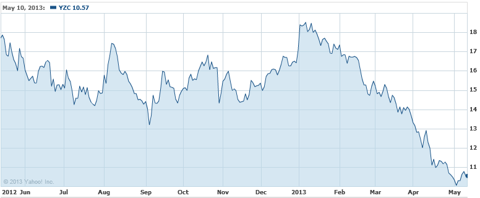 Click to enlarge
China Eastern Airlines has made a nice move since October 2012, and while leveling off over the last couple of months, should have plenty of room to move over time. The Chinese are just starting to get their traveling legs under them, and that growth will continue on for years.
China Eastern Airlines Corp.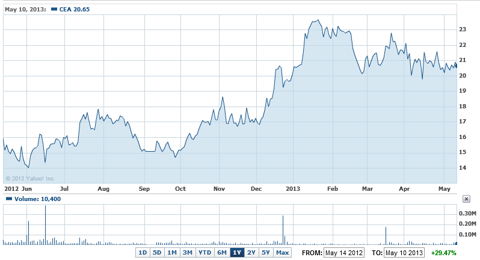 Click to enlarge
Another Chinese company doing a good job lately has been 51job Inc., which has been on a tear since August. Waiting for a possible pullback may be the best choice here, as the entry point may be too high based upon how quickly it has run up. Sales for the company continue to grow, but earnings came under pressure in the last quarter.
51job Inc.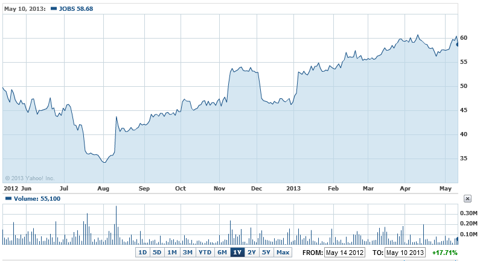 Click to enlarge
These are just a few of the many Chinese ADRs you could invest in. As with all the possibilities associated with China, bear in mind the rebalancing factor towards a consumer economy by China. Those investments catering to those elements of the domestic economy should be the new growth sector to watch in regards to China, no matter which investment vehicle is used.
ETFs Targeting China
With the consumer trend in mind, one of the best ETFs targeting that sector of the Chinese economy is the Global X China Consumer ETF (NYSEARCA:CHIQ). Its purpose is to target the Solactive China Consumer Index, which "is designed to measure the equity performance of the investable universe of companies in the consumer sector of the Chinese economy, as defined by Structured Solutions AG."
Global X China Consumer ETF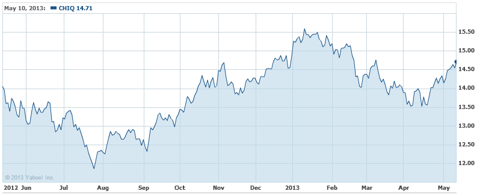 Click to enlarge
Another ETF option is iShares MSCI Hong Kong Index (NYSEARCA:EWH), which mostly mirrors the MSCI Hong Kong Index. Among the major components of this fund is consumer discretionary, financial and utilities companies. The consumer and utility components are especially attractive.
iShares MSCI Hong Kong Index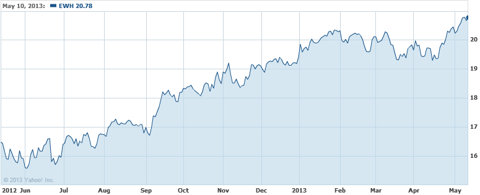 Click to enlarge
Global X China Energy ETF (NYSEARCA:CHIE) is another ETF that has a lot of potential, although it has garnered little interest from investors so far. Nonetheless, it has moved up nicely over the last year. It seeks to correspond to the Solactive China Energy Index, which measures "the equity performance of the investable universe of companies in the energy sector of the Chinese economy."
Global X China Energy ETF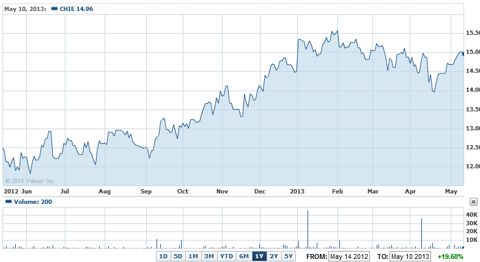 Click to enlarge
The majority of ETFs focusing on China are based upon past strengths and goals of the country, including industrials, materials and financials. These could be more risky going forward in regard to the rebalancing strategy of China.
Mining Companies
As China gradually unwinds its industrial and material focus, there is no doubt some mining companies with significant exposure to the country could experience some pain.
It's not simple though, as some commodities will continue to grow in demand, while others will diminish.
For example, with Rio Tinto (NYSE:RIO), its iron ore business should continue to be robust over the next decade in China.
Alan Smith, president of Rio Tinto Iron Ore Asia, recently said this:
China's demand for steel is expected to rise at a compound annual growth rate of 3% in the next decade.
Smith added that the 2012 sales total of iron ore to China of 147 million tons, which was a record, should be surpassed in 2013.
Rio Tinto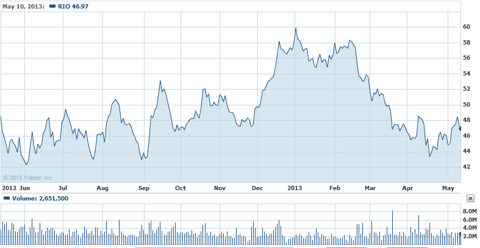 Click to enlarge
In this case it's probably the cost of iron ore production that will determine the viability of the market, even as demand contracts in China. Some suppliers will do much better than others.
That's why it looks like at this time the larger, diversified miners will be the best bets for those wanting a play in China. Another factor would be those that keep a foothold in the Middle Kingdom, while at the same time diversifying geographically.
Besides Rio Tinto, other large miners of import would be BHP Billiton (NYSE:BHP), Freeport-McMoRan Copper & Gold Inc. (NYSE:FCX) and Vale (NYSE:VALE).
BHP Billiton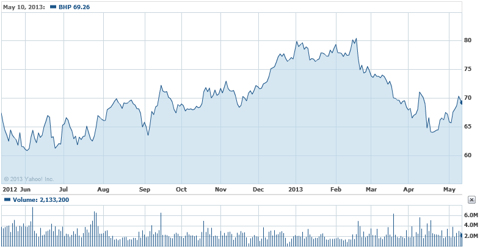 Click to enlarge
Freeport-McMoRan Copper & Gold Inc.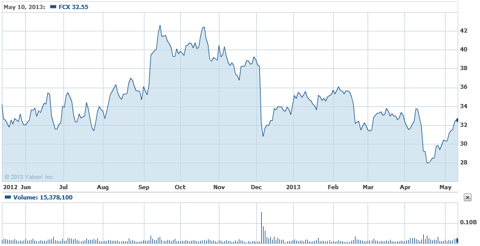 Click to enlarge
Vale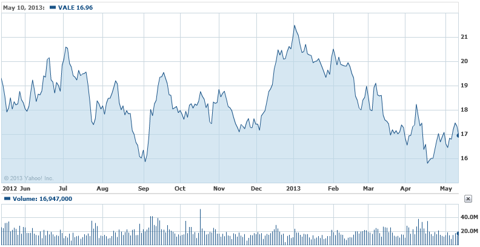 Click to enlarge
If China does have a short-term rebound, these big companies, because of being so out of favor at this time, could enjoy a nice upward move, which already may have started as of the middle of April.
Conclusion
China has made a big move that is either not understood or is underestimated by those interested in, but not familiar with, the world's second-largest economy.
The biggest factor is the rebalancing of the economy from exports and investing to a more consumer-driven one. That has a lot of serious repercussions, and those invested in industries that will be significantly affected by that need to take note.
That and the Chinese allowing the currency to strengthen against the U.S. dollar, confirms things are not continuing on as in the past. It reinforces the fact that this isn't just talk or theory from the Chinese, but strategies they're backing with actions.
Having said all this, the point isn't that some drastic change is coming, especially in the natural resource and manufacturing sectors, but rather a slow move away from past policies. Over time that will be detrimental to sectors already mentioned, as well as others.
Remember, the Chinese like to attempt to "manage" their economy, and they do it in ways that are slower than those in the West would engage in. This is why data will gradually change as they make the economic balancing adjustments.
As for imports, the gold factor needs to be seriously considered, as they may have fallen by much more than is being indicated at this time. If so, there may have already been a drop in demand beyond what is understood at this time.
In the end, this means business as usual with China, with unpredictability, risk, but also potentially great reward.
Disclosure: I have no positions in any stocks mentioned, and no plans to initiate any positions within the next 72 hours. I wrote this article myself, and it expresses my own opinions. I am not receiving compensation for it (other than from Seeking Alpha). I have no business relationship with any company whose stock is mentioned in this article.