Equities and 30-year bonds are far from the only two asset classes as investors have several other choices when allocating capital, but I want to touch on these two sectors as their movements should not be ignored when making your investment decisions. It took six years, but stocks are back above levels seen in '07, as one can see a pronounced "V" formation the S&P chart below. Obviously, stocks are in favor as retail investors are piling in and the media has bought in, as displayed by the covers of recent financial periodicals with further bullish proclamations. Tread lightly, as we've all seen this movie before. The talk persists of a bubble and conclusion to the mutli-decade bull run in Treasuries. I'm not sure I've bought into the bubble aspect, but when investors a lot smarter than I and with several more zeroes behind their name say "Treasuries are the worst" place for investors to put money, they have my attention. To tie up money for decades and get the current yield makes little to no sense to me.
Maybe I'm biased being I trade commodities for a living, but I do not like stocks at record highs, nor do I like buying Treasuries with near record low yields. As I stated above, those two asset classes should be a part of a diversified portfolio, but not the only two pieces. My suggestion is incorporating commodities as a component of your portfolio as a non-correlated asset and a means to diversify.
30-Year Bonds: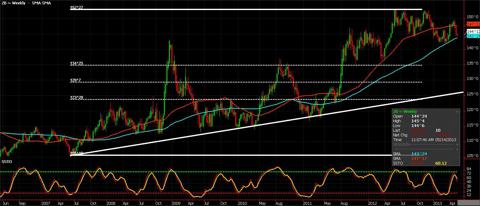 Since bottoming in June '07, 30-year bonds have appreciated... not in a straight line, but we have a definitive bullish trend. Low to high, prices have gained 46%. On the weekly chart above, futures are on the verge of breaching their 100 day MA (light blue line). This level has served as support since May ''11. The stochastic in the last three weeks appears to be rolling over from overbought levels. A move back to the trend line (white line) represents a correction of 13.2%, putting futures back to 125'00. If money flows out of Treasuries, will it go into stocks at record highs… this remains to be seen, but I think the smart money is more astute than that and will be looking for value. Where will they find this value?
S&P 500: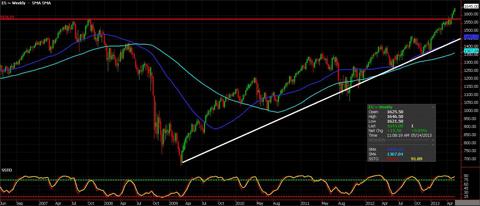 Hindsight being 20/20, stock investors that timed the market buying after the '07-'08 drop or even having stayed the course are currently being rewarded. The S&P is trading at fresh record highs, having appreciated nearly 150% off the "666" lows made in March '09. Let's examine the movement. Futures peaked in October '07 just shy of 1600, only to decline 58%. It took just over 30 months for equities to get back to levels reached in '07, and in the last 3 months, record high territory. As one can see, we've danced the trend line in years past (white line). I am incapable of picking a top, but I am very leery. When I was getting a haircut last week, two barbers were talking about their stock holdings and how they are doing so well in recent months and offering trading tips. To put it in perspective, they are likely trading very few shares, but buyer beware. I believe a 10% correction will eventually happen… in full disclosure, I have been voicing this for several weeks. At a minimum, my advice for clients holding a sizable stock portfolio is to take some money off the table. A move back to the trend line represents a correction of 11.5%.
Conclusion:
The message I'm trying to convey is to examine your current holdings and make sure you are diversified. Stocks have had a great run, but will it continue? This is not your father's Treasury market, and if/when yields go up, do you want 20-40% of your portfolio in the debt complex? When rates go up, prices go down. What if you looked at a 10-20% allocation in commodities... how would your portfolio have done in the last 5-8 years? What will the next 5-8 years look like?
Risk Disclaimer: The opinions contained herein are for general information only and not tailored to any specific investor's needs or investment goals. Any opinions expressed in this article are as of the date indicated. Trading futures, options, and Forex involves substantial risk of loss and is not suitable for all investors. Past performance is not necessarily indicative of future results.
Disclosure: I have no positions in any stocks mentioned, and no plans to initiate any positions within the next 72 hours. I wrote this article myself, and it expresses my own opinions. I am not receiving compensation for it. I have no business relationship with any company whose stock is mentioned in this article.