Even though the financial crisis is behind us, many U.S. financial companies with strong sales and earnings growth are still undervalued. Today we discuss three financial companies that meet these criteria and have dividend yields greater than 2% to reward patient investors while they wait for other investors to realize their value.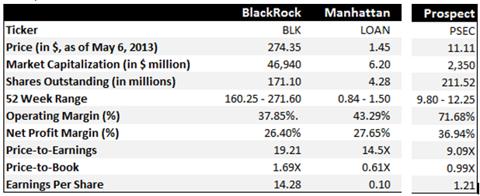 Click to enlarge
Source: Yahoo Finance
BlackRock Inc. (NYSE:BLK) is a New York, NY, based investment manager firm providing services to institutional, intermediary and individual investors
Revenues. BlackRock growth was less of a driver in 2012, but it is expected to drive stocks in 2013, as the shift into passive and fixed income weigh on the industry's revenue outlook.
First-quarter results of BLK revealed a pick-up in equity investments, up by $34 billion, or 7% annualized organic growth. Multi-asset products rose $9 billion, or 13% annualized organic growth. Fixed income inflows were down $2.6 billion. Management disclosed that active fixed income flows were negatively affected by "episodic" outflows related to client M&A and re-allocations.
Margins. The company's business model is capitalizing on secular changes in demand, despite market volatility. But visibility of reliable drivers is now prominent in fund flows, margins and upward earnings.
BLK has an operating margin of 37.85%. This is 63.64% higher than that of the financial sector, and 94.0% higher than that of the industry operating margin. The operating margin for all stocks is 1187.64% lower than BlackRock.
Company Outlook. BLK is being challenged by two issues: 1) "Seasonality" or cyclical change in fund flow trends and operating performance; and 2) Visible but limited upside potential.
Price-to-book Valuations. Investors prefer equities that can meet or exceed high expectations and BLK recently reported results that beat consensus estimates. But with high investor expectations and the stock already up 24% year-to-date, BLK shares perform roughly in line with the market.
Traditional asset manager valuations are still below their historical premium for the S&P 500, despite out performance in 2012. Goldman Sachs forecasts an average 14X P/E for traditional managers, with 3% average potential upside for the group. Analysts expect more room for expansion for managers who can grow the top-line in the sluggish revenue environment.
Goldman Sachs also believes that stronger earnings could be a huge share price catalyst for alternative asset managers that report strong distributions.
The regression chart below implies that 2012's under performers outperformed in 2011.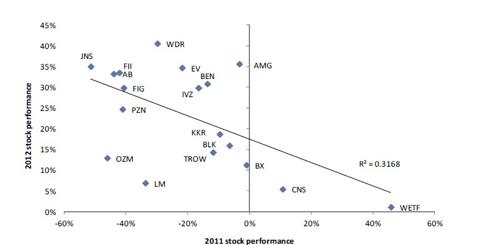 Click to enlarge
Source: Goldman Sachs, Factset Research
Price-to-Book Valuations. BLK's price-to-book ratio is 1.69X. This is 76.33% lower than that of Financial sector, and 90.38% lower than that of the industry. The P/B for all stocks is 71.31% higher than BLK.
Manhattan Bridge Capital (NASDAQ:LOAN) offers short-term, secured, non-banking loans to real estate investors (also known as hard money) to fund their acquisition and construction of properties located in the New York Metropolitan area. Loans are secured by collateral consisting of real estate and, generally, accompanied by personal guarantees from the principals of the businesses.
Revenues. Total revenues for Manhattan Bridge Capital's March quarter reached $534,000 compared to $392,000 in the previous year - an increase of 36.2%. Lending operations lifted revenues. Origination fees represent $90,000 of loans compared to $84,000 for the same period last year.
Earnings Quality. LOAN has fundamentals that merit good earnings quality: Positive net income; positive operating cash flow; return of assets improvement (from 2.5% to 2.7%); and good quality of earnings (operating cash flow exceeds net income).
LOAN has an operating margin of 43.29%. This is 87.16% higher than that of the Financial sector, and 712.2% higher than that of the industry. The operating margin for all stocks is 1,343.97% lower than LOAN.
Takeover Bid. LOAN received a takeover offer from Capstone Equities LLC and G Asset Management of $1.30 a share, or $5.62 million, but the offer was considered to be "ridiculously low" by the company. The bid is about 50% of Manhattan Bridge Capital's book value.
Price-to-book Valuation. Manhattan Bridge Capital's P/B is 0.61X. This is 91.46% lower than that of the Financial sector, and 94.47% lower than that of the industry P/B. The price-to-book for all stocks is 89.64% higher than LOAN.
Prospect Capital (NASDAQ:PSEC) is a business development company specializing in middle market, mature, mezzanine finance, later stage, emerging growth, buyouts, recapitalizations, turnaround, growth capital, development, cash flow term loans and bridge transactions.
Profit Margin. Prospect Capital Corporation has profit margin of 36.94%. This is 2.66% lower than that of the Financial sector, and 42.57% higher than that of the industry. The profit margin for all stocks is 4,960.27% lower than the company.
Revenues. In the last quarter of 2012, net investment income was $99.2 million, or $0.51 EPS. For the December 2011 quarter, net investment income was $36.5 million or $0.33 EPS. Net investment income increased year-over-year by 172% and 55% on a dollar and per share basis, respectively.
Price-to-book Valuations. P/B of Prospect Capital is 0.99X. This is 86.12% lower than that of the Financial sector, and 94.35% lower than that of the industry. The P/B for all stocks is 83.16% higher than the company's.
Disclosure: I have no positions in any stocks mentioned, and no plans to initiate any positions within the next 72 hours.
Business relationship disclosure: Black Coral Research, Inc. is a team of writers who provide unique perspective to help inspire investors. This article was written Hans Centena, one of our Senior Analysts. We did not receive compensation for this article (other than from Seeking Alpha), and we have no business relationship with any company whose stock is mentioned in this article.
Disclaimer: Black Coral Research, Inc. is not a registered investment advisor or broker/dealer. Readers are advised that the material contained herein should be used solely for informational purposes. Investing involves risk, including the loss of principal. Readers are solely responsible for their own investment decisions.