The share price of Las Vegas Sands (NYSE:LVS) has appreciated by 69% from its 52-week low touched in July 2012. The stock has just reached its 52-week high and offers a 2.4% dividend yield. Despite the strong price run-up, I believe investors may continue loading up shares at the current level given that the valuation remains tempting and there are plenty of potential upside catalysts. My view is supported by the following reasons:
1. LVS shares are cheap relative to its comps'. According to the chart shown below, LVS' consensus revenue, EBITDA, and EPS growth estimates are considerably above the comps averages. On the profit side, the company continues its outperformance as its various profitability and capital return metrics are above par. In terms of leverage and liquidity, LVS is under-levered relative to the comps benchmarks as reflected by its low total debt to EBITDA multiple. The company has an above-average free cash flow margin. Due to the lower leverage, LVS was able to maintain a healthy interest coverage ratio. Both the firm's current and quick ratios are on par, reflecting a healthy balance sheet condition.

Click to enlarge
As such, given LVS' superior growth potential, robust profitability, as well as its solid liquidity position, I would expect the stock's fair value to command a premium over the peer-average level. Nevertheless, the current price multiple at 20.0x forward EPS (next 12 months) is 14% below the peer average at 23.3x. After accounting for the 5-year earnings growth estimate, LVS' 5-year PEG ratio is only on par with the group average, suggesting LVS shares are likely undervalued relative to the comparable companies in terms of financial performance (see chart above).
2. LVS' consensus revenue, EBITDA, and EPS estimates for 2013 and 2014 have experienced multiple upward revisions over the past 6 months, and their current levels are notably above the historical figures in 6 months ago. In addition, analysts' average consensus 5-year earnings growth estimate has also been raised from 12.4% to 13.7% over the period (see charts below).

Click to enlarge

Click to enlarge

Click to enlarge

Click to enlarge
Accordingly, the stock's forward P/E multiple has expanded by 15% over the 6-month period. The modest magnitude of the multiple expansion appears to be reasonable given the positive consensus estimate trend and that the valuation increase is also in line with a 14% rise in the average forward P/E multiple for S&P 500 Index (see chart below).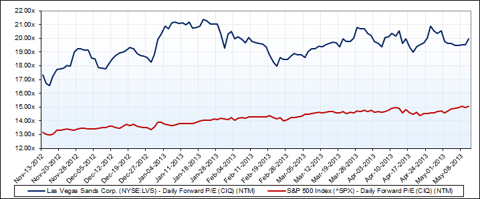 Click to enlarge
3. Analysts remain generally bullish on the stock. Of the total 27 stock ratings compiled by Thomson One, there are 6 strong buy and 16 buy ratings. LVS recently reported its upbeat Q1 results largely driven by the strong performance of Marina Bay Sands Singapore. In a JP Morgan research note released on May 2, Joseph Greff commented on several upside catalysts for LVS, which I tend to agree with (sourced from Thomson One, Equity Research):
"Catalysts from here: (1) Continued demonstration of mass traction/acceleration in Singapore; (2) further Sands Cotai Central ramp; (3) increased market share in Macau; (4) an evolved and enhanced capital return policy (we think increasing dividends and a reasonably large share repurchase authorization are likely in coming quarters, based on management's commentary on its earnings call); (5) its questionable, large-scale Spain integrated resort project gets shelved (in our view, management talked very little about it relative to prior calls, implying to us that additional concessions from Madrid are harder to get, causing LVS to rethink returns there); and (6) Japan integrated resort legislation is making progress, providing LVS with a meaningful medium-term growth opportunity (though still likely one to two years away)."
Bottom line, in the light of LVS' robust fundamentals, attractive valuation, and strong pipeline of upside catalysts, the stock is a solid buy from here.
All charts are created by the author except for the consensus estimate tables, which are sourced from S&P Capital IQ, and all financial data used in the article and the charts is sourced from S&P Capital IQ unless otherwise specified.
Disclosure: I am long LVS. I wrote this article myself, and it expresses my own opinions. I am not receiving compensation for it (other than from Seeking Alpha). I have no business relationship with any company whose stock is mentioned in this article.