The market experienced broad declines on Monday, hurt by weak economic data - a sharp contrast to last week when the Dow industrials rallied to turn positive for the year, increasing hopes that the economy is starting to turn around. Some key reports issued on Monday helped underscore the fact that the economy is still struggling. At mid-month, a New York state manufacturing survey (which often indicates where the country is headed) showed a decline in orders from just thirty days ago. In addition, more than half of the manufacturing respondents said that they had pared capital spending this year. Adding to the mix, the National Association of Home Builders housing-market index fell in June as higher mortgage rates damped demand. That didn't help set the table for a good week, but we'll see how things play out for the beaten bulls as the week goes on.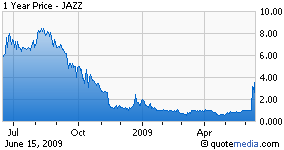 In the healthcare sector, Jazz Pharmaceuticals, Inc (NASDAQ:JAZZ), which had a good day last week, is off to another good start. The stock closed up +1.92 (72.73%) to $4.56 after the company's Sodium oxybate or JZP-6 demonstrated statistically significant and clinically meaningful improvement in pain and the core symptoms associated with fibromyalgia, according to Phase III data presented at the 2009 Associated Professional Sleep Societies meeting in Seattle, WA. The company said that these data have not been evaluated by the FDA or other regulatory authorities for use of sodium oxybate in the treatment of fibromyalgia. Assuming positive results for the second study, the company anticipates submitting a New Drug Application for sodium oxybate for the treatment of fibromyalgia to the U.S. Food and Drug Administration by the end of 2009.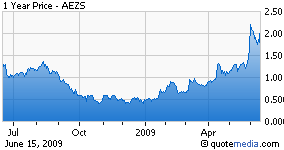 AEterna Zentaris Inc. (NASDAQ:AEZS) closed up $.41 (22.78%) after the company said it will report patient follow-up results from its Phase 3 program in benign prostatic hyperplasia with cetrorelix ahead of schedule. Results will now be reported in the third quarter instead of the fourth. AEterna Zentaris Inc. is a global biopharmaceutical company focused on endocrine therapy and oncology.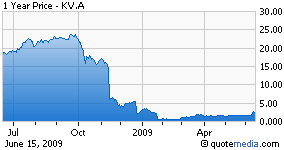 K-V Pharmaceutical Co. (NYSE:KV.A) jumped another $.52 (22.22%) after last week's news that it has entered into a settlement agreement with privately held Purdue Pharma L.P. of Stamford, Conn., in regard to the patent infringement lawsuit between the two companies.
Purdue will grant KV Pharmaceutical certain limited non-exclusive, royalty-bearing, non-transferable rights to sell in the United States generic versions of the drug OxyContin (oxycodone HCl controlled-release) for a limited period of time. KV Pharmaceutical Company is a fully integrated specialty pharmaceutical company that develops, manufactures, markets, and acquires technology-distinguished branded and generic/non-branded prescription pharmaceutical products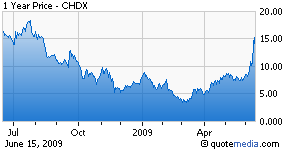 Last week's big winner, Chindex Intl, Inc. (NASDAQ:CHDX), an American healthcare company that provides healthcare services and supplies medical capital equipment, instrumentation and products to the Chinese marketplace, gave back some "buy on rumor sell on news" gains as it officially reported a net income of $3.4 million, or $0.22 per diluted share, for the fourth quarter ended March 31, 2009, compared to a net loss of $2.7 million, or $0.20 per diluted share, for the same quarter ended March 31, 2008. Shares closed at $12.88 after losing $2.32 (-15.26%). Roberta Lipson, president and CEO of Chindex, said: "During the fourth quarter and full year, we achieved our goals to make substantial progress on our KfW and US Export-Import Bank contracts, and enhanced our revenue performance in hospital services, although patient volumes were slightly less than anticipated."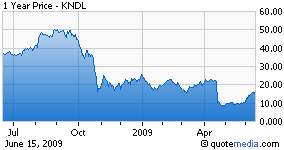 Kendle International Inc. (NASDAQ:KNDL), had posted gains in the last 10 of 11 sessions. This is a stock whose investors feel has a $20+ book value, but it gapped down Monday morning and never recovered, closing at $13.89 -2.17 (-13.51%). The company is a clinical research organization, and provides clinical development services on a contract basis to the biopharmaceutical industry worldwide. It announced last week that it has opened up new offices in Malaysia, Thailand and the Philippines as part of a continued drive to access patient populations around the world.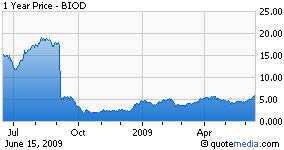 Also on the losing side - if only for the day - was Biodel Inc. (NASDAQ:BIOD), a development-stage specialty pharmaceutical company focused on the development and commercialization of treatments for endocrine disorders, such as diabetes and osteoporosis. Shares were down 11.93%, but excited investors feel that shares may triple for this cash rich biotech firm whose product candidates are developed using VIAdel technology, which reformulates existing FDA-approved peptide drugs. Up for FDA approval soon is VIAject, a very rapid-acting form of injectable human insulin for meal-time use by patients with Type 1 or Type 2 diabetes. VIAject is comprised of commercially available recombinant human insulin and the company's own proprietary formulation of ingredients (all of which are Generally Regarded As Safe by the FDA). That same formulation delivers insulin in a form which more closely resembles the way a normal body uses insulin to help glucose enter the body's cells, providing energy that allows the body to function. Currently, insulin therapies are not delivered quickly enough to simulate the desired meal-time insulin spike. As our subscribers can see in our FDA Calendar, Biodel is now preparing its NDA submission, but if the FDA approves VIAject and sales reach only 1% of all diabetics in the US, revenue could easily surpass $250 million per year. This stock goes on my "stocks to watch" list as it closes the day at $5.24 -0.71 (-11.93%).

Gainers (% price change)

Last Trade

Change

Mkt Cap

Jazz Pharmaceuticals, Inc

JAZZ

4.56

+1.92

(72.73%)

131.90M

AEterna Zentaris Inc

AEZS

2.21

+0.41

(22.78%)

117.54M

K-V Pharmaceutical Co.

KV.A

2.86

+0.52

(22.22%)

142.85M

Arena Pharmaceuticals

ARNA

5.47

+0.48

(9.62%)

437.77M


Losers (% price change)

Chindex Intl., Inc.

CHDX

12.88

-2.32

(-15.26%)

188.23M

Kendle International Inc.

KNDL

13.89

-2.17

(-13.51%)

206.25M

Biodel Inc

BIOD

5.24

-0.71

(-11.93%)

124.31M

Merge Healthcare Inc.

MRGE

3.48

-0.40

(-10.31%)

197.57M


Most Active (dollar volume)

Pfizer Inc.

PFE

14.13

-0.63

(-4.27%)

95.35B

Johnson & Johnson

JNJ

54.75

-1.31

(-2.34%)

150.87B

Wyeth

WYE

43.95

-0.85

(-1.90%)

58.61B

Merck & Co., Inc.

MRK

24.96

-1.12

(-4.29%)

52.63B

Abbott Laboratories

ABT

44.73

-0.69

(-1.52%)

69.13B