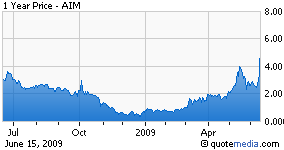 Aerosonic Corporation (NYSEMKT:
AIM
), headquartered in Clearwater, Florida, is principally engaged in the manufacture of aviation products. Locations of the Company include Clearwater, Florida and Earlysville, Virginia. For additional information, visit the Company's
website
. Per
Bloomberg
, it has a tiny float of 3.0m shares and 3.7m shares outstanding.
Monday, AIM reported a monster turnaround first quarter ended May 1, 2009. Sales were up 32% yoy and gross profit margin was up to 38% from 21%. AIM earned $0.38 EPS vs. a loss of $0.07 EPS last year. However, included in that number is a one-time $500k insurance settlement for a fire the Company experienced. I get approximately $0.29 EPS for the quarter excluding that gain.
The CEO had a
very nice comment
regarding the future: "As we emerge from the aftermath of last year's major fire, the Company has now been able to resume shipments in most of its product lines," said Doug Hillman, Aerosonic CEO. "Although the quarter's results have been augmented by $500,000 in insurance proceeds, we have clearly demonstrated that the Company's operations, while still challenged, are able to generate profitable revenue. With a strengthened management team in place, and operational momentum building, our prospects for sustained performance and growth are definitely brighter."
Like recent super-trades.com runner
Merrimac Industries (
MRM), (which also posted $0.29 EPS and 32% sales growth in a turnaround quarter and hit $13.38 so far from my entry at $6.40
the day they reported
the last quarter results), AIM appears to me to be an equally complete turnaround story with a low float. If this quarter is an indication of a new EPS run rate, then AIM could be on the way to $1+ EPS for 2009. If I were to apply a 10-20 P/E for that EPS range due to growth, I would get a share price of $10-$20.
Disclosure: AIM is thin and will be volatile due to its float. In my opinion, it is not a stock to chase or have a large position in. That being said, I am long this stock from $4.20 and will add on any significant pullbacks as I believe this has the potential to move much higher like MRM recently has on its similar turnaround.