By Karl Smith
The New York Fed's household debt and credit report is out and the headlines will focus on the continued deleveraging of U.S. households. That is, total credit market debt owed by American families is shrinking. It's important to note, however, how it's shrinking. The biggest driver is declines in total mortgage debt, which fell roughly 100 Billion from last quarter to this one. This sounds like people are choosing to pay extra towards their mortgages or at least refraining from taking out home equity loans and to some extent I am sure that is true. The major factor though, is foreclosures and increasingly short sales.
Take this chart on debt per capita in a few representative states selected by the New York Fed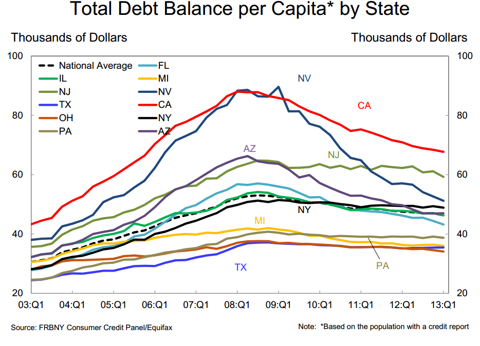 Click to enlarge
(Click to enlarge)
At the peak of the financial crisis Nevada led the nation in debt per capita. Since then debt in Nevada has declined dramatically and is just above the National Average. In all likelihood Nevada will continue declining and by the end of the year be one of the lowest debt states in the nation. Why? Because foreclosures and more recently short sales have been raging in Nevada.
Foreclosures can be complex but the effect of a short sale is straightforward. A short sale is when the bank allows a borrower to sell his or her home for less than the mortgage balance. The bank agrees to take all of the proceeds and call it even. If the new buyer pays with cash – as is often the case these days – total household debt falls by the amount of the mortgage. The debt is simply gone.
Yet, even if the new buyer takes out a mortgage him or herself, that mortgage is by definition smaller than the one it replaces. So, total mortgage debt still falls.
The effect on debt service payments is likely even more dramatic. Again, in the case of cash borrower the debt service payment simply disappears and so total debt payments owed by households falls dramatically. If the new buyer is taking out a mortgage then not only will that mortgage be smaller than the one it replaces, but in all likelihood it will have a lower interest rate attached, as mortgage interest rates have fallen steadily since the crisis began. This means that consumers on total have less debt and are paying on it at a lower interest rate. The result is a dramatically improved household balance sheet.
Importantly, though, nothing about the real economy has changed here. No new housing units have been created. No new jobs or sources of real income have been created. Nor, have the desires or fundamental technology available to U.S. households changed in any way. Yet, households will look a lot wealthier and their access to credit will increase.
This is a prime example of how nominal values – just numbers written on sheets of paper – can jam the operations of the largest economy in the world. If the Fed had inflated away the value of those debts a similar increase in balance sheet wealth would have occurred. Lenders would have seen the real value of their assets decline, but that's exactly what they see as a result of foreclosures and short sales as well.