When I study charts in order to make trade recommendations for EPIC Insights, I look for a few basic ingredients. Trends must be well established so that their continuation or reversal is clear. Also, price targets must be observable. Finally, volume at key turning points helps to establish the validity of moves.
While such a recipe may seem easy to follow, I rarely find stocks that show all three key attributes. When I do, I must take action as such opportunities often disappear quickly.
This week I have identified a stock that has the traits I seek-Visa (NYSE:V). V has long been favored by the momentum crowd. Seen as a safe place to hide during the financial crisis, the stock benefited as global expansion and higher credit card acceptance provided tremendous tailwinds to its business. As V's prospects improved, the stock bottomed well before the broad market and rallied over 75% from its February low to its May high.
Now that move appears to be over as the stock has fallen from its recent high. The uptrend which had guided prices higher since February (black line) has now been broken. A general rule is the longer a trend remains in place, the more substantial it is. Therefore, when a long-lasting trend is broken, we should expect dramatic moves in the opposite direction.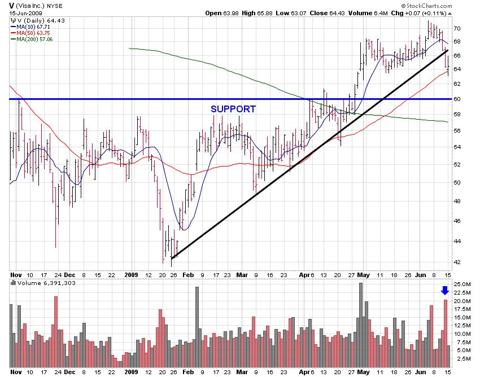 Adding to the possibility of a sharp move from the trend reversal is the fact that the moves lower occurred on heavy volume (blue arrow).
Expecting lower prices, we now look for a price target. The immediate price would be the support level at $60 (blue line). With a move off the recent high, this support level should stop any subsequent decline and offers a reasonable intermediate price target.
With a bearish technical pattern and an immediate price target calling for a 10% decline, V offers an excellent bearish trade. I will seize this opportunity and recommend shorting V as this week's technical trade.