On Monday May 12, Toyota Motor Corp. (NYSE:TM) announced its plans to lobby US regulators in an effort to get a new headlight-based technology approved. According to Gabe Nelson of Automotive News, "Toyota wants regulators in the U.S. to approve a new headlight that can detect other cars and automatically dim a vehicle's high beam momentarily as it shines into a passing car".
In the wake of Toyota's latest move with regard to these types of sensory headlights, I not only wanted to take a closer look at the company, but highlight how such technology is improving sales in both Europe and Japan.
Hi-Beam Technology: These types of headlights use cameras to detect other cars and automatically dim the portions of the high beam that would shine in other drivers' eyes. The system would prevent accidents by allowing drivers to use high beams more consistently and based on NHTSA data, could save an estimated 9 of the 2,334 pedestrians who die annually in the United States because of various types of darkened driving conditions. If in fact this technology is eventually approved here in the US, and Toyota can increase its projects by saving as much as1% of the 2,334 pedestrians who die each year, I strongly believe this could be a key selling point especially since Toyota has installed these high beams in 16,600 cars sold in both Europe and Japan which have regulations in place that allow such technology.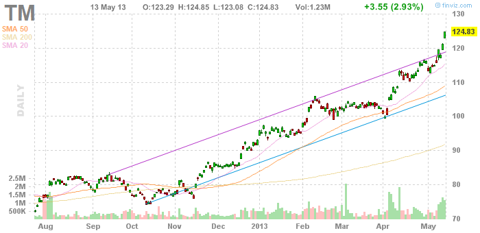 Click to enlarge
Overview: Based in Tokyo, Japan, Toyota Motor Corp. engages in the design, manufacture, assembly, and sale of passenger cars, minivans, hybrid cars and commercial vehicles and their respected parts primarily in Japan, North America, Europe, and Asia. (Yahoo! Finance) On Monday, shares of TM, which currently possess a market cap of $209.09 billion, a P/E ratio of 25.37, a forward P/E ratio of 13.48, and a forward yield of 1.12% ($1.36), settled at $124.83/share.
Trend Status: Based on Monday's closing price, shares of TM are trading 8.82% above its 20-day simple moving average, 15.00% above its 50-day simple moving average, and 36.22% above its 200-day simple moving average. These numbers indicate a short-term, mid-term and long-term uptrend for the stock, which generally translates into a buying mode for traders.
Strong Q1 Performance: On Wednesday May 8th Toyota Motor Corp. reported the results of what I believe to be a very strong first quarter. A weaker yen helped the company post a quarterly net profit of ¥313.9B (which beat analysts' expectations by ¥50.1B), quarterly revenue of ¥5.837T, and a quarterly operating profit of ¥502.3B. The weaker yen also helped Toyota Motor post an operating profit of ¥1.32T for the full year, the first time FY operating profits have exceeded the ¥1T mark since the financial crisis. Not only was the company's quarterly performance strong, its outlook was even better.
According to my fellow SA Colleague Trefis, "The forecast guidance was quite optimistic with the automaker hoping to sell 10.1 million vehicles in the fiscal beginning April (vs. 9.6 million vehicles sold in the preceding 12 months). If Toyota is able to reach its target, it would be the first automaker in history to sell more than 10 million vehicles in a year".
Can Investors Expect A Pop In Sales, If Regulations Ease? I personally think they can and for the simple reason that US sales need to see an immediate improvement considering the fact that April 2013's sales numbers were dismal at best (-1.1% versus street estimates of +3.1%). If investors were to consider the fact these Hi-Beam's come with an added safety feature, this could be a key catalyst to boost such numbers considering 16,600 of these models were sold in Europe and Japan.
Conclusion: When it comes to those who may be looking to establish a position in Toyota Motor, I'd continue to keep a watchful eye on any automotive regulatory announcements that could favor Toyota over the next 12-24 months, as well as any key developments that could help improve US sales such as newer fuel-efficient vehicles which could be cost-effective for the average US driver.
Disclosure: I have no positions in any stocks mentioned, but may initiate a long position in TM over the next 72 hours. I wrote this article myself, and it expresses my own opinions. I am not receiving compensation for it (other than from Seeking Alpha). I have no business relationship with any company whose stock is mentioned in this article.