First Trust, the ETF issuer that maintains a line of nearly 40 sector- and style-specific ETFs, has filed with the SEC to launch the First Trust NASDAQ ABA Community Bank Index Fund, which will offer exposure to community banks in the U.S. The new fund, which will have an expense ratio of 0.60%, will seek to replicate the performance of the NASDAQ OMX ABA Community Bank Index, a recently introduced benchmark. Although there is no shortage of ETFs tracking various corners of the financial sector, there are several things about the proposed fund that makes it a unique offering.
Index Qualifications
The index tracked by the new ETF is unique in several ways. Specifically, it holds all banks and thrifts listed on the NASDAQ excluding:
Any of the largest 50 banks based on asset size
Any banks having an "international specialization"
Any banks having a "credit card specialization"
In addition, in order to be eligible, companies must have (1) market capitalization of at least $200 million and (2) three-month average daily dollar trading volume of $500,000. At the time of the index launch last week, there were approximately 600 community banks listed on the NASDAQ Exchange.
Different Breed of Bank
Community banks are obviously very different from the financial behemoths operating out of New York City. International banks often have their hands in a number of different pies, including asset securitization, investment banking, asset management. Community banks, on the other hand, concentrate on activities that come to mind for most people when thinking of a bank: individual and commercial lending.
While the stock prices of the world's largest banks were, for the most part, universally pounded during the financial crisis, the performance of community banks was all over the board. Because they weren't involved in the creation of many of the complex financial instruments that contributed to the latest financial crisis, many community banks have made it through the recession (or at least made it to this point in the recession) relatively unscathed. But others haven't been so lucky. Unlike those of national and even regional banks (such as those tracked by the SPDR KBW Regional Banking ETF - KBE), the operations of community banks are often confined to a relatively small geographic area, leaving these institutions vulnerable to unique risk factors.
While default rates in many communities have risen only slightly over the last few years, those in certain areas have skyrocketed. Consider two of the banks comprising the new index:
Citizens First Bancorp (OTC:CTZN): Based in Port Huron and serving southeastern Michigan
Roma Financial Corp. (NASDAQ:ROMA): Based in Trenton and serving four counties in New Jersey
Compared to Michigan, where the demise of the U.S. automobile industry has crippled the economy, New Jersey has been booming. And the differences in the health of these regions shows in the relative performance of these two stocks.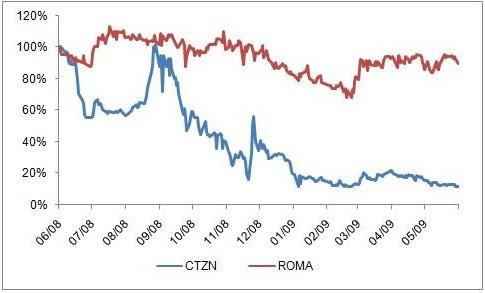 While this example is admittedly a bit extreme, hopefully it conveyed my point: while investments in community banks generally provide more stable returns than investments in large global financial institutions, they also come with a fair amount of geographic risk. Which is why a community bank index (and an ETF replicating that index) is an excellent innovation - the unsystematic risk is diversified away, leaving exposure to local financial institutions around the country.
Disclosure: No positions.