Stone Energy (NYSE:SGY) is an independent oil and natural gas company that engages in the acquisition, exploration, exploitation, development and operation of oil and gas properties in the Gulf of Mexico and the Appalachia region. As of December 31, 2012, it had estimated proved oil and natural gas reserves of approximately 773 billion cubic feet of gas equivalent (Bcfe).
SGY recently reported revenues and earnings above previous guidance, which is the second quarter in a row of beating estimates. The stock has already had a tremendous recovery from its lows just a month ago, but the momentum is at the company's back. The stock recently broke through its 50-day and 200-day moving averages. At this rate, the stock could trade up to its true asset value of between $31.50 - $33.00 before long.
Temporary operating issues have hurt production and share price:
In the fall of 2012, SGY began trading below some of its comparable industry peers. SGY's Gulf of Mexico oil producing operations, accounting for 18% of reserves, were temporarily halted in Q3-2012 due to hurricane Isaac (production in the Gulf has long been fully restored), and this was the start of SGY's gradual decline. In late 2012, SGY's Marcellus shale natural gas producing operations, accounting for 44% of reserves, were disrupted by the temporary shut-down of a 3rd party pipeline in the area. Without the means to deliver its gas, SGY has had to reduce production. It was initially announced that this would last only a few weeks, but in early 2013 SGY announced that the issues would take 2-3 months to resolve and would impact 1H-2013 results. SGY had seen its shares drift lower with each subsequent announcement of production cuts.
The market has largely overacted to these temporary production cuts and is currently not fairly valuing SGY's future production capabilities. Further, these issues do not raise concerns with management's ability to operate the company and should not persist into the near future.
Proved reserves are increasing and are well diversified:
SGY continues to more than replenish its depleted production with new proved reserves. In 2012, proved reserves increased by 28% to 773 Bcfe. As of December 31, 2012, proved reserves were estimated to be 35% oil, 14% natural gas liquids (NGLs) and 51% gas on an equivalent basis. SGY was the high bidder on 63k acres of land leases in the Gulf of Mexico in March of 2013. Oil discoveries on the land could add significantly to SGY's proven reserves. Further, the new deep-water wells expected to come on-line in the Gulf of Mexico should reinforce SGY's ability to drill in deepwater locations and increase the likelihood of successfully recovering oil from new locations more likely.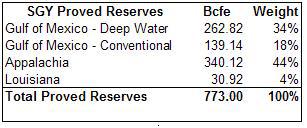 First deepwater wells to be in operation in 2014/2015:
SGY's first operated deepwater wells are expected to commence operations in late 2013 and should be fully online by 2015. SGY recently signed leases on deepwater oil rigs to commence drilling, so it appears the company is on track with its previous time estimates. Cardona and Amethyst, its first two planned wells, are expected to have 20 MMBoe (~120 Bcfe) and 50 MMBoe (~300 Bcfe) of gross prospective resource, respectively. SGY also has significant leases to expand in the deepwater Gulf region after they successfully get their first wells flowing. The current asset valuation does not account for yet to be proven deep water reserves, which makes future discoveries like an option attached to the stock.
Valuation of proved reserves:
SGY has recently diverged from other oil and gas producers in the industry that have not seen significant downtime in their production due to temporary issues (EPL, SM and XEC). These comparables have risen between 10%-60% over the past 7 months while SGY has declined approximately 10%, trailing both the industry and the S&P.

SGY vs industry comps. (source: Yahoo Finance)
By calculating the enterprise value of an oil and gas company based on proved reserves, I calculate an industry average value of $2.86 per Bcfe.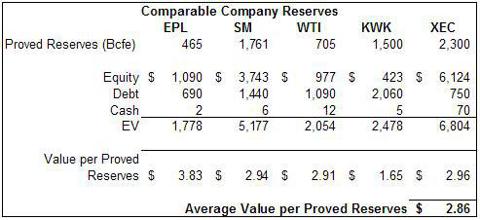 By calculating the enterprise value of SGY based on historical proved reserves, I calculate a historical year-end average between 2008-2011 value of $2.95 per Bcfe.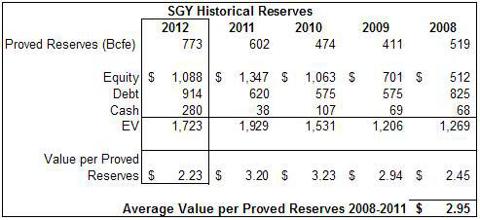 SGY is currently valued at $2.29 per Bcfe based on proved reserves as of December, 31 2012. Using the current industry average and SGY's historical average value per Bcfe, I get a per share value (equity) of between $31.50 and 33.00.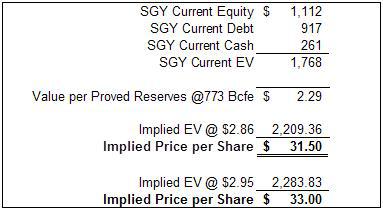 Other points of note on the valuation:
Two other competitors of note are W&T Offshore (NYSE:WTI) and Quicksilver (NYSE:KWK), which have both underperformed their industry peers as well. Both WTI and KWK have recently been burdened by acquisitions that have underperformed and left their balance sheets in precarious positions. WTI has about $976M in equity while having $1,090M in debt due to its recent acquisition. KWK has about $423M in equity while having $2,060M in debt due to its recent acquisition. While WTI is not in the best of positions financially, investors continue to value the company more in-line with the oil and gas industry. However, this valuation is down from the premium the stock commanded historically. KWK faces a mountain of debt, and as such, investors are significantly discounting the value of its proved reserves due to the perceived headwinds for the company. Currently with $1,112M in equity and $917M in debt, SGY appears to be closer to WTI than KWK in terms of its balance sheet position and should not be valued at a discount to others in the industry due to its debt-to-equity ratio.
Conclusion:
SGY should have its operating headwinds at its back and stands to significantly appreciate. Technical indicators are flashing this stock as a buy and its fundamentals support this based on the value of its proven reserves.
Disclosure: I am long SGY. I wrote this article myself, and it expresses my own opinions. I am not receiving compensation for it (other than from Seeking Alpha). I have no business relationship with any company whose stock is mentioned in this article.