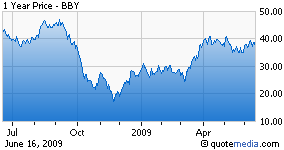 Best Buy (NYSE:BBY) Tuesday morning posted revenue for its fiscal first quarter ended May 30 of $10.095 billion, up 12% year over year, and about in line with the Street consensus of $10.13 billion. Adjusted EPS of 42 cents a share beat the Street view at 34 cents. Comp store sales were down 6.2%. Domestic store sales of $7.5 billion were up almost 1% year over year, with same-store sales down 4.9%.
Best Buy said its U.S. stores saw a reduction in customer traffic and essentially flat average ticket size, with lower gaming, digital camera, appliance and movie revenue, offset by gains in notebooks, mobile phones and repair services. Flat-panel TV revenues were flat with a year ago, as unit increases were offset by lower ASPs.
The company said its domestic market share increased about 200 basis points in the quarter.
Gross margin in the quarter increased to 25.3%, from 23.7%, while operating income slipped to 2.9%, from 3.1%. Domestic adjusted operating margin was 4.4%, up from 3.7%, while international operations reported an operating margin of 0.8%, versus break-even a year ago.
For the February 2010 fiscal year, the company maintains its forecast of EPS of $2.50 to $2.90 a share ex restructuring charges.
BBY Tuesday morning is off $1.12, or 2.9%, to $37.54.