Last weekend I ran into an interesting article in The Economist entitled "Mend the Money Machine". The article refers to the shortage of European bank funds to finance small and medium sized business in Southern Europe. Normally, I feel this magazine is a bit haughty, but this article seems to present a valid reason why the eurozone is one unhappy family.
In America, they claim the small and medium size (SMES) businesses make up half of the jobs. During a business recovery period, they are generally the first to make new hires, and thereby expand business. In Europe, the SMES play an even bigger role in the economy. In France, SMES are about 60% of the workforce. They are 67% in Spain, and 80% in Italy.
Typically, the SMES firms do not have access to capital markets, but rather they rely on banks to finance their operating needs. During the early euro years, the cost of money was relatively stable, and cheap credit was available throughout the eurozone, contributing to the expansion and the subsequent bubble.
After the bubble broke, banks were left with non performing loans, many in the real estate sector. Though the ECB reduced rates after the 2008 crisis, banks had to increase rates charged to the private sector for several reasons. First, they needed to replenish capital lost when the bubble broke. Second and more importantly, banks, and the bond market as well, had to be concerned with the safety of sovereign debt.
The Greek default was the markets' initial dose of reality. It was not only the Greek banks that were loaded up with sovereign debt, previously considered low risk, but also Spain, Portugal and Italy. So in a fashion, the needs for public sector financing has made private sector interest rates move much higher.
The Economist reports:
"For firms with new ideas, investment becomes more pricey. But even companies that plan to pay off existing debt are hit. In Italy borrowing by firms is around €855 billion ($1.3 trillion). A rate above 6% translates into interest payments of more than €50 billion a year. If Italian rates were the same as those in France, firms could refinance loans, and interest payments would fall by €22 billion. Lower borrowing costs would lift profits, which could be used to invest or pay staff more."
Interest rates on business loans in 2013 have been as high as 10%, and are even higher in Spain. It is no surprise then that unemployment rates keep rising in Spain and Italy, as these two countries plunge deeper into a depression. There are lending programs that could be initiated by the ECB, however, according to Der Spiegel, Germany objects:
"The European Central Bank would like to encourage banks in Southern Europe to issue more loans. But Berlin is concerned that a planned move to trigger such lending could violate EU treaties. German Finance Minister Wolfgang Schäuble has hit the brakes."
The Germans are resolute in their belief that southern Europe must change their economic model to be more Teutonic. As Der Spiegel said:
"The euro crisis has exposed a range of intra-European problems long hidden from the harsh light of day. Not the least of these is German exceptionalism."
Today we received the German ZEW Survey of Economic Sentiment. It was less than expected, and about the same as last month. Early tomorrow, we get the German and French GDP numbers. The French numbers are anticipated to be a very small reduction, while the German Q/Q comparison is guesstimated to be a positive 0.3%. This is followed by an EU GDP Y/Y estimate of -0/9%.
Since breaking to the downside from the converging triangle last week, we have been trading under the 1.30 handle, unable to mount a rally. This implies weakness. Should the German number come in on the low side, this might be a precursor of a sell-off back toward the 1.28 number.
If the numbers are positive, this may then propel the EUR/USD (FXE UUP, UDN) to the topside of the 1.30 handle. We doubt the rally can carry very far, so we will be looking for a higher sell spot. This is not one big happy family. As always, mind your money.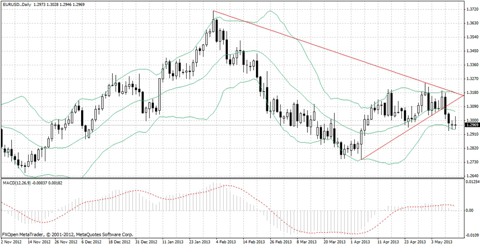 .
Disclosure: I have no positions in any stocks mentioned, and no plans to initiate any positions within the next 72 hours. I wrote this article myself, and it expresses my own opinions. I am not receiving compensation for it. I have no business relationship with any company whose stock is mentioned in this article.