2009 is going to be a banner year for Theravance (THRX) as the company waits for two FDA approvals for its lead antibiotic drug candidate Telavancin.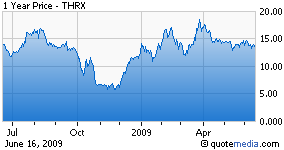 Telavancin is a novel lipoglycopeptide injectable antibiotic discovered by Theravance that targets serious Gram-positive infections including drug-resistant Staphylococcus aureus strains. Data has shown that Telavancin has a unique multifunctional mechanism of action that results in bacterial killing and may help reduce the risk of inducing resistance.

In November 2005, the company entered into a collaboration arrangement with Japan's Astellas Pharma Inc. for the development and commercialization of Telavancin, giving Astellas worldwide rights to this potential medicine. In addition to upfront and milestone payments, the company will be entitled to receive royalties on global sales of Telavancin by Astellas that, on a percentage basis, range from the high teens to the upper twenties depending on sales volume if Telavancin is commercialized.

Under this arrangement, the company will be responsible for substantially all costs to develop and obtain U.S. regulatory approval for Telavancin for complicated skin and skin structure infections (cSSSI) and hospital-acquired pneumonia (HAP), and Astellas will be responsible for substantially all costs associated with commercialization and further development of Telavancin. Theravance has no products on the market so far.

Telavancin received a favorable opinion from the FDA's advisory committee for the treatment of cSSSI in November 2008 after a series of delays. In February 2009, Theravance received a "complete response" letter from the FDA seeking detailed information related to the treatment of cSSSI. The letter requires a Risk Evaluation and Mitigation Strategy (REMS), data on patients with certain renal risk factors from the cSSSI and HAP studies, revision to the draft label and a customary safety update. The company submitted its response in March and the FDA accepted the response in April and has established a revised Prescription Drugs User Fee Act (PDUFA) action date on September 16, 2009.

In late January, 2009, Theravance submitted an NDA for HAP. In April 2009, the FDA accepted the NDA and decided for a standard ten month review of Telavancin resulting in PDUFA date of November 26, 2009. The NDA filing triggers a milestone payment of $10 million from the company's partner, Astellas Pharma Inc.

Competition remains a chief concern

The antibiotic market is huge, crowded by many players. Although the company is approaching commercialization, we remain concerned about the competition in the field of bacterial infections. Telavancin will not only compete with well established brand products, but also fight off competition from generics. Other drug candidates under clinical development are also threats to Telavancin.

Among the established branded names are Pfizer's (NYSE:PFE) Zyvox, ViroPharma's (VPHM) Vancocin, Cubist's (CBST) Cubicin and Wyeth's (WYE) Tygacil.





Also, a generic version of Vancocin may be launched by the end of 2009. The FDA will convene a meeting of its Advisory Committee for Pharmaceutical Science and Clinical Pharmacology to discuss bioequivalence recommendations for Vancocin on August 4, 2009. This meeting could act as the final hurdle for a generic approval of Vancocin. With well established brands and cheap generics on the market, we believe Telavancin has a high hill to climb -- initial sales will be slow, in our view.

To make things worse, there are quite a few late-stage candidates under development as well, which will compete with Telavancin if approved. Among them, Pfizer's Dalbavancin received a second approvable letter issued in December 2007 and Johnson & Johnson's (NYSE:JNJ) Ceftobiprole received an approvable letter issued in the U.S. in March 2008.