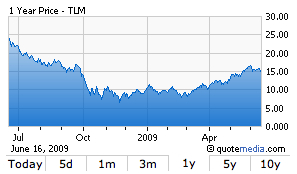 Talisman Energy Inc. (NYSE:TLM) continues to bulk up its production in Southeast Asia with the $186.6-million acquisition of British oil and gas explorer Rift Oil Plc, whose primary assets are on-shore in Papua New Guinea (PNG).
While the implied acquisition cost for these undeveloped gas reserves is $0.23 mcfe, UBS analyst Andrew Potter notes that there is substantial exploration upside.
He also suggested that the deal may set the stage for a floating liquefied natural gas (LNG) development. Rift has signed a memorandum of understanding with Flex LNG to evaluate a development and Talisman is expected to continue this process. The analyst said key potential advantages to going this route versus traditional LNG are smaller developments and lower costs.
"PNG lacks an attractive domestic gas market and industry is looking to LNG and Floating LNG to monetize resource," Mr. Potter said in a research note.
Talisman may have lacked growth visibility in the past, but its new management team is working to change that dramatically.
Over the next five years, the company has well-defined growth from unconventional gas and Southeast Asia, the analyst noted. After that, he said the picture continues to improve as a result of further potential for unconventional gas, possible development of the Niscota Block in Colombia, Floating LNG and other opportunities that should emerge from the company's various planned 'high impact' exploration targets.
UBS rates the stock a "buy" with a C$23 price target, which represents upside of roughly 40%.