Microsoft's (NASDAQ:MSFT) dividend has been a mainstay of the company for years and a big reason why some investors hold the shares. At present, the stock yields 2.8% even after a very large run to nearly $33. With our zero interest rate policy environment offering little for income investors, Microsoft shares are attractive as a bond replacement due to their yield and opportunity for capital gains. The question inexorably becomes, how safe is that dividend? This article will take a look at how safe Microsoft's payout to shareholders is.
To do this, we'll take a look at Microsoft's cash-generating abilities in relation to its promised cash payouts each year. We can then determine how much of the company's cash generated each year is being spent on paying shareholders.
First, we'll take a look at the headline payout ratio. For dividend stocks, this is the holy grail of metrics as it is simply the amount of dividends paid divided by net income. While I believe this metric to be completely worthless, millions of investors still rely upon it so it is worth mentioning.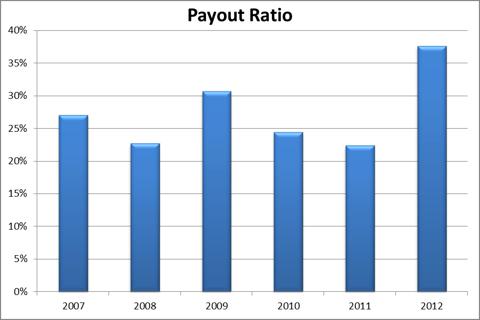 Click to enlarge
With this graph, we can see that Microsoft's payout ratio has never even reached 40% in the past six fiscal years. We all know that MSFT is generous with its buybacks but from this metric, we can see that Microsoft earns well more than it needs to in order to afford its dividend. So, everything is good, right? Not quite. The payout ratio is a totally worthless metric as it is comparing a cash payment to an accounting metric that has absolutely nothing to do with cash at all. Net income is simply an accounting metric that is used to sum up the complete financial performance of a company for a particular period of time. Since it is an accounting metric, nothing can be paid with "earnings". Rather, dividends and other payments must be made with actual cash. This is why the payout ratio is pointless and should be ignored.
In order to get a picture of just how much of the company's cash is used for dividends each year, we should take a look at free cash flow. I've defined FCF for this analysis as operating cash flows minus capital expenditures. Capital expenditures are defined as investing activities excluding cash impacts of equity, short-term and other "paper" investments that have nothing to do with actually running the business. Below, we can see what these figures look like for Microsoft over the past six years (in $ millions).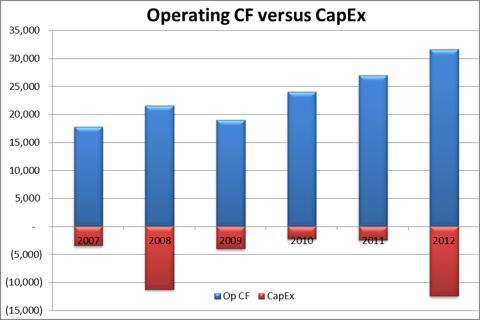 Click to enlarge
We can see several things from this graph but most importantly, we can see that Microsoft produces far more cash from operations than it spends on the investments that allow it purchase and maintain the assets that produce that cash. This is obviously a positive as it means the business is more than viable over the long term as long as this relationship holds.
Now, we can take a look at Microsoft's operating cash flows versus its reported net income to give us some perspective on the numbers.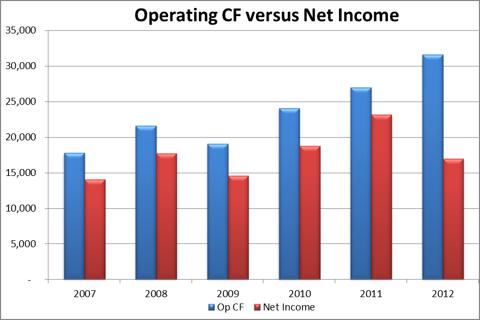 Click to enlarge
We can see that Microsoft reports far more cash from operations than it reports in net income. This is a great sign that the business is actually more profitable than net income would lead you to believe. This is true because since net income is a metric, it can be distorted by the actions of management. However, it is very difficult to manipulate cash flows and as such, it is a much truer measure of profitability. Microsoft has proven the ability to generate cash from its assets and we can see that here.
However, Microsoft's business requires a lot of capital expenditures in order to acquire and develop the assets it generates its cash from. If we remove those CapEx approximations from our operating cash flows and then compare it to net income, we get the results below.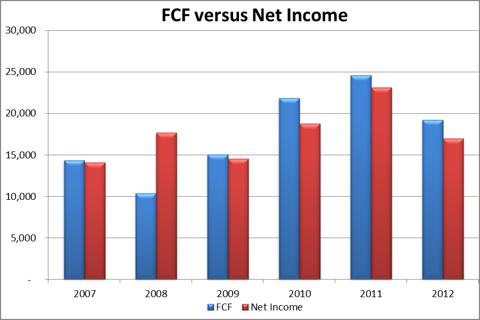 Click to enlarge
This is a bit less rosy than the operating cash flows compared to net income but we can still see that for most years, Microsoft produces more free cash flow than net income. This is a tremendous positive for the company and for shareholders as it means the company can continue to fund whatever it pleases, including dividends and share repurchases.
Finally, from this data we can extrapolate Microsoft's "FCF Payout" versus its payout ratio. I've defined the FCF Payout as the dividend the company pays divided by the amount of FCF the company produces. This is the same equation as the ubiquitous payout ratio except I've substituted my definition of FCF for net income.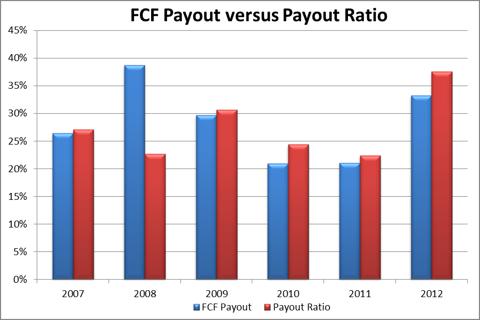 Click to enlarge
The results here should be encouraging to shareholders. We can see from this graph that Microsoft's FCF payout ratio is lower than its traditional payout ratio for all but one year in this data set. Apart from that being overwhelmingly positive, the other takeaway from this data is that both of the payout ratios are so low. We don't see any values for either metric over 40%. This is phenomenal as it means that Microsoft produces so much cash it can afford to buyback billions of dollars' worth of shares, fund its CapEx needs and pay a nearly cash 3% dividend.
Microsoft shareholders have absolutely nothing to worry about in terms of the company being able to fund its dividend and share buybacks. In fact, according to this data, Microsoft could literally double its cash return efforts without any funding issues whatsoever. Of course, I don't think that will happen anytime soon but it does mean that Microsoft will likely continue raising its dividend payments and renewing its share repurchase programs for a long time to come.
Disclosure: I have no positions in any stocks mentioned, and no plans to initiate any positions within the next 72 hours. I wrote this article myself, and it expresses my own opinions. I am not receiving compensation for it (other than from Seeking Alpha). I have no business relationship with any company whose stock is mentioned in this article.