Renren (NYSE:RENN) announced unaudited 2013Q1 financial results yesterday. Although the company beat the street consensus, the surprise percentage was not substantial enough to cause an improvement in upward momentum so far. Shares opened up 4.7% at $3.13 but eventually sold off, finishing at $3.00 per share, a tiny 0.33% increase. This article introduces our coverage with an overview of the earnings call, a discussion of Renren's main worries and our traditional final remarks.
Renren 101
Like Facebook (NASDAQ:FB) and Zynga (NASDAQ:ZNGA), Renren has had a poor performance since its IPO. Despite being one of the biggest social networks in China, with approximately 178 million active users as of December 31, 2012; the company is not profitable. Fierce competition in the Chinese social network arena, some expensive investments that the firm did in the past year in order to add diversification and hope to its portfolio of services (see the online games center game.renren.com, the social commerce website noumi.com and the video sharing website, 56.com) and the fact that a significant percentage of its MAU consists of Chinese students (this is promising in the long term, but not good for immediate monetization) are some of the reasons why the company has struggled to break the buck.
Investors and analysts were pessimistic about the performance of Renren for 2013Q1. Analysts polled by Thomson Reuters forecasted a loss of seven cents a share. This made it easier for the company to beat the consensus yesterday. However, investors expectations remain low, since the growth rate of revenue is starting show deceleration.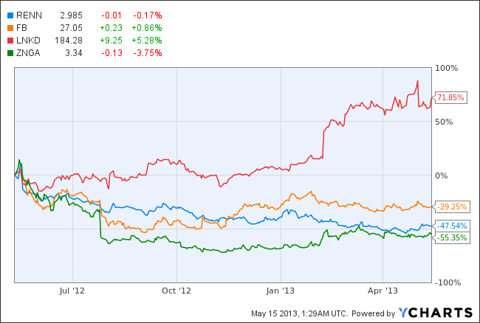 Earnings Overview: The Good
- First quarter loss of $3.2 million; a cent per share. This is an improvement if you take into consideration the fact that loss a year earlier was $13.6M or 3 cents per share.
- Revenue above expectations: $46.6M, with gaming (not advertising) as the key growth driver.
- The social network platform, Renren's star product, continues growing in MAU. In one year, the user based grew 19%, from 154 million to 184 million. Users are also more engaged, as monthly unique login users reached 57 million, a 41% increase y/y.
- Mobile penetration of the SNS remains high at 65%. In the words of Jian Liu, COO and Director:
In the first quarter, mobile penetration of our daily unique login users maintained a steady average of 65%. We had a record high mobile time penetration of 74% as compared to 67% in the previous quarter
A 65% mobile penetration rate is quite high. Remember that Facebook's mobile penetration is 54%.
- Renren is developing more games in-house. They had 16 in-house titles and 36 third-party games in operation at the end of the quarter. By creating more games in-house, they promote a healthy engineering culture inside the company and they increase their chances of developing a killer game in the future. Renren's top 5 games are now all in-house developed.
- Nuomi, Renren's group-buying buisness, is an early star. Sales increased over 100% year-over-year and user metrics continue to be solid. They reached 3.1 million active paying users and a repeat ratio of 54%. Impressive, to say the least. Likewise, Nuomi net revenue was $5.1 million, representing a 102% increase year-over-year.
Earnings Overview: The Bad
- Unimpressive revenue guidance for the next quarter: $55 million to $57 million, representing 23% to 27% year-over-year growth.
- Slower top line growth. The growth rate of revenue is decreasing, while the growth rate of operating expenses is increasing, making it harder to achieve profitability.
Total net revenues for the first quarter of 2013 were US$46.6 million, representing a 45.2% year-over-year. Operating expenses in the first quarter were $57.5 million, a 43% increase year-over-year.
Earnings Overview: The Ugly
- Advertising is the second most important revenue driver of Renren, after online gaming fee. In the words of Renren CFO, Hui Hang, of the $46.6 million in revenue, online advertising revenues were $9.8 million.
However, this segment is experiencing slow growth: a slight increase of 5% from the same period of 2012. Furthermore; Joseph Chen, Renren's CEO, confirms that advertising is not growing as high as expected:
(...) advertising remains challenging due to increasing competition, and it continually shifts over user time to mobile. As expected, Chinese New Year added some seasonality during the first quarter. Although we grew slightly year-over-year, we saw signs of slower growth in certain advertising verticals due to one-off events and the Chinese market condition.
Are the causes of a slower growth really exogenous one-off events?
It is too early to have a final view on this matter. The Chinese market is indeed fierce, but the fact that advertisers are increasingly choosing other platforms (like Baidu (NASDAQ:BIDU), Alibaba's Taobao or Tencent (OTCPK:TCEHY)) to market their products could also be a signal that Renren's MAU lacks competitive advantage due to the fact that a significant proportion is represented by students.
In an early research note (June 2011), Credit Suisse noted this disadvantage: "Renren shows weakness in some segments. For example, in the age group of '26-35', Renren's SNS access time market share is only 4.9%, compared to 21.3% in the age group of '18-25'. Thus, we describe Renren as a strong vertical SNS in the students category (also in the age group of '18-25')".
- 56.com, Renren's online video platform acquired in 2011 for $80M in cash, could be in trouble, precisely due to the "Chinese market condition". Baidu just acquired PPS and became the biggest online video platform in China. Competition will get fiercer, with Baidu's iQiyi and Youku Tudou's platform monopolizing most of the MAU in this segment.
Final Remarks
Price target: $3.00
Rating: Neutral / from N.A. We think that the stock could be dead money for a long time. Avoid Renren until major improvements are carried out (strategic acquisitions, killer app developments).
Investment Horizon: 1 year
Uncertainty: High.
Disclosure: I have no positions in any stocks mentioned, and no plans to initiate any positions within the next 72 hours. I wrote this article myself, and it expresses my own opinions. I am not receiving compensation for it (other than from Seeking Alpha). I have no business relationship with any company whose stock is mentioned in this article.