First, we once again bounced off the 20 day moving average (exponential) with the late day move from S&P 920 to 924ish in the closing minutes. Whew, another late day stick save. Color me shocked.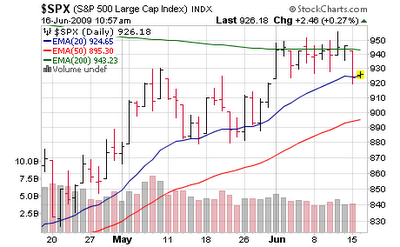 This is a tricky play because for months it has been "right" to buy any fall to the 20 day. Logic says to do it here as that is what has worked. However, the upside is relatively limited on the indexes before we run into that 200 day, so it's a narrowing by the day triangle that will resolve one way or the other soon, keeping us on the edge of our seats for now. We'll see how the day goes.
We are again hostage to Research in Motion (RIMM) on the 18th; apparently if you "listen" to the stock market, what happens in smartphones determines the fate of the U.S. Both RIMM and AAPL jumped off their 20 day moving averages, and when you combine that with oil up, dollar down (reflation trade back on), we're back to normal.
I am sort of laughing at our A.D.D. market which now trades off daily comments on the dollar by Russia's president. It must be a hoot for all these countries to see they can affect our dollar and bond markets just by uttering a sentence here or there. But that's what happens when you are reliant on the kindness of strangers to subsidize your economy. They increasingly dominate your affairs. (as a side note $GLD just jumped enough to recapture its 50 day moving average, so Monday's fall through that level could have just been a headfake that caught me - still too early to tell; either way we replaced the exposure with another 'reflation' product in Bucyrus)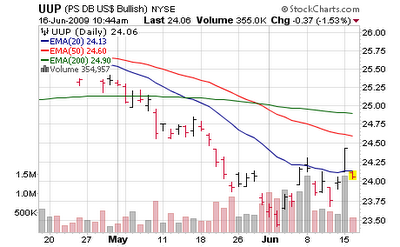 Unfortunately for now, smartphones don't make up enough of our industrial base to spare our factories (or their workers). On the plus side (cough) we've offshored so much of our production capability, that industrial production is only 13% of the economy, so even as the data comes in WORSE than expected and another case of 2nd derivative NON improvement, bulls can just avert their eyes and talk about housing starts or other such diversion. Manufacturing is only an issue for the industrial Midwest it appears.
Remember, when the news is good, it's pertinent and a 2nd derivative improvement; when it is bad... ignore it, it is backwards looking. (i.e. have your cake and eat it too) Kool Aid. So despite all the green shootery May activity is worse than April activity, and of course April was revised down as almost all our economic data is now. Pump up the market with number X (better than expected!) and then revise it down 30 days later when no one cares. Management of information is something we do excel in.
Industrial production tumbled a larger-than-expected 1.1 percent in May as the recession crimped demand for a wide range of manufactured goods including cars, machinery and household appliances.
The Federal

Reserve's

report on Tuesday showed production at the nation's factories, mines and utilities has fallen for seven straight months.
The 1.1 percent drop registered in May was the deepest since a 1.8 percent plunge in March. Output also turned out to be weaker -- a 0.7 percent decline-- in April than the Fed initially reported.
The overall operating rate fell to 68.3 percent in May, a record low dating to 1967. The previous low was set in April, when operating capacity dropped to a revised reading of 69, slightly weaker than first reported. (so worse than April - where are all the 2nd derivative improvement champions today?)
Production in the manufacturing sector fell 1 percent in May. That was down from a revised drop of 0.6 percent in April, double what the Fed initially estimated. Output in mining fell 2.1 percent in May, down from a 3.2 percent decline the previous month. Production at utilities fell 1.4 percent in May, erasing a 0.7 percent increase in April. (America is now going really old school - we're losing manufacturing but we still got mining! It's so 1880s around here) Machinery production dropped 3.4 percent, after a 2.5 percent decline in April.
The pullbacks factored into a drop in the operating rate at factories, which fell to 65 percent in May, the lowest on records dating to 1948. The previous low was set in April. (2nd derivative non improvement)
Production of appliances, furniture and carpeting fell 1.1 percent, partly reversing a 1.5 percent increase in April. Production of home electronics declined 1.9 percent, following a 1.4 percent decline in the previous month. (all 2nd derivative non improvements)
So while "making stuff" is down to 13% of the economy (and
falling
by the year), "Shopping / Services" is now up to 70% of our economy (and growing). So in that vein we'll take a quick look at what
Best Buy (

BBY

)
reported Tuesday... and hey, they sell
smartphones
(see, I tied this whole piece together) Keep in mind that Circuit City has gone the way of the Dodo bird, so Best
Buy's
business should be surging as the US consumer has "green
shooted
".
Best Buy Co. Inc. reported Tuesday that its first-quarter profit fell 15 percent, even as its biggest competitor exited the market, as recession-weary shoppers cut back on items like appliances and digital cameras.
Well, not so much.
The earnings, however, beat Wall Street expectations, and the nation's largest consumer electronics seller maintained its annual profit outlook.
Boo
yah
! "better than expected" (yawn) Wait, the stock is down. You mean this better than expected, while absolutely horrible nonsense has ceased? Time to reboot the computer and go eat a green shoot - something is wrong here.
Revenue rose 12 percent to $10.1 billion as it opened 185 new stores and gained some market share from the shuttered Circuit City Stores. The company said it had gained 2 percentage points of market share in the quarter and that its gains accelerated after the March 8 closing of Circuit City outlets across the U.S.
Best Buy's same-store sales fell 6 percent. Best Buy said that the same-store sales decline was fueled by a reduction in customer traffic and a flat average ticket and reflected decreases in gaming, digital cameras appliances and movies. Such decreases were partially offset by sales gains in notebook computers, mobile phones and repair services. Best Buy added that same-store sales of flat-panel TVs were essentially unchanged from last year as increasing TVs sold offset price declines.
The
last piece of economic news
Tuesday was housing starts were up versus record lows reached in April. The absolute number is abysmal ... and multi family homes which are incredibly volatile swung from a 50% drop in April to a 60% gain in May. Single family housing rose 7.5%, but overall we sit at 45.2% below year ago levels. I am sure I can find
Kool
Aid within those numbers somewhere, mostly by just reporting the May over April improvement.
As always, the news does not matter until it matters. As we borrow from future generations to stoke demand today in so many ways, I've lost count. it is actually quite sad that all these trillions "invested" in stimulus, backstop, and creating easy money conditions has led to such limp growth. Oh well, we still have many hundreds of billions of government transfers coming to create more prosperity in the next few quarters. And I eagerly await the drumbeat of
Stimulus 2.0
(2010 is an election year folks!) as we turn the corner into 2010.
I've called many months ago for a "double dip" technical recession - by that I mean what economists call "expansion" might technically be true (positive GDP based on massive government outlays later in the year) but it will feel like a recession for Main Street. And then we have another leg down into / in 2010, but all those calls assume we don't beg, borrow, and spend another $500B to a few trillion to show "prosperity" and bump up our GDP next year as well. All our economic data is so misrepresented by government spending now, it's hard to tell what exactly will come out of the black hole of macro economic news. The
Keynesians
in government just appear willing and ready to spend as much as possible until the real economy comes back.