All of a sudden, the stock of Millennial Media (NYSE:MM) has become hot. The stock dropped roughly 50% from the highs in mid-February to the lows below $7 starting in April. Then suddenly stock spent Tuesday trading most of the day above $8 and appears set for a major run higher. Our previous article (See Millennial Media Could Be Zipping Higher Soon) at the end of March suggested that investors had become extremely pessimistic about a company growing revenue over 50% this year.
Millennial Media remains the leading independent mobile ad network provider with an estimated 18% market share of 3rd-party sales. Its technology, tools, and services help developers maximize their advertising revenue, acquire users for their apps, and gain insight about their users.
Previously, the discussion presented how Millennial Media could follow Zipcar's stock significantly higher after weak trading. That example was only one of numerous where new internet stocks saw periods of weakness followed by massive bounce backs. One good example was Pandora Media (NYSE:P) that quickly went from a failed concept to a stock darling. Will Millennial Media be the next stock to turn into a darling?
Brand Focus
A major part of the issue with Millennial Media is that investors don't understand the difference between it and leading mobile ad platform Google (NASDAQ:GOOG) and independent platforms such as Facebook (NASDAQ:FB) and Twitter. The deal is that mobile developers and publishers have the option of choosing an ad network provider such as Millennial Media or create their own sales network. The sudden and successful growth by Facebook led to a misconception that Millennial would see similar growth. Instead, it's possible that the sudden Facebook success impacted Millennial growth due to the massive shift to mobile by that platform.
Investors need to understand that regardless of what Facebook achieves with mobile, the vast majority of mobile developers need an ad platform such as Millennial to generate advertising revenue.
Q113 Earnings Highlights
Due to the focus on brands that typically spend higher on the fourth quarter and take a pause at the start of the year, the first quarter isn't typically that meaningful for Millennial Media. As an example, the company expects year-over-year revenue growth to accelerate as 2013 progresses similar to last year. Regardless, the company provided the following highlights for Q113:
Revenue: For the first quarter of 2013, revenue increased to $49.4 million from $32.9 million for the first quarter of 2012, a year-over-year increase of 50.1%.
Gross Margin: For the first quarter of 2013, gross margin improved to 41.6% from gross margin of 39.5% for the first quarter of 2012.
Adjusted EBITDA: For the first quarter of 2013, adjusted EBITDA, a non-GAAP financial measure, was $(0.8) million compared to adjusted EBITDA of $(2.4) million for the first quarter of 2012.
Non-GAAP Net Income (Loss) Per Common Share: For the first quarter of 2013, non-GAAP net income (loss) per common share basic and diluted was $(0.01), compared to non-GAAP net income (loss) per common share basic and diluted of $(0.15) for the first quarter of 2012.
Other Business Metrics: As of March 31, 2013, Millennial Media reached over 420 million monthly unique users globally, including approximately 160 million monthly unique users in the United States alone. As of March 31, 2013, more than 42,000 apps were enabled by mobile app developers to operate on Millennial Media's platform, and there were more than 350 million proprietary, anonymous user profiles developed.
With very few stocks growing revenue at 50% and increasing gross margins, it seems ironic that this stock plunged after the last earnings call. The company didn't achieve some of the aggressive growth targets originally outlined, but investors shouldn't see that disappointment as the end of the world.
Pandora Media Example
While Zipcar provided an example of how a stock associated to a revolutionary concept could become extremely undervalued, an hourly rental car company doesn't necessarily provide a relevant situation to a mobile advertising firm. Pandora Media though does provide a stock that is highly dependent in the growth of mobile advertising.
The stock spent some time trading around $20 after an IPO in mid-2011 yet the stock traded down to nearly $7 as it struggled to generate profits and new startups such as Spotify caused competitive fears. In addition, the company continues to face competitive threats from major tech firms including the same companies that sandwich Millennial Media in the mobile ad network market.
Despite these competitive threats, the stock has now soared to nearly $17 as the company continues to grow at a very fast pace. Analysts expect Pandora to grow revenue 44% this year and 36% in 2014. Both numbers provide substantial growth for a company that had $427 million in revenue last year. The stock is worth close to $3B now giving it a multiple of nearly 5x the expected revenue for this year.
Conversely, analysts expect Millennial to grow at a faster pace, generate higher earnings, yet the stock trades at a much lower multiple of 2.3x revenue expectations for this year. In essence, Millennial needs to nearly double in order to reach a similar multiple as Pandora.
Stock Analysis
The chart appears ripe for a rebound to the $14 level where the stock plunged back in February. Not only did the Q1 report allay some of the fears surrounding future growth, but also the recent pattern in these fast growing stocks has been for a massive selloff followed by a significant rally to exceed recent highs.
1-Year Chart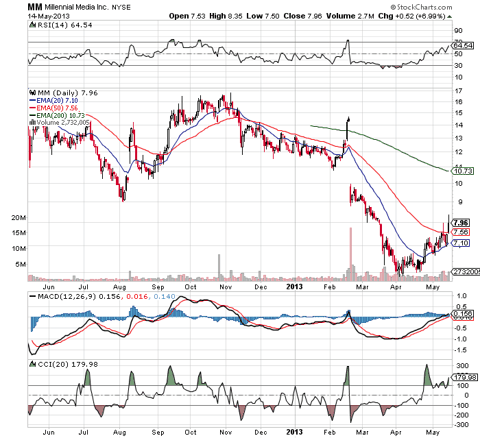 Conclusion
Millennial Media made some progress in proving that the stock has staying power with affirming the expectations for revenue in the $275 million range for 2013. At a growth rate of 55% for 2013, the stock should've never traded even below $10. Investors can still snap up the stock for just over 2x revenue with the stock trading for only $8. As with Pandora Media and Zipcar before it, the extreme stock weakness was a major buying opportunity. The stock could easily head back to previous highs around $14, if not higher.
Disclosure: I am long MM. I wrote this article myself, and it expresses my own opinions. I am not receiving compensation for it (other than from Seeking Alpha). I have no business relationship with any company whose stock is mentioned in this article.
Additional disclosure: The information contained herein is for informational purposes only. Nothing in this article should be taken as a solicitation to purchase or sell securities. Before buying or selling any stock you should do your own research and reach your own conclusion or consult a financial advisor. Investing includes risks, including loss of principal.