Focused Investor LLC was founded in 2006 and has since then grown its portfolio to $2.035 billion on the following investment philosophy:
We concentrate in our best ideas

We insist on a margin of safety (20-40%)

We invest for the long-term

We only invest in businesses we understand

We eat our own cooking
Pretty simple right? Below is a look at Focused Investor LLC's best ideas and/or portfolio as of 3/31/13.
Buys
The only new holding in the portfolio, at the end of the first quarter, was a $43 million investment in Aetna (NYSE:AET). Even with not knowing exactly when the fund made this purchase, we can assume it has already been profitable. Shares are up 28.97% year to date and trade near their 52 week high of $59.71.
The only other two purchases were a small 1% increase of Focused Investors' IBM (NYSE:IBM) holdings and a 9% increase in the fund's position in Microsoft (NASDAQ:MSFT). At the end of March, IBM was the fifth largest position in the portfolio, or $109.348 million. Microsoft was, at the end of the first quarter, the sixth largest position in the portfolio and worth $107 million.
Sales
Other than a few 1-2% share sell-offs in Pepsico (NYSE:PEP), Goldman Sachs (NYSE:GS) Diageo (NYSE:DEO), Becton Dickinson (NYSE:BDX) and Zimmer Holdings (ZMH), the only other significant sell was a 23% cut in Focus's holdings of Nike (NYSE:NKE). Nike shares are up 25.78% YTD and trade at their 52 week high of $64.65 per share.
Top 4 Holdings
Wal-Mart (NYSE:WMT), McDonald's (NYSE:MCD), Pepsico (PEP) and American Express (NYSE:AXP) continued to hold the top spots of the portfolio throughout the first quarter. Investments in these companies were worth the following on 3/31/13:
WMT - 8% of the portfolio - $162.9 million
MCD - 7% of the portfolio - $140 million
PEP - 7% of the portfolio - $137 million
AXP - 6% of the portfolio - $123.8 million
Bottom Line
The success of Focus Investor LLC is no surprise and many investors can learn a lot from the holdings as this funds concentration on only a few ideas helps make identifying the portfolio's moves a lot easer. As a screen for investment ideas, Microsoft and Aetna stand out with Nike being the only holding with a significant sell. Here is a look at Focused Investor's complete portfolio: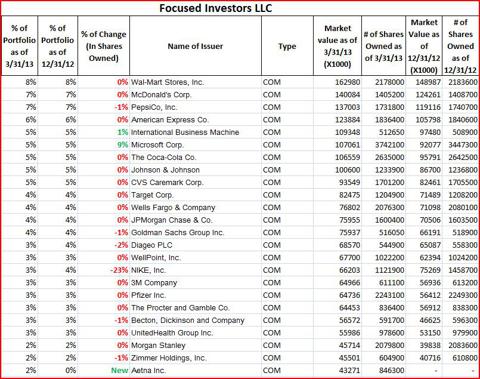 Disclosure: I am long AXP. I wrote this article myself, and it expresses my own opinions. I am not receiving compensation for it (other than from Seeking Alpha). I have no business relationship with any company whose stock is mentioned in this article.