Company Overview
Weight Watchers International (NYSE:WTW) is the industry leader in providing weight loss services. Since 1961, Weight Watchers has been providing Americans with a weight loss program based on "Points" (changed to PointsPlus in 2010) which are easy to track, complemented with a support group which meets regularly to help individuals maintain their diets. Revenue can be broken down into four main segments: meeting fees, internet revenues, in-meeting product sales (such as bars, snacks, cookbooks, PointsPlus calculators, etc.), and licensing/franchising fees and royalties. Weight Watchers also partners with other businesses, such as Applebee's (NYSE:DIN) and Kraft (KRFT), to provide easily recognizable healthy options to consumers with the Weight Watchers logo.
Industry Analysis
It's no news to anyone that obesity is an epidemic, especially in countries which Weight Watchers has high exposure to such as the United States, United Kingdom, and countries in Europe. In 2000, no state in the U.S. had obesity prevalence of over 30%, but in 2010, there were 12. It appears the obesity epidemic is increasing at an accelerating rate. According to the CDC, in 2010 about 35.7% of US adults were obese.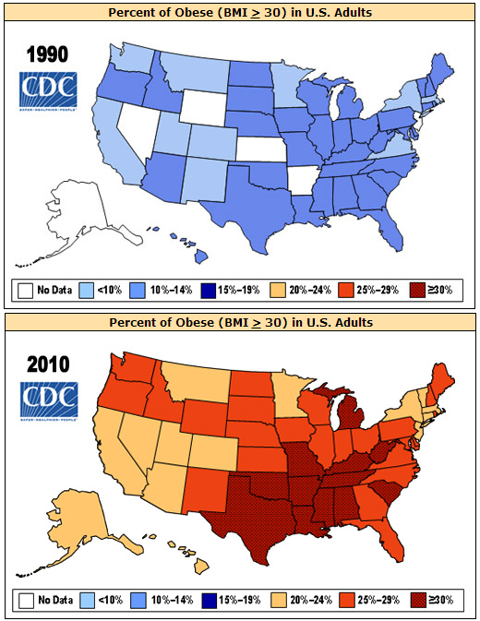 The American weight loss industry has benefited enormously from this massive increase in obesity. The American weight loss industry was worth about 61 billion dollars in 2010, and is projected to hit 63 billion dollars this year. Globally, the weight loss market is expected to reach 586.3 billion dollars by 2014. From 2009 to 2014, this amounts to about a 10.4% compound annual growth rate (OTCPK:CAGR). Accelerating obesity in industrialized countries has caused the industry to grow at an accelerating rate. Furthermore, technology has also been integrated into weight loss strategies. Websites, such as eDiets.com and WeightWatchers.com have experienced rapid growth in the past few years.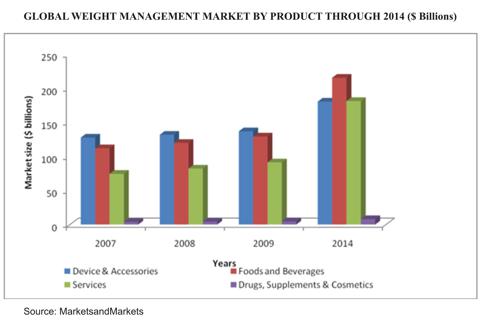 In macro terms, Weight Watchers should be well positioned for long-term growth as an industry leader. However, not all news is good. At any given time, about 50% of Americans are dieting. Of those, over 80% are trying to lose weight on their own. This current level is the highest in over 20 years. More and more Americans are choosing to diet without the aid of weight loss programs. Furthermore, two diet drugs, Belviq and Qsymia, are expected to enter the market this year. For diet-based businesses like Weight Watchers, this represents a huge threat.
Company Analysis
Weight Watchers is caught amidst a shift in the industry from traditional diet programs into online plans. The Internet segment of its business has experienced a CAGR of 28.4% since 2008. Double-digit growth is likely to continue into the near future, as WeightWatchers.com is becoming increasingly popular. The WeightWatchers.com reporting segment recorded 16.6% of revenues in 2010 but comprised 27.8% in 2012. Additionally, the online segment is clearly what will drive future revenue growth for Weight Watchers. Since 2008, the meeting fees segment had a CAGR of only 0.7%, while in-meeting product sales and licensing both decreased at annual rates of 3.5% and 1.5%, respectively.
| | | | | | |
| --- | --- | --- | --- | --- | --- |
| Revenue Sources (in millions) | Fiscal 2012 | Fiscal 2011 | Fiscal 2010 | Fiscal 2009 | Fiscal 2008 |
| Meeting Fees | $934.90 | $990.30 | $819.60 | $817.50 | $908.10 |
| Internet Revenue | $504.30 | $399.50 | $238.80 | $196.00 | $185.80 |
| In-meeting product sales | $253.20 | $281.80 | $260.50 | $251.30 | $285.60 |
| Licensing, franchise royalties and other | $134.40 | $147.60 | $133.10 | $134.10 | $156.30 |
| Total | $1,826.80 | $1,819.20 | $1,452.00 | $1,398.90 | $1,535.80 |
This is problematic for Weight Watchers because the future of its growth is an area which has extremely low barriers to entry. Because weight loss encompasses a wide variety of sub industries, Weight Watchers encounters competition from multiple angles. Aside from other diets such as Atkins, Jenny Craig, and eDiets.com, which are also expanding online, Weight Watchers also faces significant pressure from free smartphone applications such as MyFitnessPal, a calorie counter which helps users keep track of what they eat from a database of over 2 million foods. Other similar applications include Lose It! and FitBit.
The emergence of such smartphone applications poses a significant threat to WeightWatchers for three reasons. First, a large part of the success that Weight Watchers has maintained comes from the simplicity and accuracy of the points system. Nutritional information is often difficult to keep track of, and Weight Watchers provided a way for users to easily calculate their optimal daily intake of food. However, the convenience of smartphones has allowed more accurate recording of nutritional information with less inconvenience. Users can know the exact quantity of each nutritional category that they intake, which means that they can optimize their diets better than they could under Weight Watchers.
Second, many smartphone applications use crowdsourcing to add nutritional information to an ever increasing database of foods. The preset list of Weight Watchers foods which have pre-assigned point values is dwarfed by the list of foods on which smartphone applications have exact information. This gives users more options to eat what they want while maintaining a calorie deficit, and takes away a big reason why Weight Watchers has had such success: maintaining consumer choice while losing weight. Additionally, with easier ways to record nutrition, there is no longer a need for consumers to buy Weight Watchers products which have pre-assigned point values because consumers can eat cheaper alternatives.
Third, the increase in the number of people who are dieting on themselves and the growth of the Weight Watchers internet segment proves that fewer people are interested in returning to structured programs such as Weight Watchers. However, unlike Weight Watchers' internet business, many dieting applications and services are now being provided for free. Even if Weight Watchers manages to compete fairly well in this segment, its margin is likely to suffer as consumers look for cheaper alternatives.
Moreover, Weight Watchers lacks a true "economic moat" which distinguishes itself from its competitors. The company maintains an aggressive advertising campaign which high-profile celebrities to tout the success of its diets. However, a more fundamental problem is that the proven success of Weight Watchers diets does not insulate the company from its competitors. In 2003 and 2004, Weight Watchers performed very poorly because of widespread media coverage on low-carb diets like the Atkins diet. Although one could argue that such diets are only fads, the inability of Weight Watchers to combat such competition is troubling.
Share Performance
Aside from the period in which Weight Watchers executed its share buyback program, the stock has performed rather poorly relative to the S&P 500 over the past five years. Weight loss is heavily cyclical, as consumers are unlikely to employ discretionary spending towards weight loss in recessions.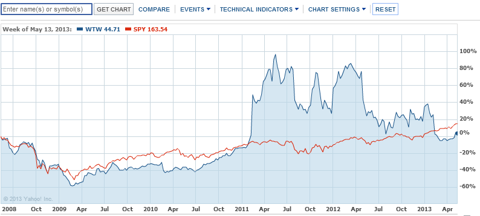 A quick look at some key statistics makes Weight Watchers seem cheap. Its trailing P/E is 10.05, a significant discount to the S&P 500 average. Weight Watchers also boasts an impressive 20.2% return on assets (ROA), and is currently trading 12.25% above its 52-week low of $40.00 but 25.54% below its 52-week high of $60.30. However, the first lesson of every beginning value investor is that cheap and undervalued are not the same thing.
The upside for Weight Watchers is significantly limited for a few reasons. First, the highs experienced in 2011-2012 are unlikely to ever occur again, as there appears to be no plans for a share repurchase in the future. Even if there were, it is unlikely that the shares would be purchased at prices anywhere near the last repurchase. Second, increased competition in the weight loss sector is likely to generate heavy pressure in the near term. Such pressure comes from industries outside the diet sub-industry, such as pharmaceuticals, technology, and fitness programs. Third, while the market for weight loss is huge, most of it is lost to people who diet by themselves, and Weight Watchers does not appear to have any significant growth prospects in emerging markets in the near future. Finally (and least importantly), Weight Watchers is trading close to its technical support level.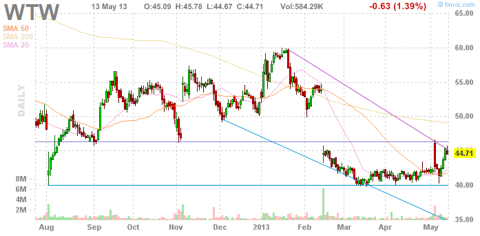 Personally, I have no faith in technical analysis, but the market does seem to abide by its rules from time to time (although with no predictability or reliability). If the first three reasons didn't convince you, this shouldn't be the one that does.
Conclusion
While obesity rates are accelerating, Weight Watchers is not positioned well for the next few years. If your value portfolio contains Weight Watchers, proceed with caution. Weight Watchers lacks the ability to insulate itself from competitive pressure, which is mounting from multiple industries. If any value investors are looking to take advantage of Weight Watchers' relatively low price, make sure to demand a very sizeable margin of safety. If you need to liquidate a position to initiate another long-term value play, Weight Watchers could be a good choice.
Disclosure: I have no positions in any stocks mentioned, and no plans to initiate any positions within the next 72 hours. I wrote this article myself, and it expresses my own opinions. I am not receiving compensation for it (other than from Seeking Alpha). I have no business relationship with any company whose stock is mentioned in this article.