After an unusually warm, dry spring last year allowed farmers to rocket through fields, planting crops at a clip that far exceeded the 5-year average, this year's cold, wet weather is slowing planting far below the 5-year average.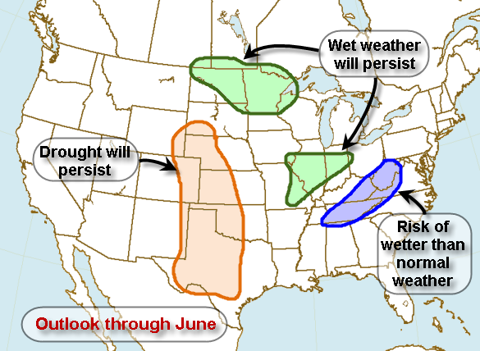 Click to enlarge
Corn (NYSEARCA:CORN) shot up Monday on news from the USDA that planting is just crawling along. North Carolina is the only shining star with the planting season moving along on target.
Almost every crop - the exception being sorghum - is having a sluggish planting season.
The weather pattern has changed dramatically in the last two weeks and temperatures throughout the wheat and corn belts will average above normal for the next two to three weeks. The far eastern part of the U.S. will be near-normal or slightly cooler than normal. Storm systems are on a 5 to 7 day cycle and I don't see a change in that pattern anytime soon.
The good news is that the last week of and a half of May should be dry enough for farmers to make significant headway across most of the corn belt.
Southeast Iowa, east-central Missouri, the north half of Illinois and much of Indiana will be wetter than normal through June and some farmers may have to switch from corn to soybeans since soybeans (NYSEARCA:SOYB) can handle a shorter growing season.
Most of the cotton (NYSEARCA:BAL) region from eastern Texas eastward should have adequate rainfall this growing season, as will peanuts.
Wheat (NYSEARCA:WEAT) will be stressed throughout the summer as the western high plains continue to be drier than normal.
Even though spring planting is sluggish, there's no reason to think it will not catch up. This will eventually benefit Potash Corp. (NYSE:POT) and Mosaic (NYSE:MOS), and nitrogen fertilizer producers like CF Industries Holdings (NYSE:CF) as demand increases.
Disclosure: I have no positions in any stocks mentioned, and no plans to initiate any positions within the next 72 hours. I wrote this article myself, and it expresses my own opinions. I am not receiving compensation for it (other than from Seeking Alpha). I have no business relationship with any company whose stock is mentioned in this article.