Gordmans Stores, Inc. (NASDAQ:GMAN) is a discount retailer with locations primarily in the Midwest of the United States. It was taken private by Sun Capital Partners in 2008 and had its IPO in 2010 with Sun Capital and select insiders still controlling a majority of the shares.
A small retailer with a footprint of 83 stores in 2012 we can see that there is clearly plenty of room for growth. Gordmans has been growing at a steady clip as the company expects to finish 2013 with 93 stores. This growth has been inexpensive so far because developers have been taking on 90% of the costs associated with constructing new stores. The heart of America has its stores (see below) and the next logical step for the company to grow is on the East and West coasts. We don't believe that developers on the coasts will be as willing as developers in the Midwest to subsidize construction costs for new stores.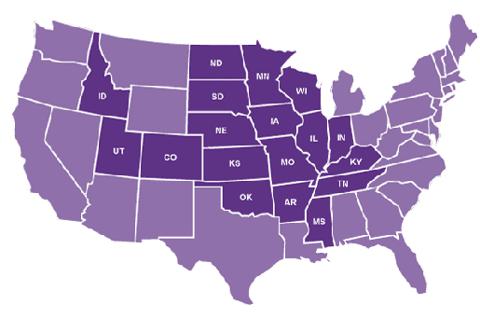 Click to enlarge
Below industry average operating and profit margins combined with declining same store sales make Gordmans a bad deal at today's price of $11.72. In the next 3-5 years EPS is expected to decline at -4.3% per annum, which justifies GMAN trading below industry multiples.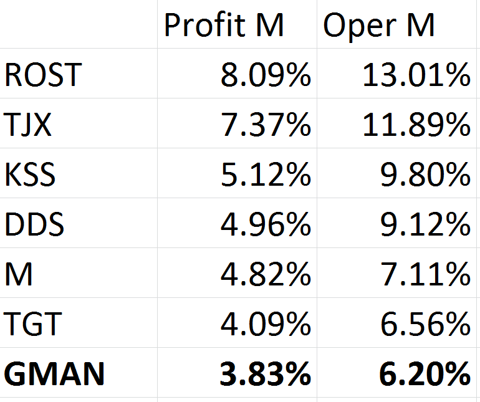 Click to enlarge
Gordmans has no real niche or moat and competes with Dillard's Inc. (NYSE:DDS), Macy's Inc (NYSE:M), Kohl's Corp. (NYSE:KSS), Target Corp. (NYSE:TGT), The TJX Companies, Inc. (NYSE:TJX) and Ross Stores Inc. (NASDAQ:ROST) for its target market of 30-50 year-old mothers with household incomes of $50k-$100k.
Revenues have been increasing at a 10% annual clip but same store sales have been declining. Gordmans can and will grow, but how profitable will it be in doing so? Developers have been subsidizing the growth of Gordmans and if start-up costs on the East coast aren't subsidized like existing stores then Gordmans will end up spending its $40M in the bank fairly quickly. Short on cash, we can see GMAN raising capital and diluting existing shareholder value. With $1.32 EPS in 2011 falling to a projected $0.92 in 2014, the below average multiple of 12.3x compared to industry peers (17.2x) is warranted and still should be considered too rich for any value investor.
Best-Case Scenario
$1 EPS at industry multiple of 17x = $17 per share
Worst-Case Scenario
$0.83 EPS at 10x multiple = $8.30 per share
Technical Analysis
The most prominent features of the daily chart are the two gaps, one created on January 14 due to lowered Q4 guidance (to net revenue of $203M and diluted EPS of $0.35 to $0.37) and more recently on March 25 on the heels of the announcement of Q4 ($202.5M and $0.41) and FY12 results. Since then, price has formed a solid base with improving momentum, but the chance of the latest gap filling seems unlikely given the current state of the business. A more likely scenario sees some nominal price appreciation that stalls at the resistance of the declining 50-day moving average which guides price towards our target, or possibly our worst-case scenario should any future guidance or Q1 results also disappoint.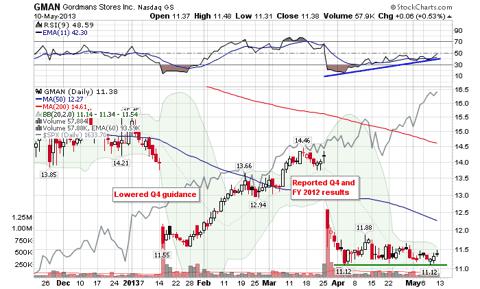 Click to enlarge
Summary
Even if GMAN were to hit its EPS estimate for 2014 it would still be a decline for EPS year-over-year. The 17x multiple for the industry is attached to an estimated 9% EPS growth for the industry overall. It is highly unlikely that GMAN's multiple would reflate to the industry average even if it hit the higher end EPS target of $1.
Our target price of $9.75 for GMAN shares balances the negative EPS expectations for the company in the next 3-5 along with the possibility that shares may reflate with a rising market.
Disclosure: I have no positions in any stocks mentioned, and no plans to initiate any positions within the next 72 hours. I wrote this article myself, and it expresses my own opinions. I am not receiving compensation for it (other than from Seeking Alpha). I have no business relationship with any company whose stock is mentioned in this article.