By: Brendan Gilmartin, VP Research & Content
Wal-Mart Stores (NYSE:WMT) is scheduled to report 1Q 2014 earnings before the opening bell on Thursday, May 16. The release is typically available at 7:00 a.m. EST. Results from the world's largest retailer and constituent of the Dow Jones Industrial Average tend to heavily influence the direction of the equity index futures.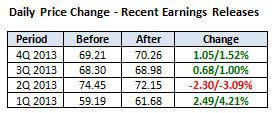 Outliers & Strategy
Key measures:
EPS from Continuing Ops: Wal-Mart indicated back in February it expects 1Q 2014 diluted earnings per share from continuing operations to range between $1.11 and $1.16. The current Street estimate of $1.15 is at the high end of the range. (Source: Yahoo! Finance).
EPS Guidance (2Q 2014): This is a crucial forward-looking measure for Wal-Mart. The current consensus estimate for 2Q 2014 is $1.29.
EPS Guidance (FY 2014): Keep a close eye on Wal-Mart's outlook for fiscal 2014. The Street estimate is $5.35, the high end of the company's projected range of $5.20 to $5.40.
Revenues: Revenues are seen rising 3.00% Y/Y to $116.4 bln.
Comparable Store Sales: Back in February, Wal-Mart reported it expects comparable store sales to come in about flat.
The Street is intently focused on the comparable store sales figure headed into the earnings release. There are some fears that a negative comp (following a weak February) could weigh heavily on the shares. The consensus is 0.2%. (Source: Zacks)
Following the recent advance to all-time highs, the options market is pricing in a 3.1% move off earnings, above the historical average, given the recent level of volatility.
Recent News
05/14: Jefferies reiterated a Buy rating and a $90 price target on Wal-Mart, citing a pickup in March & April, according to a report on StreetInsider.com. The firm suggests Wal-Mart saw a pickup in consumer spending in March and April after a sluggish February.
05/13: Deutsche Bank reiterated a Hold rating on Wal-Mart ahead of 1Q earnings, according to a post on Benzinga.com. The firm noted that expectations surrounding Wal-Mart are low ahead of earnings due to speculation over slower traffic and flat comps.
04/16: UBS initiated coverage on Wal-Mart with a Buy rating and a price target of $89.00, according to StreetInsider.com. The firm suggests Wal-Mart can extend beyond the recent all-time highs as it enters a period of solid sales growth.
Technical Review
Wal-Mart is at an all-time high just below the $80 per share level ahead of 1Q earnings on Thursday. Given that the shares are up about 15% from the mid-March lows, it will take a strong earnings release to push the shares beyond this threshold. Should earnings disappoint, look for initial support at $77.00, with downside risk to $75.00 in the event that Wal-Mart delivers a surprisingly weak report. (Chart courtesy of StockCharts.com)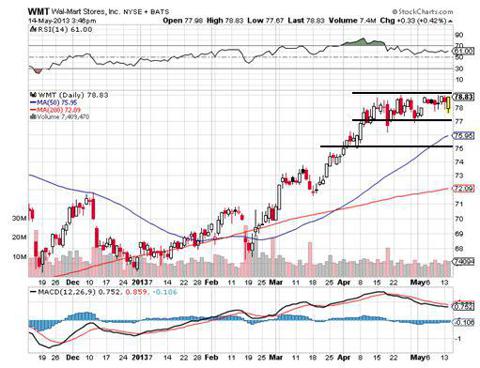 Summary
Wal-Mart shares are near an all-time high headed into the 1Q earnings release, amid evidence of solid sales in March and April, helping to offset a sluggish February. With earnings and revenues seen coming in toward the high end of consensus views, much of the focus will center on comparable store sales and guidance for the upcoming 2Q period. Wal-Mart already telegraphed a "flat" comp figure and estimates are at 0.2%. A negative number could therefore spook the market, while a figure >0.5% could trigger another leg higher in the share price so long as forward guidance is reiterated or adjusted slightly higher. Anything less could be considered a disappointment in light of the recent spike in the shares.
DISCLAIMER: By using this report, you acknowledge that Selerity, Inc. is in no way liable for losses or gains arising out of commentary, analysis, and or data in this report. Your investment decisions and recommendations are made entirely at your discretion. Selerity does not own securities in companies that they write about, is not an investment adviser, and the content contained herein is not an endorsement to buy or sell any securities. No content published as part of this report constitutes a recommendation that any particular investment, security, portfolio of securities, transaction or investment strategy is suitable for any specific person.
Disclosure: I have no positions in any stocks mentioned, and no plans to initiate any positions within the next 72 hours. I wrote this article myself, and it expresses my own opinions. I am not receiving compensation for it (other than from Seeking Alpha). I have no business relationship with any company whose stock is mentioned in this article.