This article is a follow up to "PennantPark: BDCs - The Good, The Bad And The Maybe? Part 4" where I considered PennantPark Investment (NASDAQ:PNNT) one of "The Good" business development companies ("BDCs") and takes into account recently reported financial results with EPS of $0.21 missing expectations due to some onetime expenses and increased net asset value ("NAV") by 1.2% to $10.50.
PennantPark Investment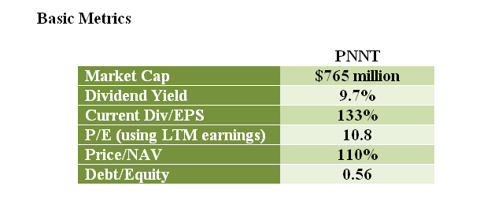 Click to enlarge
(Click to enlarge)
Profit
One of my primary concerns regarding BDCs is adequate dividend coverage from net investment income ("NII"). Historically, PNNT has a decent history of covering dividends but fell short for the March 2013 quarter by $0.07, and as discussed in the most recent conference call there was onetime debt issuance costs of $0.04 per share and PAS Technologies, an aerospace company that was hurt by defense expenditures getting some focus on sequestering and the American Airlines bankruptcy, resulted in the restructuring of about $17 million of debt converted into equity.
Analysts are still projecting EPS of $0.28 in the coming quarters which would cover its dividend. This projection is supported with great detail by fellow contributor Factoids in the recent article "PennantPark Has A Q1 Earnings Shortfall" projecting an EPS run rate of $0.283.
Risk
PNNT has one of the safer portfolio asset class mixes with almost 49% in senior debt, 38% subordinated debt, and 13% of preferred and common equity, with adequate industry diversification (see chart below).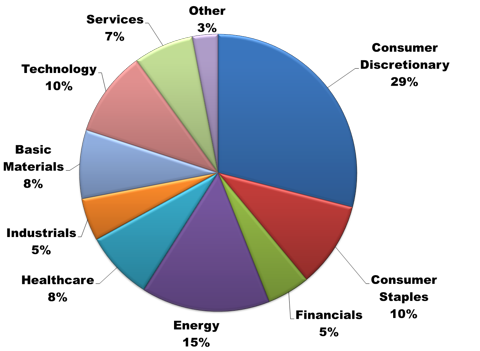 Click to enlarge
(Click to enlarge)
Despite the recession, PennantPark entities have had only seven non-accruals out of 244 investments since inception six years ago and currently PNNT has no non-accruals on its books. Its debt to equity ratio of 0.56 is below average but higher than previous quarters because of the recent debt offering of $67.5 million of 6.25% senior unsecured notes due 2025. Due to the increased use of leverage and reduced interest coverage from NII, the risk profile increased but is still average among BDCs.
Payout
In a recent article called "Highest-Yield BDCs With The Lowest Multiples" I compared BDCs with dividend yields of 9% or higher and P/E ratios below 11 times, including PNNT currently yielding 9.7% and well above average but not expected to grow until NII can support.
As stated by the CEO on the recent conference call "We have met our goal of steady, stable and growing dividend stream since our IPO six years ago despite the overall economic and market turmoil throughout that time period. We are only the one of BDCs to not cut its dividends during this time period. We anticipate continuing the steady, stable dividend stream going forward. We are particularly content under earning the dividend temporarily as we carefully and prudently invest in this environment."
Analysts
Some analysts have recently downgraded PNNT to a 'Hold' with a target price of around $12.
Valuation
Valuation multiples for PNNT have come down slightly from recent highs probably in reaction to the disappointing EPS but starting to swing back. The current P/E ratio of 10.8, using last twelve months EPS, is below average and a 10% premium to NAV is also slightly below.
Summary
Below is a table updating my rankings of PNNT before and after the recent financial results, between 0 and 10 (10 being the best) relative to the 25 BDCs I have reviewed. In upcoming articles I will include new rankings for all the BDCs reviewed in the list at the end.

Click to enlarge
(Click to enlarge)
Is PNNT still a 'Good' BDC? Given the recent dip in earnings and increased risk profile I would say no. But the current yield and management committed to continuing the steady, stable dividend stream going forward I would consider it a strong 'Maybe'. The next earnings release without the onetime costs will be critical to see if the NII run rate can support the healthy dividend, at which point I might reconsider it one of 'The Good' BDCs.
These are the five general criteria I use to evaluate BDCs:
Profitability (EPS to cover dividends, NAV and EPS growth)
Risk (diversification, portfolio quality, volatility, leverage)
Payout (sustainable, consistent, growing)
Analyst Opinions
Valuation (NAV, P/E, PEG)
For more information about BDCs and how I evaluate them, please see this article.
Disclosure:
I have no positions in any stocks mentioned, and no plans to initiate any positions within the next 72 hours. I wrote this article myself, and it expresses my own opinions. I am not receiving compensation for it (other than from Seeking Alpha). I have no business relationship with any company whose stock is mentioned in this article.