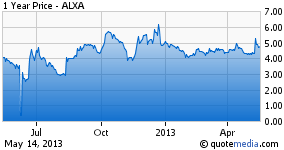 Alexza Pharmaceuticals (ALXA) recently announced that it had struck a licensing deal with Teva Pharmaceuticals (TEVA) for commercialization of Adasuve in the U.S. The licensing and supply agreement for ADASUVE (loxapine) inhalation powder will give Teva the responsibility for all U.S. commercial and clinical activities for ADASUVE, including the 3 U.S. post-approval clinical studies that are required. This will also give Teva the rights to conduct additional clinical trials of ADASUVE for potential new indications and any potential labeling expansions such as use in adolescents.
The partnership will provide $40 million in cash up front to Alexza ($10 million of which goes to Symphony Allegro), along with up to $195 million in milestone payments, along with un-quantified tiered royalty payments. Alexza will also be paid for manufacturing Adasuve and will no longer have the financial burden of conducting additional Adasuve clinical studies. Alexza's Adasuve (loxapine inhalation powder 10 mg) was approved in Q4 2012 by the FDA for the acute treatment of agitation associated with schizophrenia or bipolar I disorder in adults. It was also approved in the EU in February of 2013.
Loxapine, the active ingredient in Adasuve has previously been approved and used for years in agitation cases, but Alexza's delivery system allows the drug to be delivered in less than one second to the patient. This is important as agitation had been previously hard to control in patients due to the lengthy period of time for oral medications to work and the issues with injecting schizophrenia patients. Furthermore, this shows a proof of concept for Staccato, Alexza's delivery system, which they are testing in 4 other indications. While inhaled products are far from new, Alexza's system allows deep lung delivery, appropriate drug particle sizes and consistent dosing without the use of additives such as detergents, stabilizers and solvents, which may potentially cause toxicity or allergic reactions.
Alexza's stock has suffered throughout its lifetime, rarely holding any gains and struggling to reach a market cap of $100 million after 2011. 2012 saw a run down to below $1.00 and a reverse split to maintain its Nasdaq status. The stock then ran up to its FDA approval date and reached slightly over a $100 million market cap. The stock declined there on in to the release of licensing news with Teva and has reached a low of $4.08 in 2013. The stock has since declined below the $100 million market cap once again and is trading under $4.90. Even with the news of their licensing of Adasuve with Teva, the stock is down slightly from its post approval opening price of $4.99. The stock has closed as low as $4.08 in 2013 and is now down 1% YTD.
Alexza's Q1 2013 financial reporting, which was recently moved back to April 14th from April 9th, shed some light on how the company has burned cash to date with its ramping up of Adasuve production. 2012 operating losses were about $30 million and free cash was $17.7 million, meaning that Alexza would have been unable to launch Adasuve without additional capital if the partnership deal was not stuck. Its SEC filings indicate that in fact it would not have been able to operate through Q2 2013 without this partnership. While Grupo Ferrer's payment amount for Adasuve's EU marketing approval/launch has not been provided, it should be expected that Alexza will have about $40-45 million in cash following the payment from Teva.
Partnerships
Alexza now has a partner for the licensing in Europe, Latin America, Russia and the Commonwealth of Independent States countries along with the U.S. for Adasuve. It can still raise additional capital by finding a partner who can market Adasuve in Asia Pac along with India and Canada. While the revenue would not be quite as large as that produced in the U.S. and EU, Asia Pac and India are areas of rapid pharmaceutical growth. Alexza is partnered with Grupo Ferrer in ex-U.S. locations listed above and Teva in the U.S. Alexza's acquisition of Kevin Buchi was crucial in this deal as he served as global VP of branded products at Teva for about a year and a half.
There has been much speculation that Alexza's CEO, Thomas King unwisely spent Alexza's capital during the past several years by raising his salary and giving the C-level executives several hundred thousand dollar bonuses, but with the Teva deal in place, it would appear that he knows how to successfully operate a start up pharmaceutical company. I still personally would like to see the execs take pay cuts as the company's shareholders have seen no material gains over the past several years. This would show that the company does value shareholders and I believe bring investor faith back to Alexza. King is well established as a biotech/pharma CEO however and has now brought 2 products to market with different organizations. His knowledge and industry know-how is apparent in his acquisition of experienced directors at Alexza such as Mr. Buchi and Mr. Schineller.
Alexza will manufacture Adasuve for trials and commercialization, from which it will be paid on a per unit basis. This along with the potential $195 million($175.5 million after Allegro payment) in milestone payments and further tiered royalty payments based on net commercial sales of ADASUVE will drive its revenues going forward. Alexza's CEO, Thomas King was unable to provide more information on the royalty payments at this time, but it is likely in the 15-20% range. Revenues will also be booked from the transfer of product to Teva (cost of Teva ordering product) and royalty rates based on sales and completion of the post-marketing studies. This arrangement is similar to that with Grupo Ferrer, so the more Alexza manufactures, the more they will make. At peak sales of $250 million in the U.S. and $125 million in the EU, I believe Alexza would bring in revenues of $75 million annually from royalty payments alone (amounting to $67.5 million after Allegro payment). The $175.5 million of milestone payments would also be factored in, but these likely would come in small blocks and annual revenues cannot be estimated at this point as the payment structure is confidential.
Teva also will make available up to $25 million to Alexza via a five-year convertible note and agreement to lend, which Alexza may access to support its ADASUVE activities. Alexza may prepay up to 50 percent of the outstanding amount at any time prior to maturity. Teva may convert, at maturity, all or a portion of the then outstanding amount under the note into equity of Alexza. This portion of the deal is slightly negative as it will allow Teva to control a share of Alexza and potentially make a leveraged buyout of the company, thus affecting shareholder benefit. Teva will bring an experienced sales force and marketing group to Adasuve and will allow Adasuve the best opportunity to reach the targeted $250 million in peak sales, which is a positive. Teva also has committed a higher level of sales personnel than initially expected, which should help push this product and shows that they do in fact have faith in Adasuve.
Teva's experience in psychiatry is very strong and this partnership will get Alexza's foot in the door for future partnerships and potentially a future buyout. Teva values NTEs (New Therapeutic Entities) and sees the field reaching several billion by 2020, which is also a positive for the future of Alexza, if Adasuve is successful. If this partnership goes well for both parties, it will also increase the likelihood that Teva will either partner with Alexza for AZ-002, or buy them outright. This licensing deal is also crucial as it will allow Alexza to focus on their pipeline and turn a profit while producing Adasuve. Raising capital through dilution is the biggest worry in startup biotechs/pharmas and this deal will allow Alexza to operate without the need to raise capital until at least Q3 2014. The deal also reduces the risk of Adasuve's launch as Teva already has its foot in the door and sold $5.4 billion worth of CNS branded products in 2012, with a 25% YOY growth from 2011. All 4 of Teva's CNS products sold over $300 million in 2012, and I would expect that Alexza's previous expectation of about $250 million at peak sales in the U.S. is accurate, if not undervalued now that an experienced company will market the product.
Q1 2013 Earnings
The release of the actual 1st quarter earnings for Alexza did not shed too much light upon their recent revenue from Teva as the revenue will be attributed to the 2nd quarter anyway. Alexza did give guidance that it can now operate until Q3 2014 without any need of further financing, and the conference call provided information about future revenues. Q2 will provide some guidance as to how the upfront payment was balanced out by manufacturing costs, but Q3 will be the crucial quarter for Alexza as it will show the launch of Adasuve and the beginning revenues from this launch. Alexza recorded revenues of $0.7 million for the quarter ended March 31, 2013 compared to $1.9 million in the same period 2012. The increase in R&D expenditure to $6.2 million is also a positive as it means that commercial manufacture of Adasuve began in Q1.
During the conference call and in the earnings release, investors were informed that Alexza will pay $10 million of the $40 million royalty payment to Symphony Allegro and $2.5 million from their next $10 million as per their previous agreement for the licensing of AZ-002, AZ-104, and Adasuve. After the initial $25 million is paid from Alexza's first $100 million in licensing revenues, Symphony will receive 10% of Alexza's milestone payments and royalties. This means that from the Teva deal, Alexza is essentially making a maximum of $30 million from the upfront payment and $175.5 million from milestone payments. With peak US sales conservatively estimated at $250 million and EU sales at half of that, from royalties alone (15-20%), Alexza can bring in $75 million annually. This does not account for revenues made from manufacture of Adasuve or any of the milestone payments from either Teva or Grupo Ferrer. Furthermore, Alexza still has open territories to market the product, including the Far East, India, and Canada, which may allow them to partner in large and growing markets.
Pipeline
The partnership will financially benefit Alexza as it will no longer need to conduct the 3 Post-Marketing registries that would have been required by the FDA (including a 10,000 patient observational study). Financially, this will save Alexza more than $10 million and it will allow them to focus on conducting trials for AZ-002. To date, AZ-104 has completed Phase IIb trials, but Alexza is now focusing on its most promising clinical candidate, AZ-002, which is for acute repetitive seizures. We should expect that it will continue clinical development before the end of 2013, going into a Phase IIA study, which will be completed in 2014 and cost less than $1.5 million.
The clinical development time is estimated to be about 3 years from here on in, and submission process accounts for another 6 months, so a submission to the FDA should be expected in 2017. As the manufacture process is the same as Adasuve, manufacture would be simple and not cause any delays in the clinical or commercialization process. Acute Repetitive Seizures (ARS) occurs in a small subset of patients with epilepsy who regularly experience breakthrough seizures in flurries or clusters, despite treatment with a regimen of anti-epileptic drugs. This has led to a significant unmet need in these patients as it will allow quick release of alprazolam. Patients experiencing ARS or cluster seizures need something better and more convenient than the current standard of care, which is intra-rectal application of Diastat gel. Patients who experience cluster seizures need to reduce the number of seizures as effectively and quickly as possible, which is the goal of AZ-002.
Delivering a benzodiazepine class drug to the pulmonary system for systemic absorption is ideal; as it is comparable in efficacy to that of an intravenous administration of the drug. Using the Staccato technology to deliver alprazolam, a more potent benzodiazepine than diazepam, allows for a very easy to use and convenient inhalation technology with very rapid pharmacokinetics (under 2 minutes to maximum plasma concentrations) and potentially very rapid onset of anti-seizure activity.
Alexza's development of NTE's and not NME's can be seen as a positive and a negative at the same time. While NTE's will not bring in multi-billion dollar revenues each, they are cheaper to develop clinically and involve less risk as their active ingredient has previously been approved. It also allows a platform to continually build on and a proof of concept in 2 or more products could allow Alexza to fast track their future developments, bring products to market much quicker and cheaper. The rights to the Staccato system also makes Alexza a very attractive company as their IP is almost limitless with several hundred products already identified for possible use.
The Future of Alexza
Alexza's deal with Teva will allow it to operate without worries of bankruptcy, or need of a secondary offering until Q3 2014. The production costs and post-marketing study costs will be covered by Teva, allowing Alexza to profit on each unit produced and sold. Furthermore, higher volume will benefit Alexza as it will drive per unit costs down. This deal will also allow Alexza to focus on bringing more NTE's to market while operating at a profit. With the potential for several hundred million dollars in revenue from Teva and Grupo Ferrer, I believe Alexza is still a good long term pharma company to buy and could easily double within the next twelve months, with not too much downside risk.
The news of partnership helped the stock increase 22% to $5.31, which is still far below its pre-FDA approval run up price. The key message to take from the Teva partnership is that the Staccato system works and does have interest from big pharma, but the PPS will not reach the $100 million market cap until initial sales figures are reported. I believe Alexza is in a strong position to drive its Staccato system forward and drive growth, but they still need to conduct successful AZ-002 trials to prove the system's concept works in several products. I believe Staccato is a very innovative system and may be the future of rapid release drugs, but we will not see the true potential of Alexza until the proof of concept study is completed in 2014.
Disclosure: I am long ALXA. I wrote this article myself, and it expresses my own opinions. I am not receiving compensation for it (other than from Seeking Alpha). I have no business relationship with any company whose stock is mentioned in this article.