Yesterday we ran across this article after publishing so we wanted to highlight it this morning. It is a headline one would not have expected, or even dreamed of, a few years ago but today is the reality. Growth in North American oil and natural gas production is putting a hurt on OPEC and their stranglehold on the world's oil markets. Let's be honest, when was the last time an OPEC meeting of ministers was headline news? Yea, you have to really think about it right?
At the bottom of the article it discusses the effect on refiners and from our vantage point it seems to be bullish news for Valero (NYSE:VLO) and others as imports are less of a risk and the potential exists to actually export in the future should the efficiency of vehicles here in the US continue to dramatically improve and help keep down our demand for refined oil products. It also provides a backup plan should natural gas become a viable fuel sources for fleet vehicles and consumer vehicles.
Chart of the Day:
The uptick at the tail end of the chart really tells the story that the above referenced article is highlighting...a great visual aide.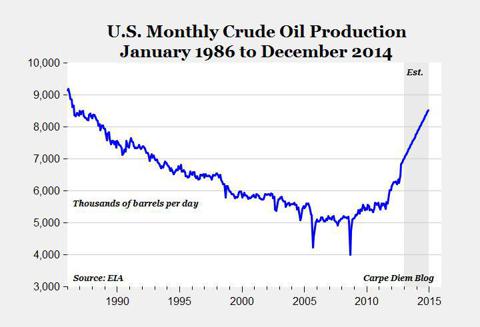 Chart courtesy of CarpeDiem Blog.
Commodity prices this morning are as follows:
Gold: $1413.70/ounce, down by $10.80/ounce
Silver: $22.985/ounce, down by $0.394/ounce
Oil: $93.71/barrel, down by $0.50/barrel
RBOB Gas: $2.842/gallon, up by $0.0044/gallon
Natural Gas: $4.038/MMbtu, up by $0.014/MMbtu
Oil & Natural Gas
Last night after the bell one of our favorite names came out and announced a secondary. The name is Diamondback Energy (NASDAQ:FANG), and they are offering 4 million shares with the underwriters having the option to purchase up to an additional 600,000 shares. The lead underwriter on the deal will be Credit Suisse and important to note is that all shares being offered are by Diamondback Energy and not any of their shareholders. This is bullish for a few reasons. First is that all the dilution to the open market will benefit the company as they will get all the funds and have stated it will be used to pay down the revolving credit facility and general purposes and second is that large shareholders are apparently still bullish on the prospects here even after the large run-up. Look for a buying opportunity on the pullback due to the secondary.
Hess (NYSE:HES) saw shares rise $2.83 (4.08%) to close at $72.22/share after Eliot Management said that they would settle their battle with the company if all of their proposed board members were seated along with Hess's nominees (see article here). This would give the hedge fund five board seats instead of the two offered by Hess in a previous offer and increase their power. Our guess is that a compromise is reached somewhere between these two proposals with Hess offering no more than three seats on the board to the hostile hedge fund. This is an interesting story and we expect it to continue to result in the company realizing more of the hidden value on its balance sheet.
Yesterday we were asked by some readers about our opinion on the oil and natural gas industry and whether our indicators were telling us to be less bullish at this point. We thought we were clear on that but if anyone was confused by our recent sale we want to answer this flat out as a resounding no. The indicators we have used are still indicating that one should be bullish as Cheniere Energy (NYSEMKT:LNG) actually hit a new 52-week high yesterday and closed above $30/share and continues to intrigue us. What we have noticed is that some of the leaders appear to be consolidating at these levels but that is due more to company specific issues and not industry wide issues. Continue to watch Cheniere as an indicator and let it work for you until it doesn't.
The chart is saying to stay bullish...and so we shall.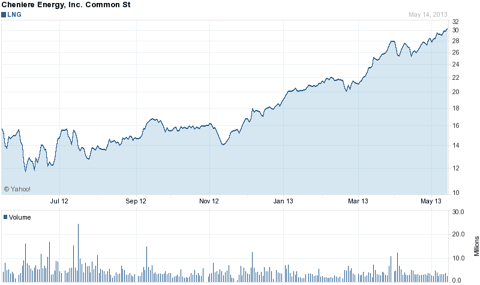 Chart courtesy of Yahoo Finance.
Transports
We continue to see the transports lead the market higher and yesterday Kansas City Southern (NYSE:KSU) caught our attention. Railroads move a ton of commodities and readers are well aware that we have been looking to these names to provide guidance on the future results of various commodities over the past year. Interesting enough yesterday's rally in the names was not caused by commodities but rather speculation that Kansas City Southern could be a buyout target due to their exposure to Mexico (see article from Investor's Business Daily here). We view this as good news for commodities as it would indicate more imports and railroad companies expecting higher freight revenues and volumes, thus an improving economy. And that is most certainly bullish.
If the railroad executives want to now be bullish, after Warren Buffett was we think that spells future gains in the economic growth category and should be good for commodities.
Chart courtesy of Yahoo Finance.
Disclosure: I have no positions in any stocks mentioned, and no plans to initiate any positions within the next 72 hours. I wrote this article myself, and it expresses my own opinions. I am not receiving compensation for it (other than from Seeking Alpha). I have no business relationship with any company whose stock is mentioned in this article.